The Iraqi Football Association has rejected the decision of its international counterpart (FIFA) regarding the stadium for the Rafidain Lions match against the United Arab Emirates team in the 2022 World Cup qualifiers.
The Iraqi team is scheduled to host its counterpart from the United Arab Emirates on March 24, in the ninth round of the Asian qualifiers for the 2022 World Cup.
And FIFA had issued (on Saturday) a decision, in coordination with the Asian Confederation, to hold the match between Iraq and the Emirates at the "King Fahd International Stadium in the Saudi capital Riyadh, instead of the International City Stadium." in Baghdad." explaining that this came "in the wake of recent events in Iraq and the broader transformations in global security" in recent weeks.
The statement, issued by the AFC in coordination with FIFA, added: "A reassessment of the security and safety situation in Iraq was carried out in conjunction with FIFA and accordingly to ensure the highest standards of security and protection for all relevant stakeholders, it was decided to move the match to a neutral location."
Iraq national team objection
In response to FIFA's decision, the Iraqi Federation issued a statement (Saturday) confirming that it will continue to respect its right to play on its territory following the decision to lift the ban on Iraqi stadiums during the recent period, which was produced after many years. prohibition
The Iraqi Federation confirmed its great shock at the transfer decision, stressing that it was an unfair, unfair and unfair decision against Iraqi football and that it was not based on the facts on the ground, the latest of which was the message from FIFA. last February that the Lions of Mesopotamia had the right to host matches on their land.
The Iraqi side explained that it decided to escalate this issue by submitting a complaint against the decision to FIFA, emphasizing that if the decision is upheld, it will resort to escalation again by submitting a complaint to the International Court of Arbitration for Sport (CAS). to investigate the matter.
The Iraqi team is in fifth place in the first group in the Asian qualifiers for the 2022 World Cup with 6 points after 8 games, and plays its last away game against Syria on March 29 at the Rashid Stadium in Dubai, United Arab Emirates.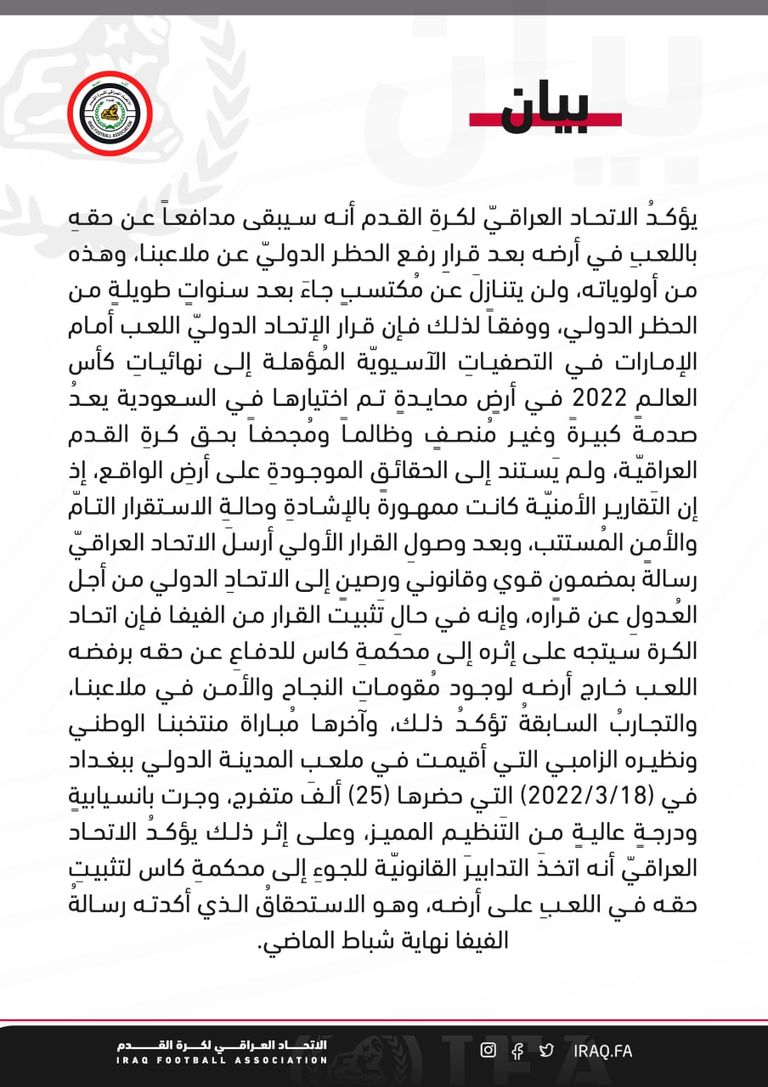 The UAE team needs to win to qualify for the Asian play-off directly before the last day, without going into calculations of goals or direct confrontations, since it occupies the third place in the group with 9 points, and competes with it for the classification for the complement, the teams from Iraq and Lebanon.