Every year, Madrid Pride becomes a privileged setting to celebrate the achievements in the field of LGTBI collective rights and a perfect showcase to give visibility to the challenges ahead. Among them, claims in favor of sexual health remain prominent, understood from a comprehensive perspective that, in addition to harmonizing physical and mental health, allows individual experiences to be enjoyed in freedom and abundance.
In this context, the fight against HIV – which is also the fight against stigma and discrimination – makes sense. It is not just a human rights issue, but a powerful weapon to promote prevention, early detection and early treatment. A weapon that reminds us of such important messages as that a person with an undetectable viral load cannot transmit the virus, that it is important to take care of chronic clinical problems, and that mental health disorders associated with the infection are not made invisible can be ignored or added to the treatments.
But the association between Pride and the fight against HIV is a complex issue: Attempts to combat and neutralize this old and toxic idea of ​​"gay cancer" or "pink plague" have been going on for years, and the fervor of that fight can still sting today. For this reason we wanted to give a voice to the Third Sector and the LGTBI collective, so that they are the ones who declare the importance of fighting HIV when they are present at the most important Pride Festival.
The LGTBI community as a spearhead
"It's true that viruses don't understand gender or identity, but in the countries around us, HIV has been particularly cruel to the GBHSH (gay, bisexual and men who have sex with men) community," explains Ramón Espacio, Secretary General of the State Coordinator for HIV and AIDS (Cesida), a benchmark for militancy and activism. "Sexual health rights are part of human and collective rights, and Pride is an essential space to claim them."
Aware of all that is happening around Pride and the fight against HIV, Espacio points out: "There may be people within the group who continue to think that speaking about HIV in the context of Pride stigmatizes it, although I have the impression that they are a minority. My vision is that there is a certain serophobia behind it [fobia contra las personas con el VIH] internalized. As if living with HIV was something shameful not to be talked about."
From a rights-oriented perspective, he continues, sexual health is another: "We can't and shouldn't Lock HIV in a closet. The LGTBI community has historically been, and I believe should remain, one of the key pillars of the global response to HIV. If we want to see the end of the HIV story, you need to be present at events like this."
Regarding "this type of event" mentioned by Espacio, Nahum Cabrera, coordinator of the HIV group of the National Federation of Lesbian, Gay, Trans, Bisexual, Intersex and More (FELGTBI+), clarifies: "The news doesn't have to be broadcast specifically in Pride itself because that would mean continuing with the idea that HIV is an infection of our collective. The embassies have to be worked on all year round. That you can also campaign in Pride? Of course, but without concentrating all the effort on a single action.
seek balance
After acknowledging that this is "a complicated issue", Mario Blázquez, coordinator of the HIV and other STI prevention program of the Madrid LGTB+ collective (Cogam), points to the difficulty of finding the balance between two messages: "On the one hand It is important to note that HIV is an infection that does not only affect trans people and gay and bisexual men (in fact, one third of transmissions occur in a heterosexual relationship); On the other hand, it is also important that our collective understands that we remain particularly vulnerable to infection due to social, biological and epidemiological circumstances."
In this sense, he emphasizes: "We will justify prevention, and so we will carry it on the raft. We fight for sexual health through individual choice. Our messages will be present and visible, but without pointing to anyone. We want sex to be enjoyed."
The three experts talk about the messages surrounding HIV, and it is evident that they have evolved over the years: at a time when medical advances have made it possible to make the infection chronic and ensure that a person with an undetectable viral load cannot transmit the virus, these messages go beyond condom use to point to today's opportunities to enjoy full, risk-free sex.
"It is clear that the community of gay, bisexual and other men who have sex with men and trans women are more vulnerable to HIV and other sexually transmitted infections, and that this group has been a key factor in the response to HIV on a global scale" , explains Ramón Espacio. "I think that the messages, with different nuances, have always been related to prevention, fighting discrimination and conquering rights. Unfortunately, HIV was an infection fraught with prejudice and discrimination, but at the same time it served as a catalyst for conquering the rights of vulnerable populations."
I = I, "survivor" and much more than HIV
In adapting the messages to the ever-changing reality of HIV, there has been talk of combined prevention, discrimination, a state pact… and also societal challenges such as the reality of survivor, that is, from those people who contracted the infection before the advent of highly effective antiretroviral treatments in 1996 and who, against all odds, managed to survive. Ramón Espacio recalls that in 2019 we "at Cesida joined the Pride motto: Seniors Without Closets: History, Struggle, and Remembrance! We wanted to pay tribute to those who fought for the health and social rights of our group during these difficult years and draw attention to the need to take care of their biopsychosocial needs."
Cogam's Mario Blázquez recalls: "It is crucial to insist that we already have the option of combined prevention, which has been one of our demands in recent years. And, of course, also emphasize that safer sex has relationships with undetectable people.
These are also the core statements of Nahum Cabrera: "The reality is that it is much safer to have an unprotected relationship with an HIV-positive person who is in treatment [continuado y controlado], than in a person who does not know his serological status. It's not about saying you're not having sexual relationships, it's about trying to be in control, and if at any point it's lost, it's time to check it out.
Another message is to broaden the focus and spread the prevention messages to the rest of the STDs. Cabrera recalls: "The Ministry's campaign [de Sanidad] around sexually transmitted infections starts in Pride, but is not aimed specifically at the LGTB community, but at the general population". Mario Blázquez agrees, recalling that "HIV carries all the burden of stigma, but there are many cases of gonorrhea or syphilis, for example, which have their own entity and characteristics and pose a threat to individual and public health. "
Next date: the Pride+
Beyond Pride, November 22nd first positive pride in Spain, a Cesida-sponsored initiative that testifies to claims aimed at giving visibility to groups that suffer stigma and discrimination and focuses on the dignity of people living with HIV.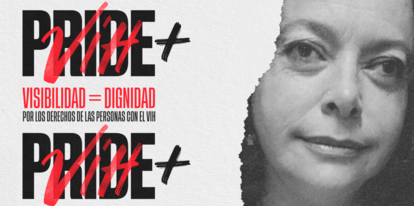 The starting point is that the Pride concept includes other nuances such as dignity and rights: "Living with HIV is not per se an identity feature: It is not something that you can or can be proud of. However, we are proud of the contribution that people living with HIV have made to the global response to this pandemic and of the achievements in terms of equality, dignity and rights of vulnerable populations," states Ramón Espacio.
Figures show that around one in 300 people in Spain is living with HIV, but surveys show that a high percentage of the population claim not to know anyone with the infection. "This is because many people living with HIV do not share their situation with friends or colleagues for fear of discrimination or losing their job, situations that unfortunately happen all the time," explains Espacio. "We are aware that even today too many people living with HIV experience a chronic pathology with feelings of illness Fear, guilt, loneliness and self-stigma. That is why we believe that promoting the visibility and action of people living with HIV is an act of dignity and an essential tool to reduce stigma and discrimination."
credits
composition: Maria Corisco
Editorial coordination: Franz Pascha
Development: Rudolph Mata
Design and illustration: Bethlehem Daza
Design coordination: Adolf Domenech
Source elpais.com