Washington maintains active contacts with the Palestinian, Israeli and Jordanian sides to peacefully spend the blessed month of Ramadan in the Palestinian territories.
Western diplomatic sources told Al-Ain Al-Akhbar that: "Washington encourages the parties to take steps to build trust and avoid anything that could provoke tension before and during the month of Ramadan in the Palestinian territories."
And Washington was actively active last Ramadan to curb the conflict in the Palestinian territories after tensions in the Sheikh Jarrah neighborhood and the Al-Aqsa mosque in East Jerusalem spread to the Gaza Strip.
In this regard, Deputy Foreign Minister Hadi Amr began a visit to Jordan, Israel and the Palestinian territories on Monday.
A spokesman for the US Embassy in Israel said, in a statement received by Al-Ain News, that: "Assistant Deputy Foreign Minister Hadi Amr is currently traveling to Jordan, Israel and the West Bank to build on the vision of President Biden. to promote equal measures of freedom, security and prosperity for Israelis and Palestinians in both".
He added: "It works in particular to reduce tensions and, on the other hand, to implement specific economic measures that would improve life."
The diplomatic sources, who preferred not to be named, indicated that Washington encouraged the meetings and contacts that were recently held in Israel, the Palestinian territories and Jordan.
Israeli Foreign Minister Yair Lapid met with King Abdullah II of Jordan in the Jordanian capital, Amman.
Lapid also held a meeting with Liberation Organization Executive Committee member Hussein al-Sheikh in Israel, following a meeting between the sheikh and Israeli Defense Ministry officials.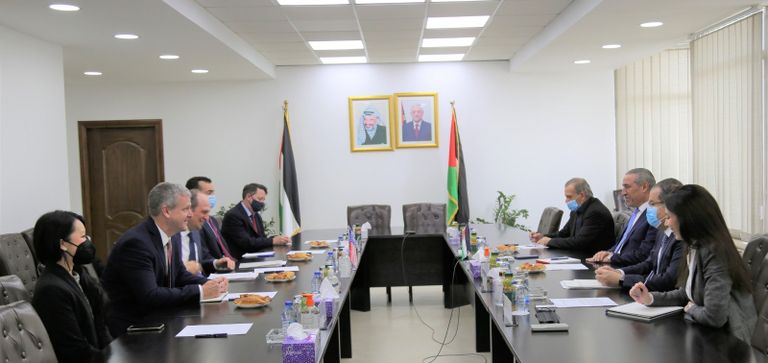 In this regard, a Palestinian delegation led by Sheikh met on Monday in Ramallah with the US Deputy Assistant Secretary of State and his accompanying delegation.
The sheikh wrote in a tweet on Twitter: "Today's meeting with Hadi Amr and his US delegation, during which various files were discussed, including bilateral or related to the situation with Israel and regional and international issues."
He added: "During the meeting with the American envoy, we emphasized that the credibility of the international community is at stake, and international legitimacy should not be divided or double standards applied to the implementation of UN resolutions."
The American side did not announce the personalities with whom Hadi Amr met in Israel.