Viktor Horsting and Rolf Snoeren don't read reviews of their shows. "The bad guys are right and the good guys are wrong," they joke. "We decided some time ago not to read them anymore because they don't help us. There is always a nationalistic point where French and English designers are given more importance and we are Dutch," they say. "Furthermore, we can't assume that everyone who attends our shows knows that we've been around for 30 years." Three decades in this industry, which sees the birth and death of author brands almost every year, is an achievement. "We've learned that you can't always be at the top, there are better collections and others that are worse, and you live more calmly if you assume that," they confess.
This time it was not Paris but Barcelona, ​​​​the enclave chosen to host its first bridal fashion show, which, in addition to new designs, has reviewed some of the most important of its Mariage line, active since 2017, despite having performed more than a decade Custom made. "This is the Paris of brides," they say, referring to the fashion week dedicated to the sector that takes place annually in the city and where specialized companies from all over the world show their creations. Although her biggest milestone in this area was the dressing of Princess Mabel of the Netherlands in 2004, her manager's wedding, "one of the first after equal marriage was legalized in the Netherlands, was her manager's wedding in 2001. The two were dressed alike."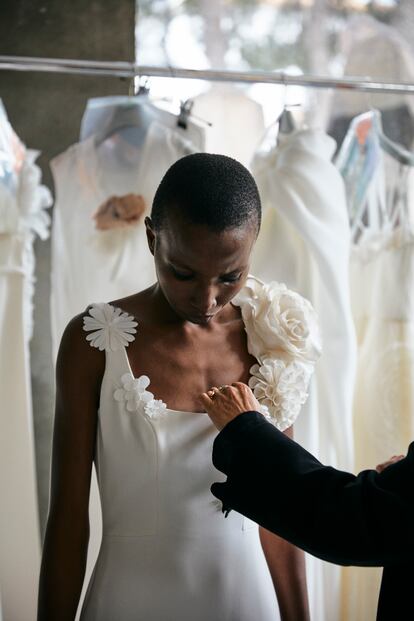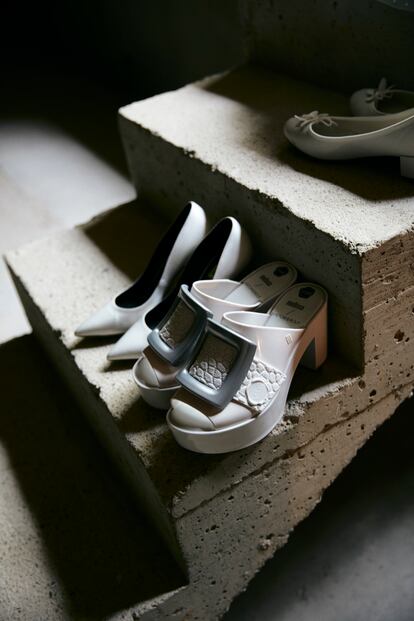 Her approach to bridal design is "very similar to that of a haute couture dress", which in her case translates into sculptural plays with proportions and elements such as bows or rhinestones that border on irony due to their repetition in the garment. "Although there is one important difference, and that is that in one dress you have to explain everything. It also has to be portable," they say. Because paradoxically, Viktor & Rolf have been creating collections for 30 years that are rarely seen on the body except for a few (and daring) celebrities. "Our main clientele are the museums and that makes it much easier for us because they are not looking for the latest, they don't care about the temporality of the collections. Plus, it allows us to do whatever we want." They don't consider themselves artists, though it might seem so given the dynamics of their work, but their understanding of fashion is as idiosyncratic as their history.
In 1993, fresh out of design school, they made their debut as part of the Hyères festival, which brings emerging designers in contact with big brands and by designers such as Julien Dossena (now at Paco Rabanne) or Anthony Vaccarello (at Saint Laurent). They took home all three grand prizes with a collection that blurred the lines between dress and sculpture. This conceptual approach led her to start her career with gallery installations: an exhibition of golden dresses with large bows hanging from the ceiling, a miniature parade of puppets or a perfomance in which they advertised a perfume that smelled of nothing.
"The beginnings were complicated. We wanted to implement our ideas, but very few understood us," they recall. In 1998 they managed to appear as part of Haute Couture Fashion Week. "The entire international press came to the second parade. That's when we felt like we could have a future as a brand." With no stores of their own, no custom builds, and even no outside funding, the Dutch duo played the media card, with events aimed at getting people talking and the press present as a pair outsider They didn't follow trends or rules. So alienated from the system that they don't think celebrities publicize their designs, although they both fondly recall the day Cate Blanchett, who has been wearing some of their designs, approached them to tell them that they admired their work: "We don't design them with anyone in mind. Time has taught us that people will come if the idea is good."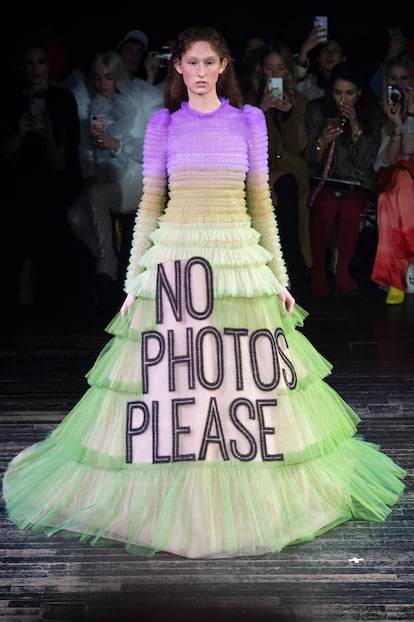 Time and Experience: They went from sewing to much more democratic ready to wear, launched an eyewear collection, a men's line and started several collaborations. Some worked, others not so much. "We also made sneakers," they joke, "because as a brand you have to do a lot of things that you're not, but what we designed only worked for us because we felt like it." They point to Example of their collaboration with H&M in 2006, for which they designed a wedding dress for 298 euros and which was the basis for their expansion in this field, and above all of Flowerbomb, the fragrance they developed a year later together with L'Oréal and it's still a bestseller today. "Currently, it allows us to fund our ideas and we see it mostly as an artistic project," they concede. Such was the success that in 2008 Renzo Rosso, owner of the OTB conglomerate (Diesel, Marni, Margiela…), bought half of the brand: he is in charge of growing the firm as a commercial intangible and they continue , what interests her, which basically consists in continuing to practice a fashion close to the artistic object. "If we come into the office with simple sketches, our team even gets upset."
The only thing they regret is "that they didn't invent social networks sooner", they comment on the spectacle of theirs shows. The proof is yours parade Couture for Spring 2019, in which they emblazoned various tongue-in-cheek messages on puffy tulle gowns, went viral at a time when their fame wasn't yet at its peak. However, the fever of the new generations to nostalgically salvage moments from the past has made Viktor & Rolf a reference brand again, if not in the closets then on the Instagram walls of many fashion fans. "We recently did a shoot for the magazine candy with old clothes, and the people on the team, very young, knew what year each was from. We freaked out, and so did they, because to them, those clothes only existed on their phones."
reduced by 50 percent
Exclusive content for subscribers
read limitless
Source elpais.com