The pandemic also increased the desire for outdoor floors large gardens and larger outdoor areas. This fact increases the possibility of varying the design of these spaces depending on the season in which we find ourselves. For this reason we propose this summer three matching outdoor floors available from Ikea that will be very noticeable in the terrace or garden area where you want to make a noticeable change. All of them are made with one Easy to assemble framed flooring yourself and with one superior value for money.
In which price range are we moving if we want to get hold of one of these lots? 15 to 35 euros. An investment in a product that is more than justified requires minimal maintenance Y very resistant to extreme solar radiation. Suitable for flat and regular floors and hard surfaces.
Runnen wooden outdoor flooring, available in five colours
Let's go with the first of them. It is a set of nine pieces of 30 x 30 centimeters that can be combined with other colors of the same floor. For example: a path made of brown tiles with a very chic hint of grass. The product adapts to hard and even surfaces such as cement, stone or wood. And its assembly is done with a single click, as if it were a puzzle. Also, you can trim the pieces to fit corners or pillars.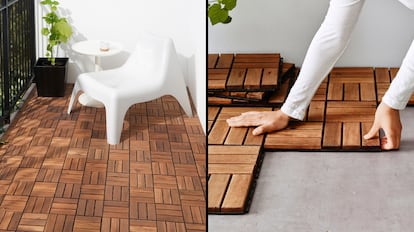 How do you clean this floor covering?
With little effort. It is sufficient to refer to a mild soap solution and after this step we will dry with clean dry cloth. As an extra tip and for better maintenance, you should varnish the surface at least once a year.
Outdoor flooring made of durable plastic Altappen, in two colors
Resistant to high temperatures thanks to its UV stabilizers, prolonged exposure to the sun does not cause it to lose its original color. An impeccable appearance of this framed platform made of plastic and very easy to maintain. It adapts to hard and flat surfaces, but cannot be combined with other floors. The package consists of nine pieces of 30 x 30 centimeters. Available in blue and light grey.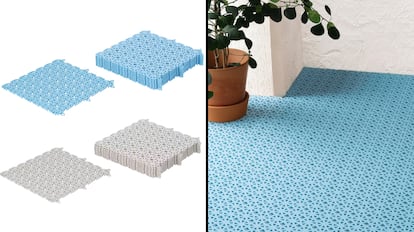 How much are the shipping costs? What if I pick it up in store?
Remember that this product has shipping costs from 4 euros either free in case of personal collection (in less than 24 hours, subject to availability in store).
Outdoor flooring with double layer Mällsten, in two colors
This other alternative is a bit different from the previous ones. It is a floor made up of two layers: the outer layer of durable porcelain; and the lower one made of solid plastic. Both are available in two packs of nine 12″ x 12″ pieces. Its surface is non-slip to reduce the risk of falling. They are simply plugged together for assembly, so that no tools are required. The color remains unchanged.
Clear varnish for wood
With removable wooden floors it is always good to preserve the appearance of the wood despite time and wear and tear. To do this we can use this varnish that covers an area of ​​10 square meters, protecting the floor and leaving a transparent finish.
*All purchase prices contained in this article are as of June 23, 2022.
You can follow EL PAÍS SHOWCASE at Facebook and Instagramor subscribe to ours here Newsletter.
Source elpais.com