MOVIE REVIEWS

Thor: Love and Thunder offers colorful Marvel entertainment and reunites Chris Hemsworth with Natalie Portman. Can the reunion convince?
'Thor: Love and Thunder' is released in German cinemas on July 6, 2022 and kicks off after the events of 'Avengers: Endgame'. Thor (Chris Hemsworth) has joined the Guardians of the Galaxy and is traveling with them through space. But then Gorr the Godslayer (Christian Bale) enters the scene…
Thor must save New Asgard and all the gods around Zeus (Russell Crowe) from fate, as Gorr has sworn to destroy all gods. A dark story, but a fun and colorful film!
The new film in the Marvel Cinematic Universe (MCU) has once again been directed by Taika Waititi, so of course there are plenty of stylistic parallels with 'Thor: Day of Decision'. But with a much more serious message at the heart of the film, the movie is unlikely to feel repetitive or repeat "Thor 3."
What worked in Thor 3 also works in Thor 4, and with the return of Natalie Portman as Jane Foster (not Fonda), Taika Waititi creates a wonderful bridge between his two Thor films and the first two Thor "-Movies. .
The movie stands very well on its own, and links to other MCU movies and series can only be found if you do a search. Nevertheless, there are a few successful appearances that you might not expect. Of course, we advise you to wait for the last scene after the credits!
"Thor: Love and Thunder" is full of 80s rock music, especially from cult band Guns n' Roses. But not only the music, the film also sounds like a hard rock album. We have louder and faster numbers, more experimental interludes and emotional ballads. Pathos included – in the most positive sense!
Thor – Love and Thunder: All images from the Marvel blockbuster
Everything from the Marvel blockbuster Thor: Love and Thunder starring Chris Hemsworth and Natalie Portman.
Waititi balances his cinematic adventure beautifully and it rarely gets too silly or corny, but sometimes it does. These are the moments where the film falls short of its predecessor, "Thor: Day of Decision." Otherwise, the film goes further and feels like a more adult and mature version of "Thor 3".
Chris Hemsworth is once again superb in his role as Thor, and we're glad he isn't retiring from superherodom just yet. The blond beefcake would be sorely missed by the MCU. But Tessa Thompson once again shows she's a real scene stealer as Valkyrie. We finally want our own Disney+ series!
Christian Bale is new as the villainous Gorr and, as usual, delivers. However, the role is largely limited to Bale's screen presence, creepy looks and stunning facial expressions. Unfortunately, we were better off with Cate Blanchett as Hela or Tony Leung as Wenwu when it came to mature villain roles.
Bale's small role shows just how much Marvel suffers from introducing well-made villains into films. We wish an actor like Christian Bale had a bigger footprint in the MCU. Unfortunately, he now joins the ranks of forgotten Marvel villains like Kaecilius (Mads Mikkelsen) and Co.
Natalie Portman's return was widely announced in advance. And as always, Natalie Portman is an acting stunner. But alongside the much louder and dazzling stars like Hemsworth and Thompson, she unfortunately gets a bit lost. Still, it's good to see her again as Jane Foster.
One particular highlight should be mentioned at this point: Russell Crowe as the father of the gods Zeus. Hardly anyone would have believed the 'Gladiator' star had such comedic talent. But Crowe puts on a show like no other. We don't know the German dubbed version, but we recommend the original English version based solely on Crowe's performance!
All in all, "Thor: Love and Thunder" is of course great fun again and you like to imagine Taika Waititi having fun with his stars on set and they come up with the next impromptu gag together: "Oh let's go -y it would be something like badass! How about I do this weird thing?!" – "Thor 4" is a fun and wonderfully creative movie!
The images are colorful, the music is captivating and at the end there are of course many thought-provoking scenes: What's next in Marvel Phase 4? We look forward to the next cinematic adventure with Chris Hemsworth as Thor!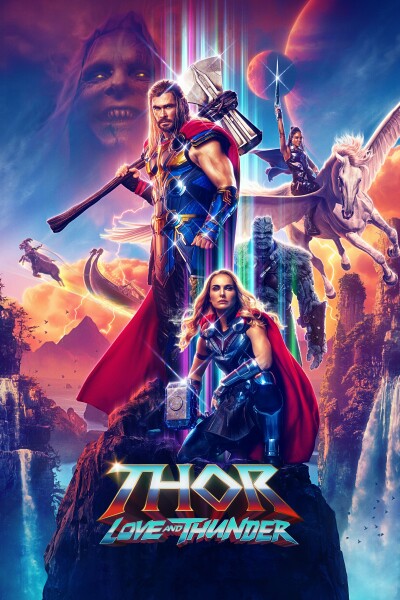 gender
direction
producers
Brad Winderbaum
Brian Chapeck
Chris Hemsworth
Kevin Feige
Louis d'Esposito
Todd Hallowell
Victoria Alonso
Production Companies
marvel studios

Kevin Feige Productions
More resources
Don't miss a thing with the NETWORK-Newsletter
Every Friday: the most informative and entertaining summary of the world of technology!
Source moviepilot.de