On the French coast, the rising and falling tides depend not on the moon but on the champagne. It's World War II. British war correspondent Vaughan-Thomas landed on the Côte d'Azur in southern France. "We launched a massive blaze of fire before catapulting ourselves to shore. We expected to be swept away by machine gun nests," he writes in surprise. "But not a single bullet passed over us: the Germans had retreated and in their place advanced an immaculately dressed Frenchman, emerging from the dust of war. He carried a tray with a magnum of champagne and ten glasses. "Welcome, gentlemen," he greeted, beaming. "But if you will allow me a little criticism, I have to tell you that you are four years too late."
We are now in northern France, in the commune of Épernay, just 140 kilometers from Paris, and the month of June has just completed its first week. Maison Moët & Chandon (owned by luxury giant LVMH) has been making champagne there since 1743. It is the largest producer in the region and in the world. About 30 million bottles per year are sold in 150 countries. The landscape resembles coffee plantations with grapevines. Terraces with vines. A full stop followed by slopes of green vines in a never-ending sentence. The vines are planted on these natural "walls" to protect them from the cold, which drops to (-10º C) in winter. And their owners pamper them and know the secret. One hectare costs 1.5 million euros. Nobody sells. Although it rains 200 days a year, you have to take care of them and put up with the harshness of the field. It's a treasure of three varieties: Pinot Noir (the most commonly used), Pinot Meunier and Chardonnay. The grapes from which champagne is made.
Moët & Chandon owns 1,300 hectares and 2,162 winemaker (independent producers) have about 4,345 hectares. Champagne covers 34,000 hectares. In other words, French billionaire Bernard Arnault's company controls more than 16% of production directly and indirectly through long-term contracts. This is the treasure map that rains in the face of many growers for dozens of days. There have been attempts to increase the size of L'Appellation Champagne (Appellation of Origin), which could benefit Moët & Chandon. But the winemaker they will hardly allow their advantages to be diluted again terroirs. "Because there is no champagne this year either," admits Berta de Pablos-Barbier (Alcalá de Henares, Madrid, 1968), President and CEO of Moët & Chandon, Don Pérignon and Mercier. For example, the production of Moët Imperial (the flagship brand) is decided three years before its launch, and eight years if we speak of Moët Grand Vintage.
Let's put aside the pessimism about the sun that will fall on the Épernay vineyards in July and August and ask the Spanish manager what's happening? The champagne is running out but we have the dark clouds of inflation, war in Europe, is Moët & Chandon indifferent to the economy?
Let's see what happens at the end of the year. The wave of what is to come has not yet touched the shore. We note a desire to be together and celebrate, which is a response to two years of the pandemic. People want to share food and good wine. Regards.
This economy of hedonism enables disclosure in a company that never offers disaggregated data. In the first quarter, Berta de Pablos-Barbier's revenue rose 5%. "Those are good numbers," he concludes. However, they canceled sales in Russia.
He knows all sides of the coin in detail.
Subscribe to
— First of all we thought of the people who lived in Russia and Ukraine. All employees are fine. We do not export any of our champagnes to Russia. It's a very small market for us. Although we would have done it if it had been big: It was a decision of principle. Our main destinations are USA, England, Germany, France, Spain. And in Asia: Japan and China. About 150 countries.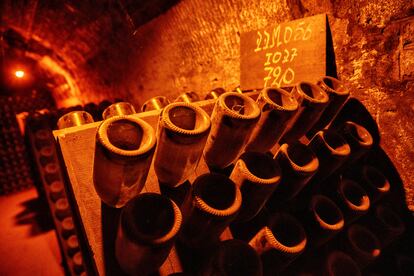 The narrative changes now, like time, space. We're in Fort Chabrol. The mythical estate where the Maison began to collect its legend. A century ago, a laboratory was set up inside to study the phylloxera plague that was decimating vineyards across Europe. In 1900 it was known as École pratique de Viticulture Moët & Chandon. The day is rainy like champagne. Drizzle and sun alternate. Memory and desire for warmth. In his "garden", two hectares of vineyards, at an altitude of about 200 meters, one of the highest wineries, which are used to test and preserve new varieties.
to produce instructions
Véronique Bonnet, Head of Biodiversity at the house, has been trying to find answers for 15 years. Also the the winemaker cultivate according to sustainable criteria. Yes, it is necessary, they are paid more for the grapes. But they have to change. "You have to work with products that are not harmful and improve and care for the land," he summarizes. They have created a set of guides on how to prepare and in 2030 all of their employees will need to follow these. Since 2020 the a house uses no herbicides and a decade later it's the affiliates' turn. In 2021, the Robert-Jean de Vogué Research Center opened to study the effects of extreme weather.
From the surface we descend into the interior of the earth. That a house (A good part of the wines are produced in the Grand Cru range, the most prestigious French classification) has about 28 kilometers under Éparney cells where champagne ages for decades. Every day, 35,000 bottles have to be rotated 18 degrees so that the trub collects on the stopper and can then be "slit" when it's extremely cold. The teachers do that. Warning (AWAY). If the twist isn't right, the disgorgement isn't perfect, the champagne is spoiled.
Ecology means less production, more expensive and more difficult. Will it show up in the benefits? Berta de Pablos-Barbier remembers that change has come a long way.
—Before these environmental disasters, production in Champagne was higher than it is today. Returning to conditions of good temperature and water is much better for the plant's productivity. In a great time we produced 14,000 kilos per hectare, last year we got half. This shift began in World War I, moving from much more holistic agriculture to agro-agriculture.
Do you have to go through red numbers to get to this transition?
-I did not say that. What I'm saying is that some of your profits should be invested over the long term. That's not a luxury. It is recommended by the LVMH group. It has a 360 degree vision of sustainability. Either we take care of our soils, which are getting poorer in organic matter, or in 25 years there will be no more champagne.
The CEO is known in the land of champagne as the "green president". at arrived a house in January 2021 and had the weather on his mind. Only once in 300 years did it have to be harvested in August due to excessive heat. Since 2003 there are already six. If it is normal to harvest between September and October. It will be picked up again in August this year. The logistical challenge also leads through Möet. The house has about 630 workers (just together with winemakers, engineers and various experts, they add up to more than 50 employees), but during the harvest they need 4,000 people. A battalion crosses the vines.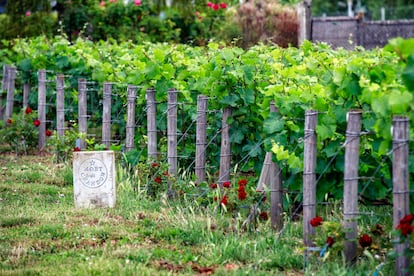 Although nothing is as important as the climate emergency. Nor does the cost of cork, transportation, glass or encapsulation. Because 90% of the price they take is the wine. Raw materials end up weighing like grape leaves. De Pablos-Barbier has clear priorities. The future of the mansion goes through the Natura Nostra project. Generate land with agroecological activities, increase biodiversity on the farm and its surroundings, convince suppliers to produce sustainably (like their ancestors), reintroduce birds (verdejos, pipit, bunting) and endemic flora, create vegetable corridors of 100 kilometers with maple, Linden or apple trees – so the animals are not isolated by the vines – more bees and the planting of 1,743 trees (which coincides with the founding date of the winery) and using them as decarbonizers. Although there is more work. Replace the combustion tractors with electric ones, recycle the water and use eco-pastoralism (sheep) to clear the weeds between the rows of the very expensive vineyard. All these practices have been tried out at Fort Chabrol for some time. There the CEO poses for EL PAÍS, which was invited by the winery. "The most important thing is to protect and care for heritage, innovation and natural heritage," says the policy. They are three centuries working out a myth. "The problem with the climate emergency is that we have to change the fermentation because the grapes that arrive are completely different," he admits.
But while the air is blowing in Chabrol and the afternoon hesitates between opening and closing, the number one in the world of champagne does not reveal the quantities sold by its houses (Moët & Chandon, Mercier, Dom Pérignon), but Ruinart, Krug, Veuve Clicquot does neither ). But its wine and spirits division posted sales of €5,974 million last year (up 26% from 2020) and reached €1,863 million in ongoing operating profit (+34%).
De Pablos-Barbier was born into a family of singers and artists. His parents, chemists, went to Colombia. His father soon died. She was 20 years old and majored in Agricultural Engineering at the Polytechnic University of Valencia (UPV). I would have liked to have become a winemaker. But this formation did not exist in Valencia. For 15 years he worked for the chocolate group Mars. France, England, Russia, Dubai and finally the management in Spain. "We already noticed that we had problems with the cocoa plants because of the climate crisis." Later she fell in love with a Frenchman. "I followed him," he smiles. He entered the luxury company Boucheron (Gucci), and also Lacoste. Although he has returned to Mars. He ran the American business for five years. However, in December 2020, he "got the call." LVMH. Since January 2021 he has been in charge of his century story. Around 1,300 hectares listen to it. And let no one doubt gender equality: "I'm here!" he exclaims. on top chateau white, the queen, the woman with the golden belt.
Source elpais.com