How do you get a useful space away from any typology? The architects of the Pachón Paredes studio You have worked with vagueness. And they built a flat studio, which they baptized as a non-binary space precisely because it remains indeterminate: "It is a place that, given its typological and functional indeterminacy, both spatially and in terms of furniture or construction details, allows and makes it easier for the user to interpret and freely adapt it without affecting the freedom of its use". His goal was for an apartment to take on uses related to work, household and sport without impairing them.
They assumed a 100 square meter apartment divided into nine rooms. The 15-storey tower in which the apartment is located was built in the late 1950s by the union working group (headed by Moreno Barberá, consisting of Cano Lasso, De la Joya or Benlloch La Roda). The tower in Madrid Río was part of an urban experiment called "La Colonia de San Antonio" and today offers an unparalleled view of the city. With these views as a legacy, the two young architects started from a classic: how to combine study and living with a reduced budget (690 euros per square meter), the solution was subtraction, ie choice. Leaving the place unfinished so that the lack of definition would serve to accommodate any use. Basically, the floor is a place of change. That's why it's pretty empty. It is an office without machines —visible— and a house without a sofa —visible—. A gym with luxurious bathrooms and views and an uncluttered party setting, raw with exposed plumbing and rough finishes but protected by cabinets and wood workspaces.
Inés García Pedrosa and Luis Pachón speak of a visible structure and a Latin cross plan. "Spaces are not heirs to their function, but to a different set of themes related to structure, energy, time, or their freedom of interpretation," they explain. The air, the natural light and the views fill that Latin cross, a space that remains "free", that is: undefined, modulated in five quadrants of equal size, with different possibilities of orientation, like on a stage. The inverted quadrants of the Latin Cross encompass the "programmed" spaces of more fixed use and for this reason remain closed.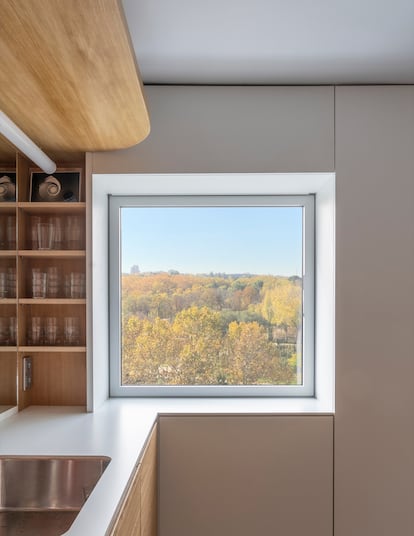 The furniture and materials are also indeterminate, "non-binary," they say. The kitchen island, in turn, acts as a 'workbench' or cutting table and models and as a bar when friends come ('that's why it doesn't go on the floor and is understood as just another table,' explains Inés). . The round center table doubles as a dining table, meeting table and gaming table. Even the closets in this area face each other, preserving leisure (the games) and "business-leisure" (the printer, samples, stationery, etc.). There is a lack of furniture in this central quadrant. It is "furnished" with a yellow linoleum carpet because it is an open space where you can do yoga – "supports the Tramex trays where we hang rubber bands and gymnastics accessories" – or extends the dining room around the round table (six people) the headboard of the bed into a square table for eight people, which together with the two oblong tables in front of the window can accommodate up to 14 people. That means, in addition to a non-binary or freely usable house, this is above all a puzzle room, flexible, combinable, reinventable.
So do you sacrifice comfort? where is the couch "The living room quadrant has a low table, some armchairs and some poufs that serve as a meeting place and relaxation area when we're watching a movie," explains Inés. In fact, there is no television either, just a projector – placed on the tramex, the lattice shelf, which serves as a ventilated end and here also serves as a shelf. Finally, they explain, in one of the rooms they have a modular sofa, "when we receive a lot of friends, we take it out… In other words, the 'sofa' element can also be a hybrid element present in the house and increasingly in the matter of work". This extension house has been thought through with millimeter precision and yet appears unfinished. It offers plenty of freedom and multiplies its uses, although it's not for the lazy or the messy.
All the culture that suits you awaits you here.
Subscribe to
Babelia
The literary news analyzed by our top critics in our weekly newsletter
GET IT
reduced by 50 percent
Exclusive content for subscribers
read limitless
Source elpais.com