When Ane Bengoa, 36, started raising her baby, she didn't feel that magical connection everyone was talking about. i just wanted to cry But she choked back tears, she ended up with a healthy baby, a loving partner and a supportive family. He had no right to complain. Ane lived in Ibiza and her family in Bilbao. I had few friends with children or a support network. She felt alone, she was angry at the world and she didn't really know why. "And suddenly time flies and I realize that I didn't have a minute to myself," he explains on WhatsApp. "That I haven't looked in the mirror in several months, that I haven't slept more than two hours at a time since my son was born. My whole world has changed, the lives of others are still in motion and I'm still at home and at the same time I don't have a moment of quality silence."
Anne Bengoa had Burn out or parental exhaustion, a non-clinical term used to describe parents who are so exhausted from the pressure of caring for their children that they give them no life for more. A University of Ohio report released in May ensures that 66% of working parents meet the criteria for this profile. The study includes a test to verify this.
According to this analysis, women are more likely than men to suffer from parental burnout. They do so 68% of the time, compared to 42% of their peers. "This is because women often continue to bear a large part of the responsibility for looking after their children and for balancing work and family life," explains study author Bernadette Melnyk via email. This variable was to some extent expected, but Dr. Melnyk highlights other aspects that are less obvious at first sight: "The study provided evidence that parental burnout negatively affects not only the parents, but also their children, who eventually externalize stress in some way. The study was conducted between January and April 2021. It offers a snapshot from a different time when the United States was locked at home due to the coronavirus. The delivery was the icing on the cake, but the cake, the doctor confirms, took a long time to cook.
The data can be extrapolated to Europe and also to this new normal. The author doesn't say so, but another survey conducted by Lingokids in Spain comes to strikingly similar conclusions: 67% of respondents admit that "the importance they place on being a good father or mother be, and the effort they put into it ends up being tiring".
Not only does parental burnout not appear in clinical textbooks, it also does not appear in dictionaries. And not because it's an Anglicism, but because it's something you don't talk about. Motherhood was taboo until recently and only its positive side could be mentioned. Many of those affected did not even know how to name what was happening to them. What has no name does not exist and society tends to make it invisible. Lola, a 38-year-old teacher from Seville, confirms this: "A lot of parents are like that but they don't tell anyone about it, unless you're a good friend and you have trust, people won't complain. " After speaking to moms of different ages about it, she believes we're facing a generational problem. "My mom didn't feel that way, I don't know what's going on … I think on the one hand, we don't have the tools that she does had, and on the other hand have more pressure and more information."
From your nephews to the "influencer": How the lack of real role models is affecting mothers
Ane Bengoa had to go to a psychologist to externalize what was happening to her. She met a group of mothers and started "a tribe." Today, months after giving a name to what happened to her, she's enjoying parenthood and feeling less drained. "Now that more than a year has passed, I have a clear idea of ​​what happened to me," he reflects. "I had no examples of moms around me, I've never had babies around me, nor did I see any nursing relatives… I lack examples around me."
In Spain, fewer children have ever been born than now. Not even during the Civil War. And that, in a way, affects first-time mothers: "Women have learned a lot about parenting through closeness," explains psychologist Isabel del Campo. "They've been in contact with friends who had children, with cousins, with nephews … but now that the birth rate is going down, that exposure to being with other mothers before they become one is less. Most women face this experience with no prior knowledge. And that can be a problem.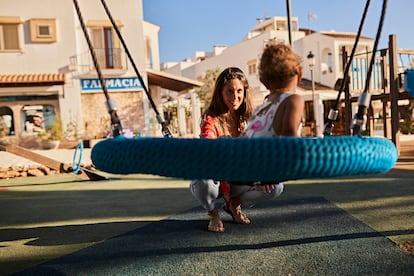 This is made worse when the lack of close references is replaced by the famous and influencers. "The image they sell of motherhood is very romanticized," says Natalia López, a 33-year-old from Barcelona with a three-year-old son. She denounces that social networks set unrealistic standards that a new mother likes to compare herself to. And in this comparison he always loses. "It's like the image of how women had to be in the 1950s, but adapted for today. And it's scary. You must always be in love with your son who must also be the kindest and share your values ​​and be the funniest. And you have to come to everything with your best smile, and if you stop taking the time to have a drink, you'll be one of those people who've changed since becoming a mother and become a moron."
The problem, the respondents agree, is not the children or the job; it is the system. The incorporation of women into the labor market has prompted wealthier parents to outsource care and those who cannot afford to combine work and parenthood, in a role split where women tend to lose out. On the other hand, there is a lot of information about parenting and many idealized models that are difficult to relate to. Maternity is sold on the networks that pass through an Instagram filter. "We have a problem as a society," says Dr. Del Campo. "When work and parenthood are combined, social relationships and time for oneself are most likely to suffer. And that's difficult to accept in a context where there's a lot of pressure on parents to consciously raise, to be positive, not even a minute miss …" The interviewees agree with this diagnosis. So do the studios. Natalia López sums it up in a phrase she read once and has been repeated endlessly ever since: "We must raise our children as if we had no work and we must work as if we had no children".
you can follow THE COUNTRY Health and Wellness in Facebook, Twitter and Instagram.
Source elpais.com