Prince Albert + Princess Charlene
During the Pope's visit, they are as intimate as rarely
Prince Albert and Princess Charlene traveled to Rome on July 20, 2022 for a private audience with Pope Francis. A trip that the couple clearly enjoyed, as these photos prove.
On Monday, Princess Charlene, 44, and Prince Albert, 64, visited the Red Cross Ball together in Monaco, and on Wednesday the couple moved to Rome. Specifically, to the Vatican to meet Pope Francis, 85, in a private audience. The former swimmer chose a dramatic outfit for this meeting: she entered the Vatican with her husband in a black dress, covering her head with a veil of black lace. A large crucifix hung around his neck. She even painted her nails black beforehand.
The radiant reunion of Princess Charlene with Pope Francis

When meeting the head of the Catholic Church, Princess Charlene was more relaxed than she had been in a long time, smiling warmly and apparently more than happy to finally be able to meet the Pope again in person. . Especially after her long illness last year, the 44-year-old believer should have given this reunion the strength to look to the future with confidence.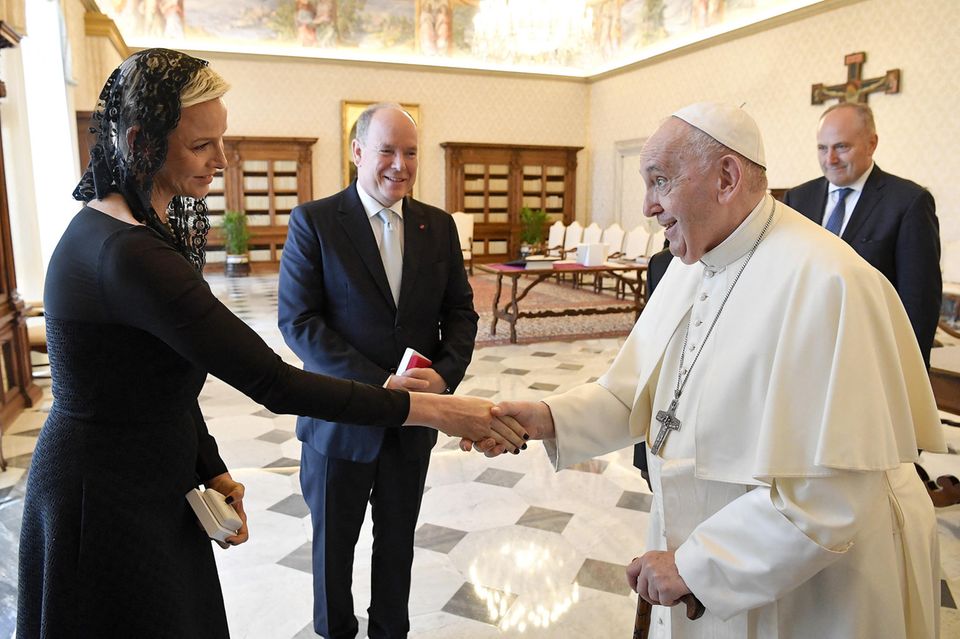 Gestures of love in Rome

After the private audience, Charlène and Albert also visited the Folon exhibition, visible at the Vatican Museums until August 27. They shared photos of their visit a little later on their official Instagram account – and they are causing a stir! In the museum shots, Charlene hangs her husband's arm, another shot shows them both hand in hand in front of the Vatican. A gesture that we rarely see from the couple. Usually the regent and his sweetheart keep a low profile in public with loving affections. The only exception: during their visit to Norway a few weeks ago, the couple kissed passionately in front of the cameras.
Crisis rumors hang over the couple

Eventful months hide behind Princess Charlene and Prince Albert. In 2021, Charlène falls ill with a serious ear, nose and throat infection while traveling in South Africa, has to undergo several operations and is separated from her family for months. In March this year, she returned to her relatives after a hospital stay. Meanwhile, in addition to worries about Charlene's health, rumors of a crisis surrounding her marriage to Prince Albert are making headlines. A stress test for the couple, as the princess herself admitted in an interview during Monte-Carlo Fashion Week at the end of May: "We are human like everyone else and like everyone else we have emotions. and weaknesses, only our family in the media". is exposed and every little weakness is passed on."
Sources used: instagram.com
aen
Gala
Source www.gala.de