This is the Spanish city with the most problems. And yet it has the most popular mayor. It's not the only paradox in La Línea de la Concepción, which was born as a dam against Britain's Gibraltar and ended up living (aside from the drug trade) off the jobs the rock provides. The devaluation of the pound since Brexit has cut wages by 10%. Despite this, Gibraltar is still considered by many to be "the best company in Andalucia".
The day begins on the way to the rock. Around 14,500 people cross the border every day to go to work. Of these, more than 11,000 are bed linen. That's almost half the labor force in a municipality of 63,500 people and an unemployment rate of 40%. "Fortunately, Gibraltar exists because there's nothing outside," says Roberto Carlos Gamero, a telephone cable installer. Gamero, a resident of Los Barrios, is among those who think Gibraltar is "the best company in Andalusia". This costs around 1,200 euros net per month. "It pays off to swallow the traffic jam every day," he says.
The rockworker is used to certain things. One of them is the saturation of the border crossing at the end of the working day around 5 p.m. "It takes us at least an hour to cover a kilometer and if controls get tighter it can be up to four hours." Another habit is the Revolut card, which converts pounds into euros. Then there's the fiscal mess, because taxes are paid on both sides of the border. And the social conditions in Britain are not like in Spain: Sick leave lasts ten days and unemployment benefits four weeks.
But the rock with its main street, its traffic jams, its cheap products (no one ever thinks of filling the car tank or buying tobacco on the Spanish side), its 7.5 euros per hour worked and its monkeys at the top , is pure luxury compared to the Campo de Gibraltar. "That's tremendous," sighs Juan Franco. "Not only because of the disagreements between one side and the other, but because we are affected by the economic problems of Spain, those of the United Kingdom and any friction between them or between London and Brussels: we live in anticipation of what might happen."
Juan Franco is the mayor of La Linea. In 2015 he won the elections with his independent La Línea 100×100 candidacy, but had to come to terms with the PP. In 2019 it swept: 21 of the 25 city councilors. Franco has no chief of staff, no spokesman, no driver. He goes from one place to another and does what he can. "Here we have all the problems you can imagine and then some," he says.
What affects most is what happens next. Subscribe so you don't miss anything.
Subscribe to
The tourist craze has never reached La Línea, although the luxury urbanization of Sotogrande and the Costa del Sol with emblematic Marbella are just a stone's throw away. What matters are drugs in large quantities. Morocco, the world's largest hashish producer, is just across the road, a few nautical miles away. And with hash comes a lot of cocaine.
The comprehensive security plan launched by the Interior Ministry in 2018, with a significant deployment of agents, has changed things. "At least the smugglers are being more discreet and not posting videos of the landings on the nets," ironically says one police officer who has been fighting human trafficking in the region for 18 years. More seriously, the results are important: more than 60,000 arrests and more than 800 tons of drugs seized in the last two years.
"It worked," admits Mayor Franco. "But the plan was supposed to be comprehensive and it wasn't." Franco points to the economic and social section, which is intended to complement the police action. There aren't any big improvements. "And many evils follow, such as school failure," the mayor continues. According to the anti-drug police, around 30 people can take part in an operation. Between 6,000 and 10,000 euros is easy for everyone to get. "Any kid faced with that money forgets about their studies and devotes themselves to life in a big way for a while."
There are now fewer landings in La Línea. "Shipments from Morocco are divided into smaller shipments, distributed to various pleasure boats near the coast and reach the entire Andalusian coast from Almería to Huelva," explains the police officer. "And then there is the port of Algeciras, which would be paralyzed if it controlled all the containers correctly."
La Atunara was a fishing village long before La Línea existed. And it maintains a structure of small houses and narrow streets not very different from that of a North African kasbah. Social workers are not enough in this neighborhood stigmatized by drug trafficking. Last year there were protests against police operations that degenerated into riots; Now the area is relatively quiet.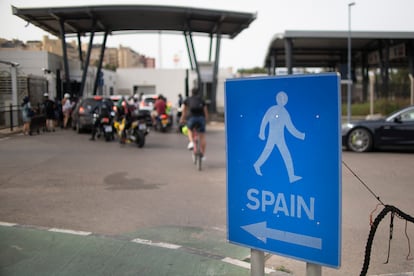 "We've beheaded the main clans, the Footballers, the Chestnuts, but soon a younger generation is taking over and people are cooperating. Poverty is the key. Anyone who can gets a small boat and fills it with drugs," explains the police officer. It's a compelling fact: "Despite everything we've done since 2018 to control drug trafficking, 70% or 80% of La Línea's population makes a living off it. Of course, I'm not saying that 70% of the people in La Lina have committed themselves to human trafficking, what I'm saying is that 70% end up profiting from the money generated by drugs. Because this money moves through the Campo de Gibraltar and it moves fast".
There are no major drug lords in La Línea and throughout Campo de Gibraltar. "This is a transit area from Morocco to the whole of Europe and there are transports, a lot of drugs are moved, but it's relatively modest, no big drug lord lives here," emphasizes the police officer.
And we return to the beginning, to the paradoxes. A province like Cadiz, which has beauty, good weather, ports and a big industry like Acerinox, together with Algeciras includes some of the poorest areas of Spain. The line for example. Mayor Juan Franco is still determined to make it an autonomous city like Ceuta and Melilla to take advantage of tax benefits. "We are submitting a letter to the Junta de Andalucía and once the elections are over we will insist that it reaches the Council of Ministers," he explains.
Meanwhile, life goes on. In the afternoon, thousands of cars return from Gibraltar and those on foot make their way back (as always, via the runway of the unlikely airport of Gibraltar) under glaring sun. "There is no unemployment on the Rock and there are no jobs on the other side of the border," says Naim, a 20-year-old who works at a coffee shop on Main Street. Crossing the border means moving from one world to another every day.
reduced by 50 percent
Exclusive content for subscribers
read without limits
Source elpais.com