Tom Brady, the legend of American football, decided to return to the courts again, only 6 weeks after deciding to retire.
Tom Brady, 44, announced his retirement from football in early February after a career spanning more than 20 years.
"I've always thought that football is an all-encompassing spectacle," Brady said at the time. "If you don't have a 100% competitive commitment, you're not going to be successful, and success is what I love most about our game."
Brady published a tweet through his official account on the social network "Twitter", in which he said: "Over the last two months I realized that my place is still on the field, not in the stands."
"That time will come, but not now. I love my teammates and I love my family who support me, they have done everything possible. I will return for my 23rd season in Tampa Bay to finish the unfinished business."
What does Cristiano Ronaldo have to do with this?

Tom Brady's decision to return to the stadiums came hours after his meeting with Manchester United star Cristiano Ronaldo.
Cristiano Ronaldo posted a photo with Brady at Old Trafford, after Manchester United beat Tottenham Hotspur (3-2) in the English Premier League, thanks to a hat-trick by the Portuguese star.
Commenting on his encounter with Tom Brady, Cristiano said: "It's always a pleasure to share ideas with one of the all-time greats."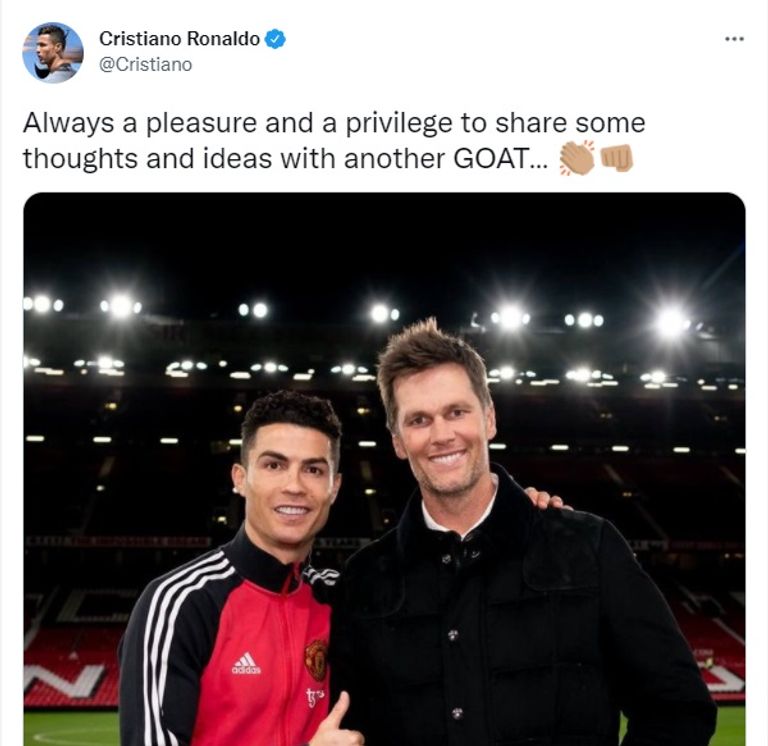 The British website "GiveMeSport" said that the 37-year-old Ronaldo seems to have played the role of inspiring Brady's return to the stadiums, which is believed by a large number of fans who watched their meeting together.
But it sounds like Brady has been planning a comeback for a while, which he hinted at in previous press releases.
It's worth noting that Brady's last game in the American Football League (Super Bowl) ended with his Tampa Bay losing 27-30 to the Los Angeles Rams in this year's league playoffs.
Tom Brady has won the Super Bowl 7 times, and is the oldest and most crowned Super Bowl champion, having won the title in 2020 at the age of 43 with Tampa Bay, leading them to their first title in 18 years.
Brady won the Super Bowl 6 times with the Patriots, before winning his seventh title with Tampa Bay.
Brady's annual salary before his retirement was $19 million, after he was making $28.4 million due to salary-cap restrictions in the American League.