MADRID, June 21 (EUROPA PRESS) –
The Council of Ministers approved this Tuesday, on a proposal from the Ministry of Education and Training, the distribution of 58,559,610 euros to the autonomous communities to help families acquire textbooks and teaching materials.
"We will distribute almost 60 million euros in the Autonomous Communities to ensure that these families, in a situation of greater vulnerability, do not have to acquire educational material and textbooks," said the Minister of Territorial Policy and Government Spokesperson Isabel Rodríguez during the press conference after the Council of Ministers.
In this context, Rodríguez underlined the government's commitment to "quality" public education, as well as to the "guarantee of equal opportunities" and underlined the "loyal cooperation" with the autonomous communities.
The deadline for execution is December 31, 2023 and the aim of this item is to help families to obtain textbooks and teaching materials in all kinds of media, including digital, to compensate for the most unfavorable socio-economic situations and to contribute to the education system Ensuring educational equity and equality of rights and opportunities.
For the distribution of funds from the general state budgets of 2022, the at-risk-of-poverty rate by autonomous communities and the number of students enrolled in compulsory primary and secondary education in each community were taken into account.
The credit is allocated to the acquisition of these materials for the students' courses of primary education and compulsory secondary education from centers supported with public funds.
The Autonomous Communities can also use part of these funds to grant grants for baccalaureate and vocational training courses.
Andalusia, Catalonia and Valencia are the regions receiving the most funding, ahead of Madrid in fourth place. In detail, the distribution by autonomous communities is: Andalusia, 16,095,947 euros; Aragon, 1,239,670 euros; Asturias, 1,071,632 euros; Balearic Islands, 965,950 euros; Canary Islands, 3,563,569 euros; Cantabria, 610,309 euros; Castile and León, 1,889,306 euros; Castile-La Mancha, 3,316,396 euros; Catalonia, 8,125,736 euros; Valencian Community, 7,548,435 euros; Extremadura, 1,994,246 euros; Galicia 3,005,209 euros; Madrid, 6,087,622 euros; Murcia, 2,745,423 euros; and La Rioja, 298,160 euros.
679538.1.260.149.20220621151419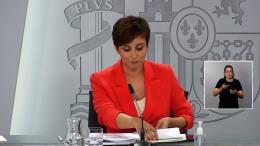 Source europapress.es