Football fans around the world await the draw for the 2022 World Cup, which will take place next week in the Qatari capital Doha.
About a week before it took place, an American website predicted the 2022 World Cup draw, where it expected 4 Arab teams to qualify for the World Cup, joined by Qatar.
The selections and the Emirates of Asia, Egypt, Tunisia, Morocco and Algeria of Africa, seek this week to reserve their tickets for the 2022 World Cup, after Qatar and Saudi Arabia.
Although the Egyptian team has a chance of qualifying when it faces Senegal, the American website "We Global Football" considered the "Teranga Lions" as the team that booked the qualification ticket, as well as the Emirates national team United Arabs.
At the Arab level, the site expected the Tunisian team to fall in the first group with their Qatari counterpart, head of the group as the organizer, and with them the Dutch giant and the Welsh team.
According to the draw predictions, 2019 African champions Algeria would sign with the England team in Group D, along with Uruguay and Serbia.
In Group E, the two Arab teams, Morocco and Saudi Arabia, were present with Mexico and Belgium.
The US website expected Senegal, Algeria, Morocco, Nigeria and Tunisia to qualify for the African continent, and Saudi Arabia, Iran, South Korea and Japan for the Asian continent.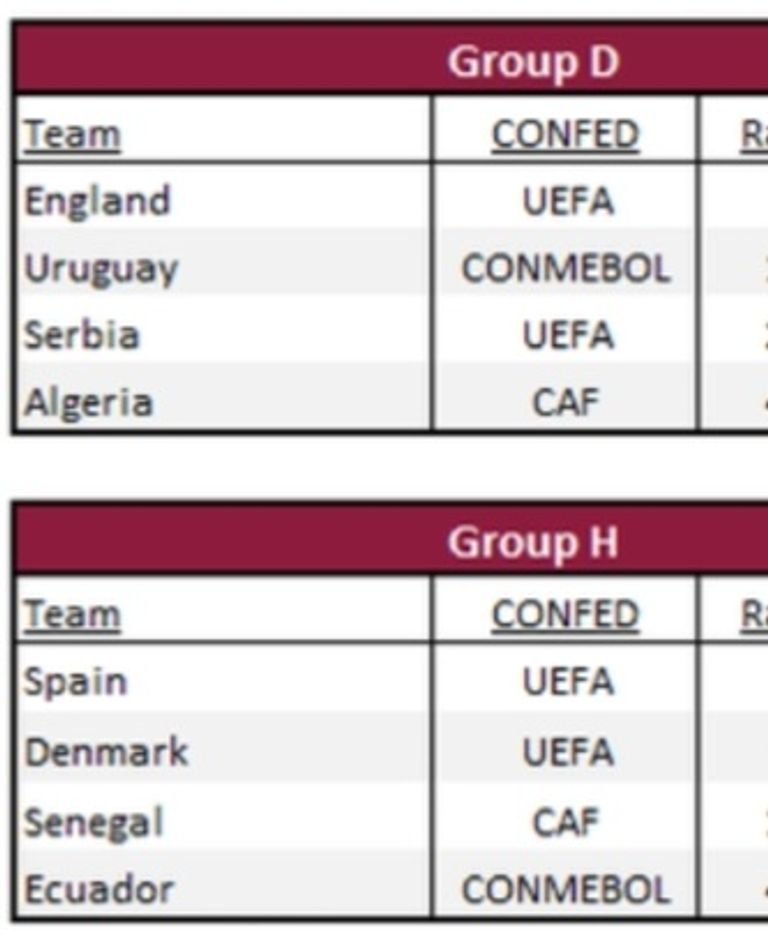 World Cup Virtual Draw
Group A: Tunisia, Qatar, Holland and Wales.
Group B: Portugal, Germany, South Korea and Peru.
Group C: Argentina, Switzerland, Japan and Panama.
Group D: England, Uruguay, Algeria and Serbia.
Group E: Saudi Arabia, Morocco, Belgium and Mexico.
Group F: France, America, Japan and Russia.
Group G: Brazil, Croatia, Nigeria and Canada.
Group H: Spain, Denmark, Senegal and Ecuador.