Mikhail Razvogayev, Governor of Sevastopol, announced on Sunday the assassination of a senior commander of the Russian Black Sea Fleet in Ukraine.
"Captain Andrei Pale, deputy commander of the fleet, was killed during the fighting in the coastal city of Mariupol in eastern Ukraine," Razvogayev said on Telegram today.
Reports issued by Kyiv and Western reports revealed, a few days ago, the murder of 4 senior officers of the Russian army; During recent battles with Ukrainian forces, a source inside Russia confirmed the death of at least one of them.
Ukrainian military intelligence reported that Ukrainian forces killed a Russian general near the besieged city of Kharkiv.
Battles of Mariupol

Earlier on Sunday, Pavlo Kirilenko, the governor of Ukraine's Donetsk region, said in a television interview on Sunday that fighting was taking place between Ukrainian and Russian forces inside the eastern Ukrainian port city of Mariupol.
Many of Mariupol's 400,000 residents have been trapped for more than two weeks as Russia seeks to seize the city to help secure a land corridor to Crimea, which Moscow annexed from Ukraine in 2014.
Ukrainian Mariupol is a city located in the southeastern part of Ukraine, bordering the Sea of ​​Azov. Mariupol is located in the Donetsk region.
The historical center of the city is located at the confluence of the Kalmyus and Kalchik rivers in the Sea of ​​Azov. It is the largest Ukrainian city and the second largest in Donetsk Oblast, with a population of about half a million people.
The city's residents generally speak Russian, but in terms of ethnicity, they fall somewhere between Russian and Ukrainian.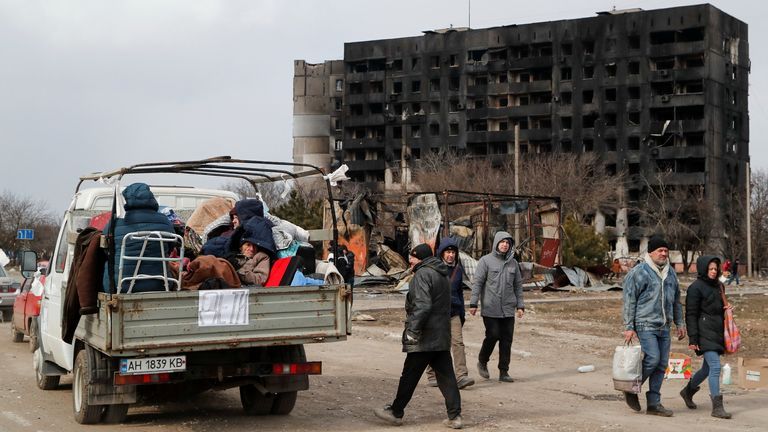 Thousands of Mariupol residents deported

Ukrainian President Volodymyr Zelensky said Russia's blockade of the port city of Mariupol was "a terror that will remain in the memory for centuries to come", while local authorities said thousands of the city's residents were forced to cross the border.
"Several thousand residents of Mariupol have been deported to Russian territory over the last week," the city council said in a statement on its Telegram channel late on Saturday.
Russian news agencies have reported that buses have transported several hundred of what Moscow calls refugees from Mariupol to Russia in recent days.
Many of Mariupol's 400,000 residents have been trapped for more than two weeks as Russia seeks to seize the city, which would help it gain a land corridor to Crimea, which it annexed from Ukraine in 2014.
Russian President Vladimir Putin describes the attack on Ukraine, which began on February 24, as a "special operation" aimed at disarming the country and expelling people he describes as dangerous nationalists.
Western countries describe the attack as a war that Moscow decided to launch, and those countries imposed sanctions on Russia with the aim of crippling its economy.