Wikileaks announces appeal for 'a black day for press freedom and British democracy'
MADRID, 17 (EUROPE PRESS)
UK Home Secretary Priti Patel signed the order this Friday authorizing the extradition to the United States of Wikileaks founder Julian Assange, who is accused of espionage over leaking thousands of classified documents, leaving room for a new complaint against this decision.
Assange has tried in vain to have British courts prevent his extradition to the North American country, citing his ailing health and the harsh sentence he could face for his organization's work in disseminating documents in 2010 and 2011.
"The UK courts have not found it repressive, unfair or an abuse of procedure to extradite Assange," a Home Office spokesman said in a statement, saying there is no more to the case than an administrative go-ahead for the transfer give.
Nor has the UK found that extradition is in any way "incompatible" with human rights, provided a fair trial is obtained and freedom of expression is guaranteed. He therefore expects "appropriate" treatment from the USA, "also in relation to the health" of the accused.
The UK Home Office has also stressed that the United States is a "key" ally on extradition issues and that Assange's hypothetical transfer will not take place "until all appeals have been exhausted" by her lawyers, which is keeping the process afloat.
"Today the fight does not end"
Wikileaks viewed this as "a black day for press freedom and British democracy" and confirmed the submission of an appeal – there is a fortnight deadline – which will predictably delay the process. The organization has recalled that Assange could face up to 175 years in prison in the United States for what they see as "political" and not legal.
"Julian did nothing wrong. He has neither committed a crime nor is he a criminal. He's a journalist and editor being punished for doing his job," Assange's wife Stella lamented in a note warning that Patel "will be remembered as an accomplice of the United States in its agenda, turning investigative journalism into a criminal case."
The organization is not giving up and, despite believing the process to be "long and tedious," remains confident in the success of the "new litigation," which now begins with an appeal to the Supreme Court. "The fight doesn't end today," enthused the wife.
Several organizations have joined the criticism, including Reporters Without Borders (RSF) and Amnesty International, whose secretary-general Agnes Callamard believes the Assange case is sending a "chilling message" to journalists around the world.
If extradition is successful, Assange could be held in solitary confinement in the US, for which Callamard has again urged the British authorities to drop the trial and the Americans to drop the charges against him.
Assange was arrested at the Ecuadorian Embassy in London in April 2019 after nearly seven years in prison. The Wikileaks founder first fled to the embassy to avoid possible extradition to Sweden, where he was also under investigation, and feared this was a first step towards the United States.
678362.1.260.149.20220617113319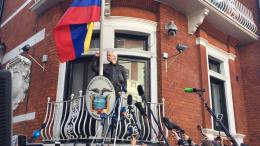 Source europapress.es