You are a kind of rock star of the cultural world. They have, after appearing on the screens of Mexican homes for 20 years, a large and very grateful group of admirers, many of whom, guided by their influence, have also studied literature, written a book or become academics. Pablo Boullosa, Laura García, Eduardo Casar and Germán Ortega have reached the 20th season of the public television program the happy worda unique phenomenon in a country like Mexico, where soap operas or news programs compete for the attention of millions of people who seek a moment of peace and tranquility on television.
And like a music band, the team from the happy word has traveled to several cities in the country and they have been sitting around a table for two decades to dispel doubts about the language and origin of various expressions used daily by their viewers, who are closely connected to them through social networks. A contact that has evolved from phone calls or emails in the studio to tweets and social media posts around the time the show went live.
On March 8, 2003, five shy, newly laid-off drivers opened in front of television cameras a program that had preceded two attempts to screen a production about literature and culture. The Gym: Text, Sweat and Pages Y the letter bar were the Canal 22 projects, driven by the enthusiasm of cultural producer Enrique Strauss and directed by Pablo Boullosa, which, however, did not blossom into continuity, but gave way to it the happy word. In this first chapter, the Tertulianos, including Nicolás Alvarado (who would leave the program 10 years later), spoke about the usefulness of literature, the most famous poem by the Mexican poet Manuel Acuña, and the meaning of various expressions submitted by viewers.
The dynamism of the program, which continues to this day, consists in the fact that each of the presenters begins the program with an excerpt, saying or comment on literature, generally it is in this short space that their personality, humor and tastes for expression come . The conversation then picks up speed with the participation of the public, who express their doubts about the language and the words they use on a daily basis. Books and works are also recommended and much is said about the origins of words. There are always answers from the hosts, and these answers always lead the viewer to a fertile and green land with more works and therefore more doubts. The ride is always pleasant and fun.
Laura García, a Spanish-nationalized Mexican, was 26 when that first aired in 2003, when her future was uncertain as to whether or not she would stay in Mexico. The lexicographer, translator, editor, writer, journalist and radio and television communicator, after a comprehensive review of her professional experience, affirms that she is still unable to appreciate what the two decades since that first show mean. "There were five people who didn't know each other who were very excited to start with no expectations and no dimension of where this was all going. I think I had no more than 20 years in my life the happy word", he says with the emotion that has been on his face since that first broadcast.
For the hosts and viewers, part of the harmony and success that has sustained the project is that it's not just about seeing and hearing people who know everything, but that each of them is a specialist in something and is leading the way the knowledge gathered helps the cameras to have a very comprehensive and rich view of almost every topic that is consulted. But beyond that, Pablo Boullosa, the leader of the group, assures that it is also the work of those involved in projects like this. "People often think what a great credit it is for us to turn 20, but credit goes to all the directors and officers who ticked off the program. The length of a television production depends on the people who make the important decisions and continue to support them. It is not just a merit of ours, it is the fruit of the collective effort."
Channel 22 director Armando Casas Pérez can be seen in the corridors of the TV Forum taking photos or recording videos. You can sense his job and his greatest passion from afar: he is a filmmaker, director of films such as A strange world (2001), Bad drink (2018) or family gag (2014). While the live transmission is running, he uses his mobile phone to take photos from different angles or stands in front of the crane, which has a camera ready to focus on one of the drivers. For Casas, director of the public broadcaster since 2019, the success of this production lies in its simplicity: "We are in a gathering of nice people who don't act like know-it-alls who give lessons; They are people who also have doubts and who have acquired knowledge that they are now sharing," he says.
In 2021 the happy word He reached the largest number of viewers on channel 22: more than 10 million people watched him. And on average, around 69,000 watch each show of the new season, according to the records. The channel, which is dependent on the Mexican Ministry of Culture, was founded in 1982 and began broadcasting a cultural offer on June 23, 1993 the electric sheepa TV show about science or the mythical offers and portraits, Moderated by the journalist and presenter Silvia Lemus and recognized by UNESCO as a "Memory of the World" for the wealth of testimonies and voices it has been able to collect in its three decades of existence.
Mexican writer Eduardo Casar had just turned 50 when the show began. With humor he remembers the first meetings, where, as he says, more attention was paid to the outcome of the program than to what they said. Only a few weeks ago, Casar belonged to the group of scientists who reviewed a diploma thesis. At the end of the test, the applicant's mother, a young man presenting a work on the Uruguayan writer Eduardo Galeano, showed his gratitude and admiration and told him that thanks to the program, her son decided to study literature.
There are not a few examples of people who have followed the steps and legacy of the program with amazement. During those 20 years, several generations of students and people of all ages and professions repeated what they had learned and set out to carry out personal and professional projects related to literature.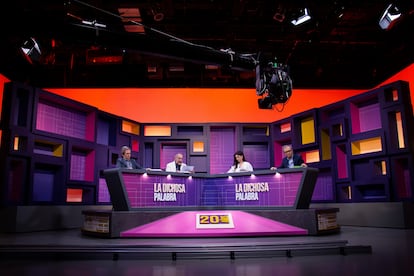 Germán Ortega studied several things before realizing that life had prepared him to become a TV presenter. He has been teaching all his life and his education has ranged from studying biology, anthropology, social sciences to teaching the history of religions. "Before, I had the feeling that every Saturday was a kind of professional exam. But then it started to flow more. And so we spent 20 years. The project has a lot to do with the actual meaning of my life. Happiness has to do with flow, living something that you don't even realize is taking so much time because you're having a great time," he recalls.
In these two decades the program has gone through the production of five people, all contributing a different aesthetic, they have faced the novelties or the challenges of the times they have lived through, but the essence has remained almost intact in the four conductors , who became part of a happy family that welcomed many into their homes each week. The last of those people is producer Javier Pimentel, who has been at the helm of the program since earlier this year. He is also celebrating 20 years working at Channel 22. "This program is the channel's flagship program, it's a real privilege and a pleasure because whatever my job I'm a fan, I know it well and I've seen what it's like has changed over the years," he says.
The passage of Nicolás Alvarado in the happy word it lasted a decade. He recounts that Froylan López Narváez, an academic, journalist and cultural promoter, spoke to the team during the first few episodes and recommended that they relax a little and enjoy the humor by sharing things they have undoubtedly mastered . "It was 10 very joyful and very exhausting years. It was the first daily commitment I had." From there, Alvarado began a career in media promoting culture. "After 10 years I had many projects and a lot of work. the happy He had already given me everything he could give me, and I had already given him what little I could," he says.
Boullosa, the older brother and leader of that program, says he's deeply grateful because the public and Channel 22 are two of the pillars that have kept them there. When asked about his role in promoting new ideas, the author is resolute: "I never wanted to do a program for people who already read or love culture; I don't want to entertain these people, what I want to achieve is to reach those who are on that frontier, those who weren't lucky enough to be born into a family of readers, I'm interested in seducing those people . That's what I really want and I want to believe that we're going to do it."
The joy and the echo of the words
Alejandro Tulio Carbonell is 35 years old and is originally from the state of Hidalgo. He talks about Eduardo, Pablo, Laura and Germán as if they were members of his family or his closest friends. That's striking, the feeling of closeness they've given him since he first turned on the show at the age of 16.
"I knew I would find something I would like on Channel 22 and I did. They started making puns, which I really liked and I started following them," he says. Tulio Carbonell turned high school and college teacher and is waiting to finish his book so he can get it into the hands of drivers. "I am a writer amateur and if I made that decision, it's because of them. It was a push." He also fondly remembers the day he was able to meet her at a book fair in his town that they were attending.
The first chapter, dated March 8, 2003, ended with the words of Eduardo Casar: "We hope that this is the beginning of a long conversation"; the conversation between the happy word and its millions of viewers have been around for 20 years, and the conversation is likely to continue for many years to come. Like a long friendship between people who know each other and who enjoy sharing and decoding the world around them through encounters.
Subscribe here to Newsletter from EL PAÍS Mexico and get all the informative keys of the news of this country
Source elpais.com