Enjoy a relaxing moment outdoors while sheltering from the sun or even on rainy days by installing a sail awning on your patio or garden, the star outdoor accessory for its functionality and style. And they adapt to any space, allowing the creation of semi-covered outdoor spaces that also contribute to greater privacy and do not obstruct the passage of air, creating a refreshing environment. They stand out above all for their ease of installation, being always recommended to place them with an inclination between 20 and 40 degrees, in order to obtain maximum tension and to ensure good drainage in case of rain.
In this selection you will find some of the best sailing awnings available on Amazon, with exceptional value for money and with the possibility of choosing between different sizes and colors to suit all tastes.
Wokkol sail awning, different sizes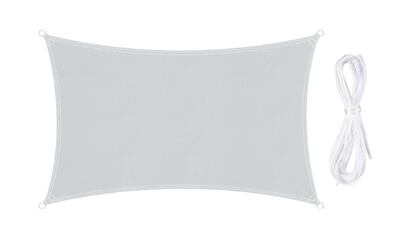 This strong and durable outdoor shade sail provides up to 95% sun protection and blocks harmful UV rays. It has overall dimensions of 2 x 3 meters and a curved design with double reinforced seams that prevent the fabric from unraveling.
It can be easily attached to trees, walls and tall posts as each corner is fitted with a stainless steel D ring as well as four 1.5m windproof ropes. It can also be attached to other mounting accessories such as eyebolts, turnbuckles and carabiners.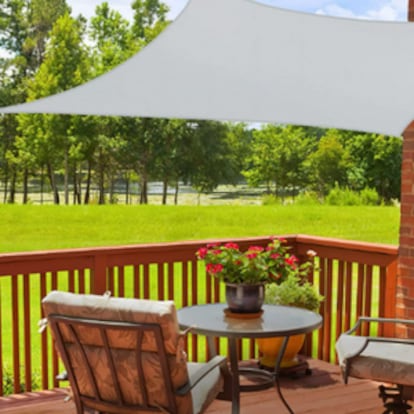 Waterproof
This shade sail is made of high-density polyethylene fabric with a waterproof coating on the surface, ideal for enjoying the great outdoors even on rainy days.
SONGMICS sun sails, various colors and sizes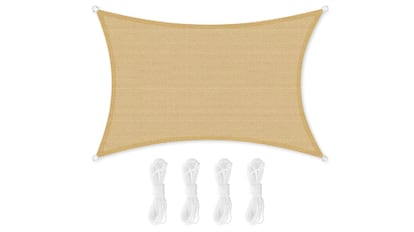 This rectangular sail awning measuring 3 x 3 meters blocks 85% of the sun's rays (it is water and air permeable). It is made of durable plastic and comes with accessories for its assembly: four sturdy cable ties, four stainless steel rings and two-meter cords.
rustic design
It is a sail awning with a rustic aesthetic, since its fabric has a relief structure inspired by wicker, allowing you to choose from a wide range of colors depending on the decoration you want to achieve in the garden or on the terrace.
HUTHIM sail awning, different sizes and three colors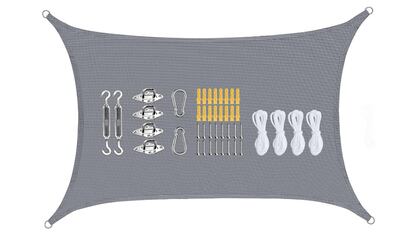 It is an outdoor shade sail with dimensions of 2 x 3 meters that can block 95% of UV rays and offer a large area of ​​shade.
When it rains, the water condenses on the surface of the fabric instead of penetrating, playing a waterproof and protective role.
Including assorted accessories
The purchase package includes a range of tools and accessories to safely and easily install the sail awning without the need to purchase additional materials: four padded grommets, two carabiners, two turnbuckles, 16 metal screws, 16 expansion screws and four cords.
OKAWADACH sail awning, various colors
This sail awning has dimensions of 3 x 3 x 3 meters, it is made of waterproof polyester fiber and covered with a UV resistant fabric to effectively protect against UV rays (suitable for a maximum of four people).
Installation is very easy thanks to the stainless steel D-rings attached to each corner, which allow for stable hanging.
With reinforced seams
All edges of this shade sail are double reinforced stitched to prevent wear and deformation and ensure excellent product life regardless of weather conditions.
Source elpais.com