Mid-range mobile phones have become an increasingly important market niche for manufacturers who want to attract the attention of users who do not opt ​​for high-end smartphones, but are looking for a device that offers them a little more than the entry-level models.
In this regard, the mid-range phones that have come onto the market in this first half of 2022 continue on the path that their predecessors have long since taken. It is worth mentioning the quality of the panels that they contain, the commitment to fast charging technology or the performance that they offer not only for everyday use but also for playing titles of the likes of Genshin Impact. Also important is the work at the photographic level and the inclusion of technologies such as NFC for mobile payments or 5G.
Which mid-range phones 2022 have we tested?
With a budget that starts from 250 euros and reaches 500 euros, these are the selected smartphones: Motorola Edge 30 (8.75), Oppo Find X5 Lite (8.25), Empire 9 Pro+ (8.5), Samsung Galaxy A53 5G (8.25), Vivo V23 5G (8.75) and Xiaomi Poco X4 Pro 5G (8.5). The following aspects were taken into account in the analysis:
Draft: In addition to its aesthetics, its construction quality (materials and finishes), grip and ergonomics were appreciated.
Screen: XXL panels are also used in the mid-range, which favors the experience when surfing the Internet, watching a movie or playing games. All those selected for this comparison offer very good quality, although differences can be seen in aspects such as the refresh rate, a value that offers more or less fluidity in interaction.
Perfomance: Rendering and smooth does the phone run well or does it "hang"? How does it handle? And multitasking? The performance also evaluated battery responsiveness and recharge times.
cameras: They were tested in different situations to see how their sensors reacted. In no case can the results obtained be compared with the photos and videos of high-end mobile phones.
Other: what connectivity options they include, how their biometric systems work (both fingerprint and face unlock), the audio section
compare better smartphone Mid first half of 2022: This is how we tested them
For a week each of these five proposals has become our usual mobile phone: with them we surfed the Internet, watched movies, played games, also accessed emails and social networks… Thus it was possible to check their performance and the autonomy of its batteries. Particular attention has also been paid to the photo section, which takes shots in different scenarios and videos.
All left really positive impressions and the reviews received reflect this. There was a tie between the phones Motorola Edge 30 Y Vivo V23 5G. The first stands out above all for its very light weight and thickness, as well as the 144 Hz of its screen. The second works very well and the fact that it includes a dual camera for selfies allows it to offer something that the rest don't have.
Motorola Edge 30 mid-range phone: our pick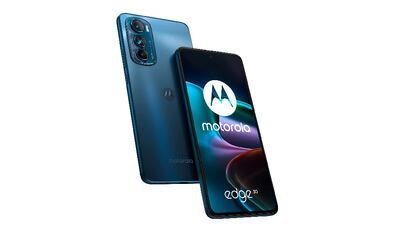 In terms of thickness and weight, it breaks all schemes by presenting a profile of 6.59mm and weighing only 155g. With IP52 protection against water, it is a phone that guarantees a very good user experience in all important aspects, not only in terms of design. It comes with Android 12 and a customization layer with little blockware, which is always appreciated, as well as a technical configuration that includes a Qualcomm Snapdragon 778G+ processor (compatible with 5G networks), 8GB of RAM and 256GB of internal storage. For its part, the battery offers a capacity of 4,020 mAh, the lowest in comparison: this is understandable given its very small thickness. Fast charge is 33W.
From the camera module, in addition to the main module, the ultra wide angle (both with 50 megapixel sensors) does a good job, which excels in the interpretation of color, detail and sharpness. Finally, we talk about the screen. which is protected by a Corning Gorilla Glass 3 glass, is a 6.5-inch AMOLED panel with very thin frames, a resolution of 2,400 x 1,080 pixels, compatibility with HDR10 + content and a maximum refresh rate of 144 Hz, which offers a superior fluidity. All these specifications allow you to have a very good experience at picture level, which from a sound point of view bears the Dolby Atmos seal.
Vivo V23 5G mid-range phone
This model (made of glass and aluminum) borders on the psychological barrier of 499 euros and is available in two colors: black, the analyzed version, and another called Sunshine Gold, which has the particularity of changing color as it is on the Realme 9 is the case pro+ With a profile of only 7.39 mm, its configuration – led by the MediaTek Dimensity 920 processor with 5G support – is characterized above all by offering 12 GB of RAM to which 256 GB of internal memory is added Need to become. Meanwhile, the operating system that it includes is Android 12.
And the battery? The fact that it is so thin explains why its amperage (4,200 mAh) is slightly lower than the others. However, since a 44W charger is included, the charging process is completed quite quickly. Regarding the screen, an AMOLED panel is mounted and its specifications are 6.44 inches and 2,400 x 1,080 pixels resolution. The most striking thing about this display (and the phone as a whole) is that it houses a teardrop-shaped night at the top with two sensors for taking selfies, a 50-megapixel and another 8-megapixel wide-angle that's good for group selfies. Without a doubt, the results are worth it and for users who take a lot of photos of this type, it's a very interesting claim. You have different filters with completely natural results and a double front flash with three lighting options at your disposal.
Xiaomi Poco X4 Pro 5G mid-range cell phone: the alternative
It takes the Poco X3 Pro smartphone and bets (among other things) on an improved design, where the layout of the rear camera module stands out: it is rectangular and large. It's led by a 108-megapixel main sensor, and while the experience is accurate and doesn't disappoint in broad daylight, as expected, the quality drops as night falls.
Eyes quickly fall on the screen. It's an AMOLED display, which ensures good viewing angles and vivid colors, and is one of the best in its price range. Specifically, it has a size of 6.67 inches, a resolution of 2,400 x 1,080 pixels, a refresh rate of 120 Hz to be activated beforehand and protection provided by Gorilla Glass 5. Since it reaches a maximum brightness of 1,200 nits, it can it can be used in full light to make the day cozy. The speakers are dual and support Hi-Res Audio.
At the performance level, the incorporation of the Snapdragon 695 processor brings a small setback compared to the Snapdragon 860 chip of the predecessor, as it is significantly more powerful and is aimed at users who primarily want a mobile phone for gaming. This does not mean that the Snapdragon 695 is a bad processor, since it works in everyday life when browsing the Internet, consuming multimedia content, managing email, etc. It also lets you offer 5G support (the Poco X3 Pro doesn't). And the battery? Very good for Xiaomi. Not just because of the 5,000mAh, but also because it packs a 67W charger.
Mid-range phone Realme 9 Pro+: best value for money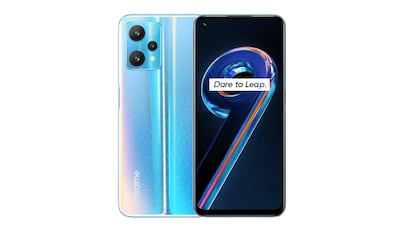 At the design level, the back has received a special treatment that explains why the phone changes color when exposed to direct sunlight. It comes standard with the Android 12 operating system combined with the manufacturer's UI 3.0 customization layer, while its configuration meets the expectations of a terminal that "moves" within its price range. The MediaTek Dimensity 920 processor (with 5G support) is solvent even in games like Genshin Impact. For its part, the internal memory has a size of 8 GB and the internal memory "remains" at 256 GB since it is not expandable.
The display also gets positive reviews. It's a 6.4-inch Super AMOLED panel and Full HD resolution with a 90Hz refresh rate that also packs a correctly working fingerprint reader. This good impression is also carried over to the part dedicated to the battery (4,500 mAh and 60W fast charge) and the main camera sensor: it is the Sony IMX 766 model with optical image stabilization, an option available on other smartphones OnePlus Nord 2 5G and the Oppo Find X5 Pro.
Oppo Find X5 Lite mid-range phone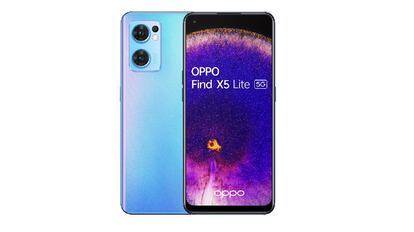 This 5G terminal has a beautiful and refined look and stands out above all for its autonomy and its display. So following in the footsteps of its rivals, it winks with fast charging that can top up its 4,500mAh in around 45 minutes.
Meanwhile, the screen meets all the necessary requirements to consume multimedia content and enjoy a good experience in terms of contrast, detail or color. In this case, the manufacturer relies on a 6.43-inch AMOLED panel with a resolution of 2,400 x 1,080 pixels at a refresh rate of 90 Hz and Corning Gorilla Glass 5 protection; Brightness scales up to 800 nits when displaying HDR or HDR10+ content. By the way, underneath this screen is the fingerprint reader, which works well but is sometimes slow. While the single speaker works well, it's a shame we didn't include two to enjoy stereo sound.
The combination of its software with Oppo's chosen hardware makes the phone flow well and the user feels comfortable. Also appreciated is the ability to virtually expand RAM (part of the 8GB). The 64-megapixel main camera was primarily used for photography. It doesn't do a bad job, but other manufacturers offer better results in this area.
Mid-range phone Samsung Galaxy A53 5G
It's proposed as a balanced option that suits the needs of the user it's aimed at, although it needs polishing on some other details. The main one concerns the battery: although it packs a 5,000mAh model, what's missing is that it includes a fast charger in the box and supports up to 25W charging power.
Equipped with an IP67 certification that protects it from dust and water, the connectivity area has been well resolved and offers one of the best sensations at the photographic level, especially given the performance that its main 64-megapixel sensor with optical stabilization ensures image . It also records in 4K at 30 frames per second, an option offered by other models in comparison.
At the multimedia level, the panel represents excellent quality thanks to a 6.5-inch Super AMOLED display, Full HD + resolution, 120 Hz refresh rate and 800 nits of brightness. It also has stereo speakers but no 3.5mm jack output. And performance? Although the average user can generally function without problems, other phones perform slightly better here, lacking a bit more power. Its Exynos 1280 processor is combined with 8 GB of RAM and internal storage capacity, available in two sizes (128 or 256 GB) and expandable up to 1 terabyte with a microSD card.
*All purchase prices contained in this article are as of 07/22/2022.
[Recuerda que si eres usuario de Amazon Prime, todas las compras tienen gastos de envío gratuitos. Amazon ofrece un período de prueba gratuito y sin compromiso durante 30 días.]
You can follow EL PAÍS SHOWCASE at Facebook and Instagramor subscribe to ours here Newsletter.
Source elpais.com