The war in Ukraine sometimes makes strange fellow travelers. That's what former Spanish porn actress and Fine Arts graduate Amarna Miller will think when she learns that a Ukrainian artist has found inspiration in her work Handbook of Psychonautics (2015) to gather his experiences as a volunteer in a morgue in a project of prose, photos and poetry. "She represents them ErosI represent them thanatos' explains Aleksander Krolikovski while enjoying a pizza among some of his photos of tortured corpses and pools of blood. In the shadow of the warlike climate that darkens his country's future, he wants to overcome the antagonism between pleasure and pain. His testimony ranges from the tenderest feeling of connection to the bloodiest brushstroke. "Sometimes I had to walk on the bodies while apologizing inside. It was awful, there were so many…" he says, lowering his voice to a whisper to show how he's addressing her.
The artist suffered the final blows of Covid when Russian President Vladimir Putin ordered the invasion of Ukraine on February 24. This man, who describes himself as a "pacifist", has zero military experience and he soon chose to lead a team of volunteers who worked together on various tasks, always far from the front lines. But the front has several faces. One day they needed people in the morgue, but none of those he sent could do the job. So Krolikovski hired a new coordinator of the group and entered the morgue himself. He stayed there endless days for almost a month. "The worst part was showing the bodies to the families. I ended up seeing her as someone close to me. I felt the pain like her. Sometimes I had to warn them: "He has no head".
Weeks after that experience and after Russian troops left Kyiv, Krolikovski gets creative as he spreads out on a restaurant table the photos he took with an instant camera in the morgue of Vishgorod Hospital north of the capital. He takes them in his fingers like cards and shows them one by one while explaining how he sees them as bridging the gap between modernity, postmodernism and the obscurantism of occupied Ukraine. He goes on to address one of the first images he took with his Instax. Some boots appear in a simple close-up, which he himself uses to climb into the refrigerated trailer used as a backup due to the facilities being overwhelmed. These "blood boots," he explains, go hand in hand with those painted by Vincent Van Gogh in 1886 and the shoes Andy Warhol photographed a century later with his Polaroid camera, the mother of the Instax.
An accelerated and impromptu course with Ukrainian and French forensic scientists helps him talk about different types of injuries and weapons. "I was very impressed by some bodies that came from a grave in Bucha. They came tortured, their eyes burned, imbued with red-hot metal. For the Russians to kill you with one shot, well, but for them to do this to you…I don't get it," he comments. "Some types of torture could not even be explained by the doctors. They had no experience."
Subscribe to EL PAÍS to follow all the news and read without limits.
Subscribe to
Anyone who has ever been to a war zone morgue knows that Krolikovski's photos could be a lot more explicit. The reporter who listens to him understands this distancing from the innards better when he learns how the artist relates to the corpses, how he humanizes them and almost transports them to the land of resurrection. "I spoke to the dead. That helped me. I was ashamed to be among them. It was something terrible. 'I'm sorry, I'm sorry…' he repeated to them," he commented while imitating the gesture of stepping on her, unable to avoid stepping on her. "Sometimes I would come up to them and say, 'Guys, I have news. I bring you new white bags. It's like a gift and I'll trade them for the black ones. White is better, more fashionable." It's surprising that the way he says it doesn't sound offensive or frivolous.
Days passed, the dead continued to arrive, the identifications and investigations into how they died continued, and at the same time some of them ended up in the morgue as part of Krolikovski's special family. When police were looking for a specific body, he would respond by going beyond the numbering that identified each one. "Number 173? Yes, she is such a beautiful woman. The 180? Sure, the healthy, athletic looking man. In these cases, too, we had to show respect," he emphasizes. And he remembers the days when more victims came: "It's very tough physically. Take 'em, bring 'em… some had to stay outside because there wasn't room inside either the truck or the room."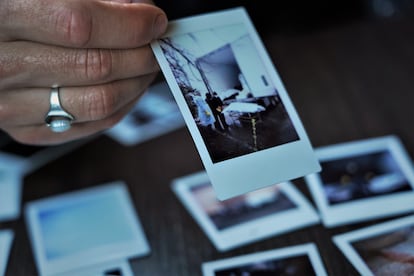 Krolikovski was born 39 years ago in Donbass, the region of eastern Ukraine almost controlled by pro-Russian separatists and where war is killing hundreds every day. He then moved to Crimea, the Ukrainian peninsula illegally occupied by Russia since 2014, where he trained as an artist. That year he came to the capital in the shadow of the revolution that ousted pro-Kremlin President Viktor Yanukovych from power and the country. "I ran away from Russian propaganda and fell in love with this movement in Kyiv," he recalls.
At all times he tries to learn lessons and struggles to hold onto the straw of optimism. "I hope all of this helps to understand that death is something real, so people will be less cruel. There is much evil in our life. I think the Russians must have had hell in their heads for all of this," he muses. Now, after three and a half weeks in the morgue, he grants the interview while visiting the group of volunteers. At times, it seems as if he emerged unscathed from his immersion in the morgue. But not. Living so close and traumatic with death, with no prior experience and in a position that almost no one accepts, can easily take a toll. And he recognizes it: "A part of me died in the war. Today I am a completely different person. It's not just the morgue, the rapes, the torture… I'm someone else."
Follow all international information in Facebook Y Twitteror in our weekly newsletter.
reduced by 50 percent
Exclusive content for subscribers
read limitless
Source elpais.com