The headline comes from the Tell stories. You know, the technique of telling a much more complex reality through a simple and tight narrative.
The history of these socks is enough to talk about how the local economy, which is integrated into the global economy, works. It opens the debate on rural depopulation and the most efficient ways to stop it. He talks about changing consumer habits and social emergencies such as sustainability. And it proposes how to stand up to competition from outside our borders, based on tradition, innovation, design and branding.
There's a catch in talking about people. By the millions who wear them all over the world, and especially by those who make them in a small part of the world, the city of socksas it is known: Pradoluengo.
References on the national market
This couple's adventures don't begin the day they are knitted. They date back to 1914 when one of the many textile companies in the area was founded, the direct predecessor of mingo socks which is now managed in the fourth generation by José Manuel Mingo: "I don't remember my life if it doesn't take place between sock sacks in my father's old factory." In addition, lovers of industrial archeology would have a vein of 500 years to the first documents on the manufacture of Pradoluenguinos cloths.
He knows all sides of the coin in detail.
Subscribe to
Socks are survivors. Shawls, blankets, sweaters, berets and other products succumbed to fashion or accelerated globalization after 2005, but they continued to become the unique product of Mingo and the city. This vast valley between mountains with a sloping river that allowed the first mechanization of looms, today covers 25% of the sock consumption in Spain. Mingo signs more or less a million a year and allocates about 400,000 for export.
In corporate language, one could speak of a "success story". From the three technological revolutions that have witnessed this millennium to the electronic machines that sew seamlessly. From the continuous training of the workers, which makes them experts in their sector and "is an asset for this or any other factory and for their quality of life", emphasizes José Manuel. From the customization of a design that beats the big Asian manufacturers and creates demand in the Chueca or Borne stores.
I don't remember my life if it's not playing out between sock sacks in my father's old factory

Jose Manuel Mingo, CEO of Socks Mingo
We could talk about research and development that combines natural fibers – wool, organic cotton, viscose… – with synthetic fibers such as lapped polyester. From antibacterial, antistatic, hydrophilic, water-repellent, thermodynamic treatments. From design to a variety of high performance sport applications, these days they deliver a run to a professional cycling team. From its quality and sustainability certifications. Or the Burgos Province SME of the Year 2021 award, awarded by Banco Santander and the Chamber of Commerce for their business vision. It is an award that reflects the financial institution's commitment to the four million small and medium-sized businesses that it supports, supports and encourages in their daily work.
Total sustainability: environmental, social and economic
We could talk about all of that, but let's go back to them Tell stories: the story of two socks that came out of the sea. They are part of the FreeWaves by Funstep collection and their polyester content is made from plastics sourced from the Bay of Biscay and the Mediterranean Sea. It's a complex industrial technique because these tailings are harvested in very different states of decomposition — some may take weeks in the water, others six decades — and "even though it's just a small grain of sand, inside it's a grain of sand in the right direction, like." for example buying zero kilometer products or reducing emissions. What sense does it make to import thousands and thousands of containers with very poor quality products," comments José Manuel. Each pair of Funstep FreeWaves is equivalent to removing a plastic bag from seawater.
We should get used to understanding this sustainability in its full version: not only ecological, but also social and economic. It's the other big story that this garment reflects because mingo socks It's a lifesaver for a town of just under 1,200 when it doubled the year the company was founded. The question is what would happen in the Pradoluengos on the map if companies like Mingo also emigrated, with local workers and linked to the industry for generations. 90% live with their families in the village.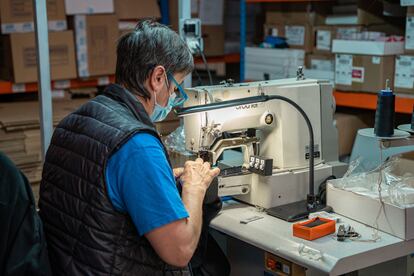 Amaya Pereda, for example, decided to return to her origins to raise her son in a healthy environment, and she was able to do so because she found work at the factory. His brother is also a partner in the company. Ángel Martín, who recently retired after 47 years in the textile sector, is clear on the formula "so that young people can stay in rural areas: let companies come or at least take care of the existing ones".
This is one of the goals of Banco Santander, which supports a group that generates 99% of jobs in Spain, and therefore the development of those most in need, with initiatives focused on advice, promotion of digitization, acceleration of internationalization or access to finance Regions Investments, through specific financial products and services, advice and support.
José Manuel is grateful for the "SMEs of the Year" award from the Province of Burgos because it not only recognizes a company "close to the country", but all of Pradoluengo and a sector "that has disappeared to 80% precisely because of imports low costs". negligible". It also values ​​the visibility of an SME that cannot afford large marketing campaigns.
Socks Mingo has been awarded SME of the year in the province of Burgos by Banco Santander and the Chamber of Commerce. It is one of the 4 million small and medium-sized businesses that the company supports every day
"The bank has supported us from the beginning and it helped us a lot that they had an office here in town, with people we have known all our lives who support us and who have known us for many years," adds he added. Both the award and the daily support from Santander "strengthen our project for the future".
Discover more initiatives for increase your business Hand in hand with Banco Santander.
Source elpais.com