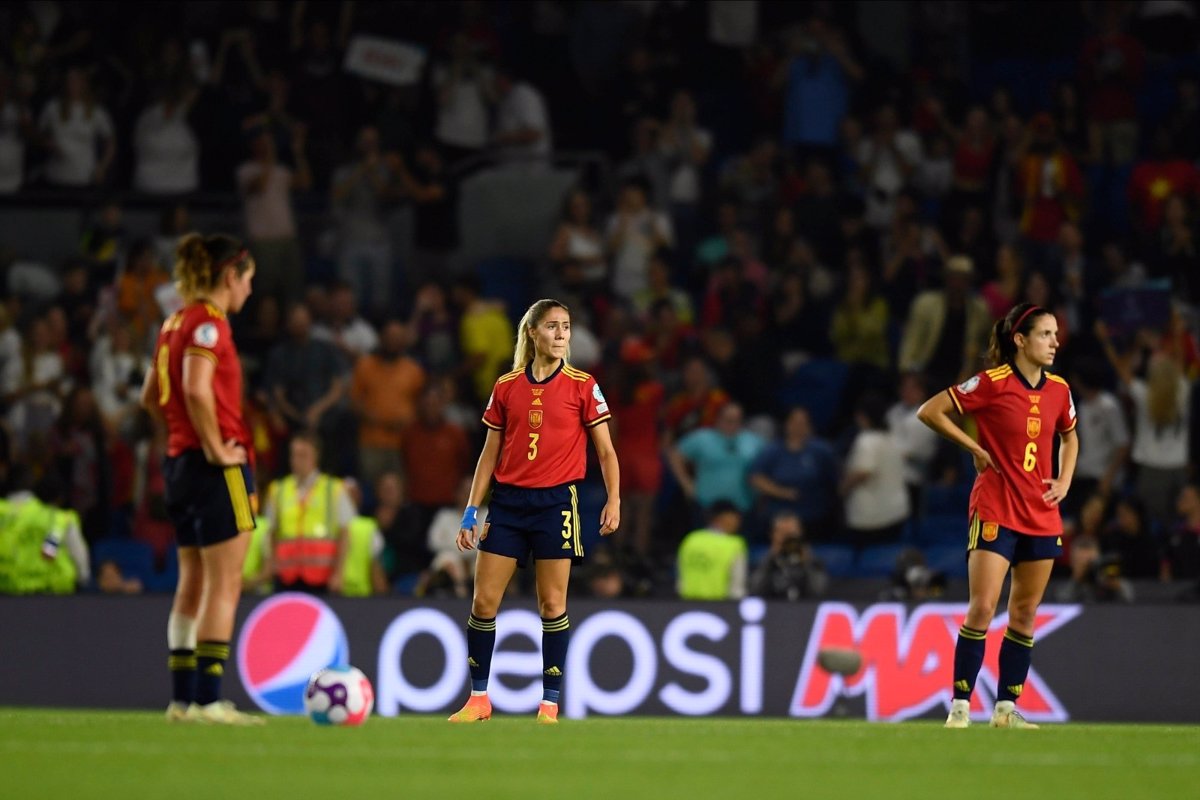 [ad_1]
Spain falls but gains the respect of Europe
Vilda was better and gave up against England in extra time in the semifinals
MADRID, July 20 (EUROPA PRESS) –
The Spanish women's soccer team cruelly awoke from the Euro 2022 dream when they failed in extra time (2-1) against England after being better than the hosts and because of a controversial goal in the 84th minute that ended the extra time forced Spain was eliminated from the tournament just outside the gates of the semifinals.
Jorge Vilda's men gave their all and showed that expectations were justified. Spanish women's football is constantly growing and its team shows it. The EURO could well have been the definitive showcase, the first big page in a story to be written, but football is football.
The best or favorite doesn't always win. Best of all was Spain who, with physical effort, focus and quality, annulled England who came out of the group stage 14-0 and encouraged by 30,000 Brighton fans. The English were favorites and took the prize with a Stanway rocket despite not earning it that Wednesday and asked for the time in overtime.
Spain, who had never won a game in a major tournament, had it in their hands with Esther González's goal in the 54th minute. The Andalusian forward, like the rest of her teammates, killed herself running and pressing, and the first, that she had sent online. After a group stage that raised doubts, Vilda's men showed their best form, winning the ball and keeping their rivals in their grip.
The middle of the field belonged to Aitana and Patri Guijarro and those of Sarina Wiegman, present after her COVID positive, had to suffer as they had yet to taste. Cardona had first place, with Spain safe in the combination to finish the job in the opposition area. In the stopped ball, the headers that had added up like that was also the Spanish trick, although Paredes suffered a strong cover.
Aitana, unsatisfied MVP against Denmark, lived up to her promise to do even better and her second tier entries confirmed Vilda's leadership in the competitive arena. En route to the dressing room, England hit a couple of runs and mediocre shots from White, including a goal disallowed for offside, but the hosts went back to chasing red shirts on the Brighton lawn.
The local team wanted to change the script, but Spain wouldn't allow it. Vilda's midfield continued to dominate and in a great game by Athenea del Castillo, her enormous confidence down the right wing, Esther scored the 0-1. A more than fair price, Athenea hovering about second below. The perfect game was stopped in the 84th minute with a ball in the pot and a foul that was not called.
Russo prevented Irene Paredes from elbowing off Toone's header to make it 1-1. It was difficult for Vilda's women to recall their willpower, which had grown in the face of adversity, injuries – particularly to the world's best player, Alexia Putellas – and the overtime of a shot by Stanway from the outside to put it 2-1 in the field 96 minutes.
There, the Vilda team was already looking for the epic and again earned more than its rival. Aitana Bonmatí was clear from the penalty spot, Amaiur Sarriegi also made her debut, bordering on goal and Spain locked England in his goal until the last minute, when Sandra Paños headed in from a corner. Vilda's leave without the desired result but with respect for European football and a guarantee that they are on the right track.
DATA SHEET.
–RESULT: ENGLAND 2 – SPAIN 1 (0-0 at halftime).
–ALIGNS.
ENGLAND: ears; Bronze, Bright, Williamson, Daly (Greenwood, min. 82); Walsh (Jill Scott, min. 116), Stanway; Kirby (Ella Toone, min. 64); Hemp, White (Alessia Russo, min.59) and Mead (Chloe Kelly, min.58).
SPAIN: Sandra Paños; Ona Batlle, Paredes, Mapi Leon, Olga; Guijarro, Teresa Abelleira (Laia Alexandri, min.71), Aitana Bonmatí; Cardona (Athenea, break), Mariona (Amaiur, min.100) and Esther González (Sheila, min.77).
–GATES:
0 – 1, min 54, Esther.
1 – 1, 84′, Toone.
2 – 1, Min. 96, Stanway.
–Referee: Stéphanie Frappart (FRA). He warned Greenwood (min.120) through England. And to Mapi León (min.45), Misa (min.88) in Spain.
–STADION: Brighton & Hove Community Stadium.
[ad_2]
Source europapress.es