[ad_1]
MADRID, June 28 (EUROPA PRESS) –
The Board of Directors of the Solvency Support Fund for Strategic Companies, managed by the State Industrial Participation Company (SEPI), has agreed to definitively reject Abengoa's €249 million public aid application.
Abengoa had blamed the SEPI reports, which had already dismissed requests for public "bailouts" for six of the group's subsidiaries (Abengoa Energía, Abener Energía, Abengoa Agua, Inabensa, Abengoa Operación y Maintenance and Abengoa Solar España). With this cash injection, the company was looking for a plan to ensure its future viability and to avoid another bankruptcy.
As SEPI sources have confirmed to Europa Press, the claims made by the company "do not misrepresent the existence of the risks and uncertainties disclosed in the consultants' reports".
They also pointed out that the decision was unfavorable "because the viability has not been proven and the repayment of the loan requested is not guaranteed".
This Monday, the Council of Ministers already approved aid for a total of six companies, including Celsa, but excluding Abengoa, in which it was practically the last chance to receive the rescue for Andalusian engineering, and when the fund expires at the end of this month.
The refusal of public aid practically nullifies the plan for the US fund Terramar to contribute 200 million euros in exchange for 70% capital, since it involved the injection of public money.
Abengoa is thus heading for one of the largest insolvency proceedings in Spanish company history, with a hole of almost 6,000 million euros.
Now the company, whose parent company has been in bankruptcy since February last year, must opt ​​under the framework of the bankruptcy law and decide whether to extend that bankruptcy to the group or have different companies from the same pre-bankruptcy file and file for bankruptcy.
681274.1.260.149.20220628132013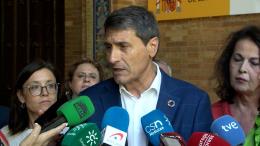 [ad_2]
Source europapress.es