The extraordinary heatwave that swept the Iberian Peninsula and Balearic Islands last week has left a trail of record temperatures and suffocating days. But it is also another reminder of what will happen more frequently from now on due to climate change, which cannot currently be reversed but can be mitigated. The enormous amount of greenhouse gases that humans have emitted will remain in the atmosphere for decades, so warming will not abate for the time being. "We have to adapt," reminded the World Meteorological Organization (WMO) on Friday, referring to the "unusually early and intense" heat wave that hit Europe.
This UN-affiliated agency highlighted the risk of heatwaves in cities, whose residents are "particularly vulnerable due to the so-called urban heat island effect, which amplifies the impact compared to rural areas with more vegetation. ". A recent study The Swiss weather service put the temperature difference between city and country at six degrees Celsius. Other analyzes even point to differences of 10 degrees.
Many cities around the world are already taking action to combat extreme temperatures. "Governments need to be clear about what kind of cities they want, a city model," says Ángela Baldellou, director of the 2030 Observatory of the High Council of Architectural Associations of Spain. Baldellou has committed himself to a "comprehensive vision" to avoid cases like that of Madrid, where urban planning coexists with projects like the reform of the Puerta del Sol – which does not envisage vegetation or shade – and the Central Park project which aims to create a large green area in the north.
These are some of the measures experts recommend to make cities and their residents more resilient to extreme temperatures.
air-conditioned accommodation
Information is the first tool against climate change. Subscribe to it.
Subscribe to
When a massive heat wave hit the west coast of North America a year ago, images of cooling centers in the US and Canada went around the world. Having response plans for these types of events is one of the recommendations of the C40 group, a network of major cities around the world working together in the face of the climate crisis. These plans must include warning systems for the population and the so-called climate bunkers, "public or private spaces such as libraries, museums or parks that cities set up temporarily to offer citizens a cooling shelter". "Cities should publicize the location of these centers before and during a heatwave, for example through billboards, phone applications or SMS," explains the C40 network. Toronto, New York and Washington DC have digital applications to inform the population of the location of these shelters when a heat wave hits.
cold roofs
But the adaptation measures must not only be cumbersome, but also structural. And many experts look at the roofs and tops of buildings. The architect Baldellou explains that "80% of the housing stock in Spain consists of blocks of buildings, for the most part ending on non-walkable flat roofs, typified as common areas and without specific use". "They're the part that's most exposed to the sun in summer and the most exposed to cold in winter," he adds. "Gardens on terraces or roofs of buildings are very beneficial, on the one hand they retain CO₂ and on the other hand they prevent the sun from shining, they retain water and lower the temperature," says Mariano Sánchez, Head of Gardens and Forests at Royal Botanical Garden. "For this purpose, succulents such as sempervivum and sedum are used, which hardly need any water," the botanist continues. In some countries, like Denmarkthe standard already provides for green roofs in new buildings, and there are also plans for green terraces in Rotterdam and Paris.
But sometimes it is enough to simply paint the ceilings white or cover the roofs with reflective foil, tiles or shingles so that they reflect more sunlight and absorb less heat. These measures not only help to reduce temperatures in buildings, but also reduce energy consumption by up to 20%, according to the C40 network.
Paint the roads and reduce the asphalt
About 40% of the surface of cities is covered with conventional pavements such as asphalt, which "reach maximum temperatures of up to 65 degrees Celsius in summer and heat the air above them," according to C40 reports. They are one of the main causes of the heat island effect. And among the things some experts are suggesting to mitigate this effect is using lighter colors to create more reflective surfaces. A few years ago, the city of Los Angeles conducted a pilot test: they painted the asphalt of various sections of the street white. And in the painted areas, a drop in temperature of up to five degrees Celsius was registered.
"The cobbled city is an oven," summarizes José María Ezquiaga, National Urbanism Award. "City asphalt must be restricted to busy roads. Parking lots can be crafted with porous pavement, which allows water to be filtered. Pavers are a good solution for roads with little traffic. And we should bring sand, dirt and grass back to the fore in many more spaces." One possibility, for example, would be converting tree hollows — the soil gaps between sidewalks — into long flower beds, increasing land area, improving soil drainage and low-lying vegetation like grasses growing .. and bushes. Another easy option is to restore the boulevards with big green beds.
More trees and African species
"The trees have to be as tall as possible to provide shade, but if you plant them too close together they get in the way, you have to prune them and they spend a year or two without shade," says Mariano Sánchez, of das Royal Botanical Garden. Therefore, you have the option of planting large trees about 10 or 12 meters apart and smaller shrub species in between. The species depend on location and climate – north is not the same as south – but focus on ash, sycamore, holm oak, macaw, pine, cork oak and jacaranda. "We need to start planting African trees like cedars as well, because our climate is becoming more and more similar to that of North Africa. And there are species like linden, horse chestnut and maple that will not adapt to the new temperatures and will disappear."
new urbanism
Baldellou also advocates "urban renewal of neighborhoods" by "expanding pedestrian zones, improving mobility, and betting on polycentric cities where most of our journeys are made without the need for vehicles," the so-called 15-minute cities where everything basic needs must be met less than a quarter of an hour walk or bike ride from home. This urban design reduces the number of vehicles and asphalt in the city, which in turn helps reduce the heat island effect.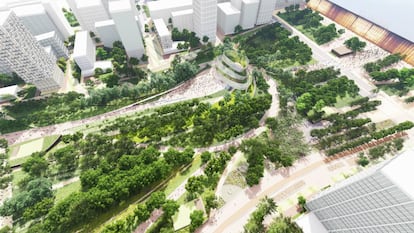 However, most of the large green spaces are on the outskirts of the cities. For this reason, the urban planner Ezquiaga points out the so-called "green fingers": natural corridors that connect the city to these peripheral parks. "Copenhagen grew up that way, but some cities do later. The most interesting example in Spain is Vitoria," he says. David Lois, researcher at Transyt-UPM, believes that these green spaces should reach all areas of the city, even small squares in remote neighborhoods: "Urban micro-parks help the city adapt to the effects of the climate emergency, they help conserve moisture and encourage walking. Lois cites Paris as an example, raising entire streets to clear traffic and planting trees, that sort of thing it will also suffice with its peripheral boulevard (a kind of M-30). Another idea is to cover areas with green that have not been used before, such as the slabs to bury the railway: that's what AldayJover does the new green diagonal of Barcelona – which will build a large urban forest on the concrete in La Sagrera – and what Madrid Nuevo Norte is planning in its future Central Park.
Recover urban rivers and springs
Iñaki Alday, dean of the Tulane School of Architecture in New Orleans, says it is "urgent" to "restore urban rivers as living elements with their riparian forests and their ecology." That's what the studio he co-runs did alldayjoverin groundbreaking projects like this Aranzadi Park in Pamplona. "It was an agricultural meander in decline that we have regained as a city park with a large internal river, the Auenwald. As the river grows, it overflows in a controlled manner and avoids disasters. It floods once or twice a year, but the rest of the time people use it as a city park." These floods drench the land and replenish the water table, a process that also cools the city. His study did the same in the Zaragoza water park.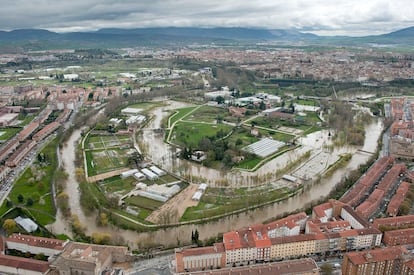 "In the last 100 years we have been very disrespectful to water, but today the approach is the opposite, we have to make it present in the city," says Ezquiaga. This would mean bringing watercourses to parks and gardens, but also having fountains as an element that cools the surroundings and lowers temperatures. "Every ornamental fountain helps against the heat, but there are also other models that even allow citizens to cool off. In Medellín there is the Barefoot Garden, which has some gullies gushing out of the ground and in summer is a paradise for children who go swimming and playing," he points out.
You can follow CLIMATE AND ENVIRONMENT at Facebook Y Twitteror sign up here to receive our weekly newsletter
Source elpais.com