Rodolfo Hernández is a millionaire and he wants everyone to know it. He is open about his properties, saying that until recently he had at least five in Miami and that he just bought an apartment in Bogotá because if he wins the presidency he doesn't want to live in the Casa de Nariño. Being a tycoon in a country like Colombia helped him garner support in his race for the presidency. "What did it take for him to be such a rich man," his mother, the already famous Cecilia Suárez, told him before his idea of ​​wanting to be president. He inherited Doña Cecilia's explosive character, a "tireless worker" as he usually puts it. His constituents speak of his business success as a value. "A millionaire politician will not steal," said one of his voters in Yopal after the first ballot.
Rodolfo Hernández, 77, has a net worth of $100 million, as he himself admits. 70% is invested in land and 30% goes into financing the housing projects it builds and sells, he said in an interview with the magazine mouths. Hernández founded the company now known as HG after being fired by the Minister of Public Works of the Santander government headed by Jaime Trillos in the early 1970s. In 1972 he teamed up with Guillermo Gómez and Abelardo Serrano, two merchant friends who lived with him in Piedecuesta, and founded the construction company HGS Shortly after, Serrano retired from the company and it continued as HG. Gómez died three years later, but Hernández kept the name that would eventually become his trademark. Nobody who has lived in Santander has never heard of HG.
The name Rodolfo Hernández is primarily associated with the urban development of his native Piedecuesta. "It was a closed city and he turned it into a city. Back then we didn't have a two-lane road, just one small street, Investing there was a feat and he dared," ex-governor Miguel Arenas reminded this newspaper, saying the current candidate used his reputation in the city to extend his reputation to Bucaramanga and his increase finances. "He changed the architectural styles there, he brought modern, different facades," Arenas recalls.
His way into the real estate industry stumbled over the financial crisis of the 1990s, which swept away banks, savings banks and housing associations. According to his own statements, he had up to 1,500 houses built at the time, but without buyers. Hernández came up with the idea of ​​offering the loans himself and acting as a bank. It was then that he launched his Plan 100 project. In 1994, they began lending money to low-income people on the advice of a couple of Argentinians who accompanied him until the start of his presidential campaign. HG charged the initial rate, 20%, and the rest was funded for 30 years at a fixed rate that wasn't always met. "The best deal in life is to borrow money, even if it's about you low" said Rodolfo Hernández without hesitation, who repeated several times that the best advice he received from his grandmother was applied throughout his life: "Work with the poor and you will become rich".
The "lender" of the houses
Hernandez started charging like a bank. At day and night. Every day of the week. According to various sources in Bucaramanga, the key to Hernández's fortune is that he not only built, but also became the lender on the homes of thousands of families yearning to own a home. "I'll take the mortgages, that's the dairy cow. Imagine a little man paying me interest for about 15 years. That's a pleasure," she was heard saying in an audio.
HG lends at bank-like interest rates, making it easier for future buyers to settle. They offer their clients "a free mortgage loan for investment" and lend them "on their guarantee of debt payment". A person who believed in his project tells this newspaper how what seemed like a promise of good intentions turned into a nightmare worse than a bank. In 1995 HG delivered some houses in Girón, in the Bucaramanga area. They were houses of social interest, which they accessed with an initial fee, which they themselves handed over to Hernández in cash, and with the obligation to pay the rest in installments, thus obtaining a unitary value. It would take many years to pay them. Some found it difficult to make this monthly payment and eventually lost their homes and became homeless. The houses returned to Hernández's hands better than he had delivered them. The candidate and his company have filed lawsuits against dozens of families in Bucaramanga for non-payment mortgage lawsuits, according to public information from the Judicial Branch.
Hernández has said in various interviews that the key to his wealth is the poor. "My grandmother Lola, who was illiterate and raised me, told me one thing I'll never forget: 'If you want to get rich, work with the poor. Because there are many poor. Make them quality products at the right price, win them over little and the sum of it all little'makes him rich'. The truth, I ignored him. And I've dedicated these 52 years to that," he said in a recent interview with Alexander Torrenegra, CEO of Torre.co. He had said something similar to the magazine Week. "The rich are better off when the poor have money in their pockets. The rich are the ones who put together the supply of goods and services. The poor are consumers.
The candidate talks a lot about land, jokes about the top price he sold land for. During a meeting with his team at the Bucaramanga mayor's office, he tells an anecdote that his construction company "didddle" with the prices at which it negotiates land. Hernández says the lots "never get old," saying they're the best investment because they don't depreciate in value. "The land is worth more every day because of the capital gains that the state itself is making on the land. And what the neighbors do, everything that the others work on, deserves the lot, which has another advantage: it never gets old. This apartment is getting old, but the country is not. Nobody asks him, 'Hello, and how old is the lot?'" he told the Bocas Magazine.
The country that Colombia's history has revolved around is just a profitable business for Hernández. "I fund this small buildings what do I do and I take the mortgages, that's the milk cow".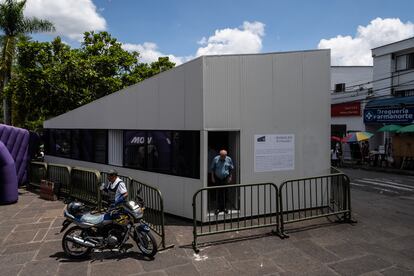 your taxes
Rodolfo Hernández likes to talk about his money. He's a millionaire who jokes he's a rich man in Bucaramanga, a beggar in Bogotá and even destitute in New York. With a fortune like the one he's admitted to, questions have arisen about what his taxes are. Hernández, who has not made his income statement public, has said he pays 20 million pesos a day (about $5,150). The finances of his company HG are in the hands of his wife Socorro Oliveros. "She saves everything, she has a sense for rationalizing spending. I'm looser She's the one who takes the money and says, "Here I have this sum, but I'll give you so much". It's terrible for those who sell, but it's very good for the company," the candidate said of Oliveros' work.
Hernandez says he hasn't set foot in a bank since 1994. He assures that he canceled "everything" and decided to work with his own capital. In Colombia, where construction companies rely on banks to lay the foundation for their projects, Hernández's business is an exception. He finances the work himself, and what he puts out of his pocket he recoups by lending to those who want to buy their houses, who pay him a fee month after month for many years.
According to an investigation by the candidate and his family own six businesses and more than 370 properties, including land, apartments and land the empty chair. In Florida they own the company HG Constructora LLGwhich was founded in 2019 under the leadership of Oliveros and Luis Carlos Hernández, the son who wanted to collect a millionaire's commission for obtaining a waste conversion contract.

"You don't give up on living well, you give up on stupid deals. Mainly dedicated to providing housing for the poor, I now have the ability to finance my buyers for up to 20 years cheaper than any bank in Colombia. I don't ask for papers, the only thing I ask for is the citizenship card," Hernández said in an interview with Semana, recalling how he became a millionaire. The construction magnate will review this Sunday if the offer of houses and the idea of ​​​​Colombia , as if it were a company will be working for him to achieve the presidency.
Subscribe here to the EL PAÍS newsletter on Colombia and receive all the important information about current events in the country.
Source elpais.com