In the early 1960s, Ramón Estévez was in despair. His first steps as an actor on television had gone well, but he had gotten stuck in that medium. He wanted to do theater, make films, and at the time his name weighed on him: there weren't many successful Latinos in the United States. "Whenever I called for a position, whether it was for work or for an apartment, if I gave my name, they answered me with doubts and when I got there the position was already taken," he said in 2003. And he decided Build an artistic name for yourself by merging that of CBS network casting director Robert Dale Martin, who helped him with those early small screen appearances, and Bishop Fulton J. Sheen, who, as Estevez's little sister Carmen recalls, "There was so much on TV."
Thus was born Martin Sheen, who, thanks to his talent, triumphed brilliantly first in the theater and later in the cinema: Badlands, Apocalypse Now, The Departed either wall st However, Ramón Antonio Gerardo Estévez has not disappeared: this name remains in all of Sheen's official documents (passport, driver's license and marriage certificate) … and in the soul of the interpreter. In this week, in an interview in the magazine closer, He confessed: One of the biggest regrets of his life was this name change. And he speaks with pride of his son Emilio's tenacity in keeping him in what he believed to be his only influence on his career, despite the fact that "his agent advised him to change him." He reflects on his own decision: "Sometimes they convince you when you don't have enough insight or even enough courage to stand up for what you believe in and have to pay for it later."
Over time, Sheen has regained his Galician roots, the country where his father Francisco Estévez Martínez was born, an immigrant who went to Cuba in 1916 at the age of 18 from Parderrubias in Salceda de Caselas (Pontevedra), without even speaking Spanish, a language he learned on the Caribbean island. From there he emigrated to the United States in the early 1930s in Dayton, Ohio, in a modest Irish neighborhood, where he married another immigrant, Mary-Ann Phelan.
Martin Sheen's life was strongly influenced by his childhood. His father worked in the NCR Corporation, Industrial conglomerate that started manufacturing cash registers. Newly married, the company sent him to the Bermuda Islands, where his eldest children were born. Sheen was the seventh of their ten children (nine boys and one girl) and the first to be born in Dayton in 1940 after the Estevez returned to the mainland. At birth, forceps pinched her left arm, which is therefore three inches shorter than her right. Hence in the series The west wing of the White House, President Josiah Bartlet, his character, dons his jackets with an odd twist of the body. As a child he suffered from polio which left him bedridden for a year and at the age of 11 his mother died. Thanks to the help of Catholic charity and the efforts of the father, the family remained united against the then usual distribution of the children through orphanages or foster homes.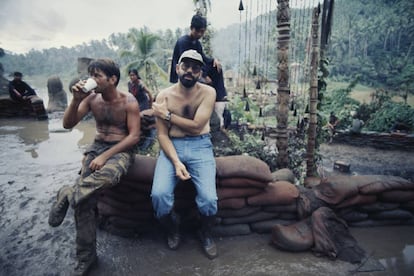 He was the odd one out in the family: he decided to act. Against the father's stubbornness, the calmest son only enjoyed the theater and decided to study acting. "He can't sing or dance!" he told her, to which his son replied, "You love westerns on TV and nobody sings or dances there". "But you don't ride a horse either!" he received as an answer. Nevertheless, he moved to New York and followed in the footsteps of his idol James Dean. In the legendary episode two cathedrals, from the west wing, explains how President Bartlet's character reflects his childhood and adolescence experiences. The same goes for Estévez/Sheen: A practicing Catholic and a tireless campaigner against global warming and for civil rights and immigrants, he has been arrested several times during demonstrations in front of the White House. This activism began when he was 14 years old leading a strike caddies at the golf club where he worked and protested the numerous swear words used by the members in front of the children.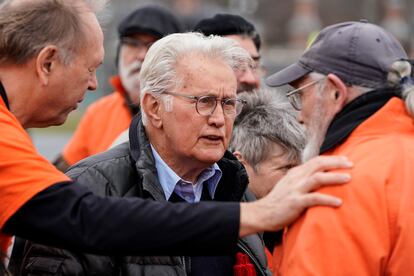 And then there is Spain. Francisco Estévez didn't teach his children Spanish, but the Estévez have looked back at their roots. The patriarch was able to return to Galicia in 1967 (just as Sheen landed his first major role A Tale of Three Strangers and began coming and going from his town to Dayton while building a house in his native village that he would never see finished. He died in the American city in 1974 and was buried with his wife and son Manuel, who died in 1968. The only daughter of his, Carmen, ended up teaching English at a school in Madrid, where he married. For this reason, Sheen has met many Madrid residents in the city who visit his sister for years. Carmen was the one who completed her father's house, inaugurated a riverside promenade dedicated to his memory and kept alive the Estévez sign in Salceda de Caselas.
The Way of St. James, a dream come true
In the mid-2000s, Sheen, his son Emilio Estévez, and son Taylor walked the Camino de Santiago. In Burgos, the grandson met a girl, and at the end of the tour he decided not to return to Los Angeles and stay in the Castilian city, where he got married. Influenced by this trip, Sheen and Estévez made the film The way (2010), which both starred in and the latter directed. A few months ago, Sheen proudly spoke of it The way, a huge success by word of mouth and a faithful representation of his spirituality. During this shoot, over lunch under huge pergolas at the back of Burgos Cathedral, Sheen declared, "I'm Catholic and there's a lot of that spirituality in this film. I've had an extremely happy life, with the normal ups and downs of my career. But I survived the illnesses, my family is wonderful [sus cuatro hijos, entre ellos Charlie Sheen, son actores]… I believe in a church doing incredible work in the third world. Other things, like some messages from the Pope [en aquel momento, Benedicto XVI], they are difficult for me. I live my faith and it's between me and God." A few yards away from Sheen and the journalist, at the long tables, a strange group who didn't look like actors were eating: "This is my wife, these are my sisters and her husband who is my childhood best friend… I made her come to enjoy with Emilio, Taylor [que trabajaba como asistente] and with me". Taylor Estevez currently works as a stunt coordinator in California.
Carmen Estévez says they didn't understand her father's deeply Galician humor for decades, until they discovered that he often didn't speak to them seriously. And that this sarcasm was inherited by his son Ramón / Martin. In Burgos he made a show out of it. When asked about his career, he replied: "With my résumé full of bad titles, I can't open my mouth. I'm an actor and that's how I supported my family. But I will have been in about 10 films that I can be proud of…". At that moment, he dropped his coffee and blurted out, "See? For the glee about my career. Divine Punishment".
Source elpais.com