opinion
Princess Charlene
How she wins back the hearts of Monegasques
Discipline, ambition and perseverance: As a professional swimmer, Princess Charlene learned what it means to go all the way. Even when things get tough. This now helps him win back the hearts of his people.
Princess Charlene, 44, smiles shyly at the camera. A show that has been sorely missed by Monegasques in recent months. They haven't seen their princess for too long, and speculation about Charlene's health and her marriage to Prince Albert, 64, has been in the headlines for too long.
Now the 44-year-old has put the long odyssey of the disease behind her and is trying to earn back the trust of her people little by little. With success.
Princess Charlene celebrates her comeback

After the former professional swimmer returned to social media with an official family photo at Easter this year, official appearances were not long in coming. At first a bit reserved during the Monaco E-Prix car race, then increasingly exuberant during Monte-Carlo Fashion Week and the spectacular Grand Prix weekend. Charlène had her first red carpet after her long absence in mid-June at the Monte-Carlo Television Festival, and a few days later she embarked on her first trip abroad with Albert and the children. They went to Norway, where the Monegasque family met the royal family when Albert and Charlene suddenly surprised curious photographers with a passionate kiss. We are not used to so much public affection from the couple.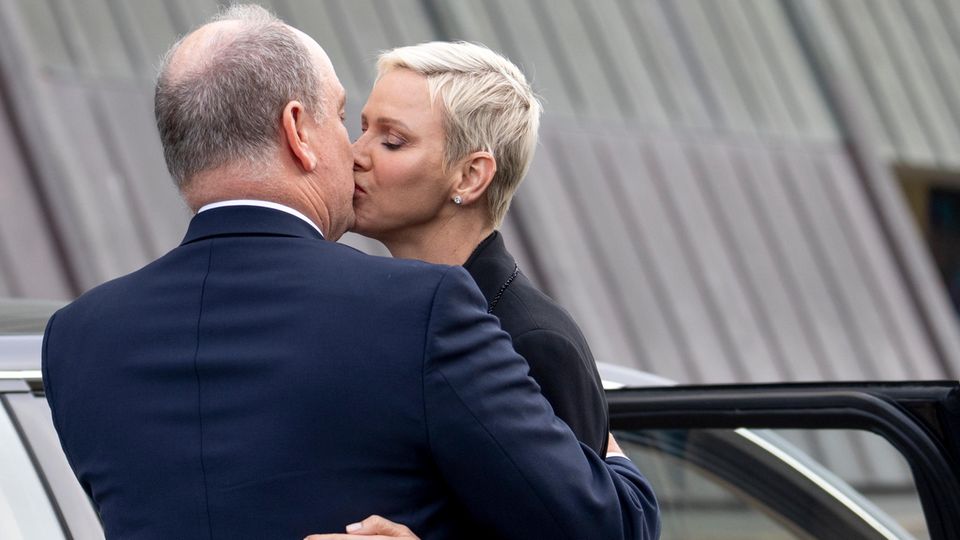 The romance continued on their 11th wedding anniversary, the royal couple recreated their engagement photo. A few days later, Charlène enjoyed two surprising solo performances: On July 4, the princess went to the maternity ward of the Princess Grace Hospital Center to meet young parents and their newborn babies. A few days later, she surprises tourists on a tour of the palace, is surprisingly open and patiently poses with royal fans for souvenir photos. A new page of the beautiful princess.
A cocktail party in the palace gardens and the conclusion of the "Seadventures Summer Camp" in the presence of Princess Gabriella and Prince Jacques, both aged 7, were equally warm. At the Red Cross Ball on July 18, Charlene thanked her absence from the Bal de la Rose before being allowed to meet Pope Francis, 85, in a private audience in Rome hours later. After a week's break, the princess then surprisingly showed up at a residence for the elderly in Monaco.
"Our Princess of Hearts"

Dressed in a lemon yellow dress, she waved to employees and locals and literally let the sun rise. If we look at the comments column of the official Instagram account of the Monegasque palace under a publication of the last appearance of Charlène, it quickly becomes clear: the derogatory comments of the last weeks and months are gone, the affectionate compliments and the warm greetings now dominate. Comments like "beautiful angel", "wonderful princess" or "our princess of heart" accumulate under the post. Even under the previous displays, the mood seems to be getting better and better, there is no longer any doubt about Charlene's state of health or her love for Albert.
Plain outfits are replaced with shiny highlights

Princess Charlene has hit back, she no longer shows small insecurities and shows it clearly through her choice of clothes. While she mainly wore simple outfits in muted colors on her first dates after a long absence, she again opts for eye-catching looks in strong tones. The 44-year-old loves fashion and finally feels ready to celebrate her passion again. Another important step towards healing.
With her look, she also lets the sun shine inside


118 pictures
7 hours ago
And the rumors of a love crisis between Charlène and Albert? also seem to have disappeared. Just a few months ago, the regent constantly had to deny new speculation, but the couple have become noticeably calmer in recent weeks. No insiders with new rumors, no paparazzi shootouts, no explosive media reports.
The prince and princess seem to have found their inner center, and the audience feels it too. While Charlene's regular solo dates continue to delight her fans and provide plenty of positive feedback, Albert and his wife still choose performances that they do together or even with their children. True to the motto: Everything is possible, nothing has to be, headlines or not. With this discipline and her newfound ease, Princess Charlene is not content to win back the hearts of Monegasques, she also ensures that the eternal rumors about her marriage are nipped in the bud.
Sources used: instagram.com
Gala
Source www.gala.de