[ad_1]
The tool most used by the designer and entrepreneur Peter Mabeo (Gaborone, Botswana, 51 years old) to create his first furniture collection Kompa for Fendi was neither a computer nor a saw, but his own car. He's answering our video call from the cockpit of this rugged car in which he's spent much of 2021. His office is on the outskirts of Gaborone, the country's capital, which lies on the south-eastern border, very close to South Africa. However, the craftsmen he worked with are scattered in regions stretching as far as Etsha in the northwest of the country, more than a thousand kilometers away, which according to Google Maps means around 12 hours at the wheel.
But it all makes sense given the result of so much effort: a cabinet called Chichira, which features a surface of interwoven plant fibers. "It's made from palm leaves from the Okavango Delta, a beautiful area with one of the greatest biodiversity in the world," he explains. "In the 1960s and 1970s, during the war in Angola caused by Russians and Americans competing for resources as part of the Cold War, many Angolans fled to Botswana and lived first in refugee camps and then in the villages. They brought a very special braiding technique with them. They themselves color the leaves with roots and weave them freely, without given shapes. So they're quite a challenge for a designer," he adds.
However, Mabeo assures that the restrictions irritate him. "I like to work to specification and see how everything comes together in harmony." In this case, the shape was provided by other artisans working in distant regions of the country, making the wooden frames and metal molds that the basket makers had to use as the bases of their baskets. The result is a cabinet with four oval bodies, representing as many negotiating fronts; a piece of furniture with a magnetic presence, in which different paths and cultures converge and for which the label of african design it falls short. "I also feel contradictory when I talk about African design in general, but it's difficult to contextualize it without saying it," he resignedly replies when asked about it. Because Mabeo is by any measure the biggest name in contemporary design in Africa. In 1997 he opened his workshop to produce custom furniture for commercial spaces and in 2006 he launched into the international arena.
"In the beginning it seemed like an absurd idea to devote myself to design. I started working locally and spent my life waiting for things to come from outside. But there came a time when I began to question myself. Why things follow without more? That suited neither me nor my historical context. I realized that I didn't have to rush everything to adapt to the rhythms of the industry. When I started looking for people to help me redefine my mission, I met many artisans who mastered their techniques perfectly. I also realized that I had to skip the intermediate steps and go straight to the front lines of international design because I felt that this was the only environment where I could find synergies for what most saw as just a philosophical process . In the world of design I could express my ideas, reflect on why we do what we do, appreciate the beauty of the seemingly insignificant. And that's how it all started, looking for interactions. I started collaborating with people from all over the world."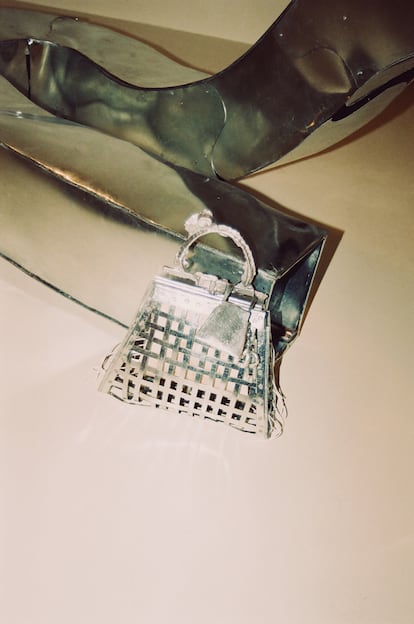 Pieces intentionally designed by Patricia Urquiola or Luca Nichetto come from Mabeo Furniture's artisan workshops. Furniture full of intrigue and sensuality, with sinuous lines, theatrical effects and handcrafted finishes utilizing local materials such as panga panga wood, a Mabeo trademark. Something like this must have been seen by Kim Jones, creative director menswear at Fendi, whose childhood was partly spent in Botswana – where he lived for a long time due to his father's work – and whose enthusiasm soon infected Silvia Venturini Fendi and Delfina Delettrez Fendi.
"I was invited to visit their archives and as I explored the Fendi universe in depth, I realized we had a lot in common. Throughout their history they have worked with many techniques and tried literally everything. So we came to the conclusion that our cooperation should be based on the very concept of cooperation. In what connects us. Kompa is a word that refers to something that is complete, integrated, and united. And we transferred that to our context. In Botswana there are many artisans in different parts of the country, but everything is very fragmented. At Kompa we have involved craftsmen who are sometimes far apart. Travel complicates everything, but in this case it was worth it."
First presented at Design Miami last December – where Mabeo posed with her pieces for ICON Design – Kompa has seats, stools and sculptural pieces that integrate different craft traditions. There are ceramic upholstered chairs, an abstract sculpture and even an interpretation of the Italian company's Peekaboo bag. Above all, however, the desire for harmony, unity and sustainability can be felt in every piece. "I don't think there is a need to define what African design is, but to think about what Africa can contribute to design and the world. The key is knowing how to interact with you without as many layers in between, how to communicate as clearly as possible. That's my idea of ​​design."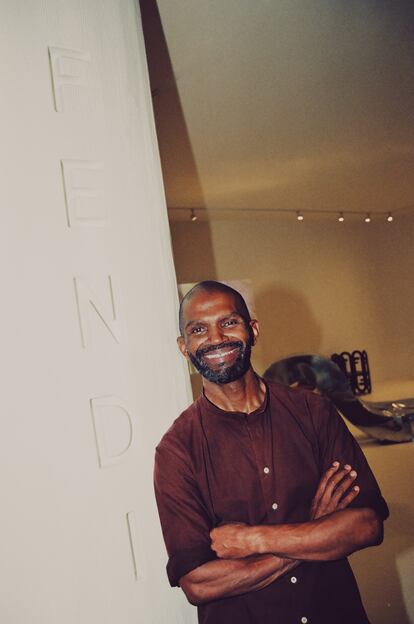 Sign up here to the weekly Ideas newsletter.
reduced by 50 percent
Exclusive content for subscribers
read limitless
[ad_2]
Source elpais.com