Carmen Álvarez-Coto (Madrid, 64 years old) was a sought-after painter in the late 1980s who was acclaimed by professionals. The critic Francisco Calvo Serraller praised in a supplement arts from 1986, the expressionist atmosphere and mysterious beauty of his work, as well as the unusual artistic quality of his colorful way of understanding abstract expressionism. Until then he had exhibited at the Joan Miró Foundation (Barcelona) or at the Spanish Museum of Contemporary Art (Madrid). Outside he had participated in group exhibitions in Toulouse, Amsterdam, Nice, Naples, Vienna or Paris. With his gallerists, first Fúcares and then Gamarra and Garrigues, he attended Arco and other international fairs, where his large-scale, full-color paintings caught the attention of collectors.
But as has happened with many other artists throughout history, there came a time when Carmen Álvarez-Coto decided to stay in her footsteps. She broke the professional commitments that linked her to her still existing gallerist, Gamarra y Garrigues, and moved to a small town in Almería. There was never again any news from the young painter and teacher, who had made acquaintances in Cuenca with, among others, Fernando Zóbel, Antonio Saura, Lucio Muñoz, Gerardo Rueda, José Guerrero and Gustavo Torner. The mystery surrounding the artist has now been solved with the exhibition that opens this Friday in the temporary exhibition rooms of the El Paular Monastery in Rascafría (Madrid). For three decades, work continued and much, and as a result, fifty large-scale works are exhibited here over the course of a year, in which the colors of nature are immersed in the purest abstraction.
On the eve of the public opening of the exhibition she is returning with, Carmen Alvarez-Coto says she feels happy and reconciled with the art world she has left behind. Adding to this relaxation is the fact that the space is a quiet monastic area located a hundred kilometers from the hustle and bustle of Madrid, in the beautiful and tranquil monastery inhabited by only seven Benedictine monks.
Carmen Alvarez-Coto's work extends over two large rooms of the convent. The curator Eduardo Barceló has grouped the pieces according to the dominance of their colors. Navy blues and greens, earthy yellows and reds look at each other crossed by harmonious brushstrokes in black. The works play with each other, but also with the green of the outside gardens and the wood of the doors and windows.
All the culture that suits you awaits you here.
Subscribe to
Faced with this blaze of colour, the artist explains that her artistic career is summed up in these fifty works. From the tiny drawings she began experimenting with when she came to Cuenca as a drawing teacher in her early twenties, to the abstraction she delved into with the artists she met at the time and whom she, since they were much younger , followed by another and finally what she considers the product of her artistic growth, born on the coast of Almería in the refuge she shared with her two children and her husband, fellow artist Florencio Garrido.
disappointments
When Carmen Alvarez-Coto is asked about the reasons why she decided to leave an art world that was at least theoretically more than favorable to her, she alludes to a combination of causes. There is not a single reason, as was the case with Swedish painter Hilma af Klint, who asked that her work not be known until two decades after her death, because she was sure that her vision of abstraction would be misunderstood. "Suddenly I was disappointed with everything. My gallerists were preparing an exhibition in which I did not recognize myself and I asked them to suspend the project."
The artist does not believe that she was overwhelmed by media attention, as has occasionally happened. "I don't think it affected me very much. Or maybe yes. I lived in modest circumstances with my salary as a drawing teacher at the institute in Cuenca and asked for leave of absence. My husband, also a teacher, used to travel back and forth between Cuenca and Almería for a long time, but we got along well."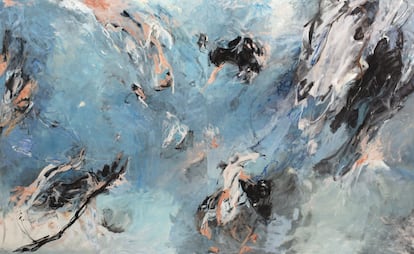 During those three decades of estrangement, Alvarez-Coto never stopped painting for a single day, although he professes that he combined art with top-hat freediving. "In these seabeds of Cabo de Gata I find the blues, greens and purples that are impossible to detect on the surface. There are also black people who could be squid looking for a place to hide."
Here, in the five large rooms through which the exhibition extends, are the artist's creative references: her classmates from Cuenca and the Prado masters whom she was able to study and admire from an early age. Barceló, curator of the exhibition, points out that the colors of Velázquez and Goya are fully recognizable, "You see Spanish painting on each of their canvases".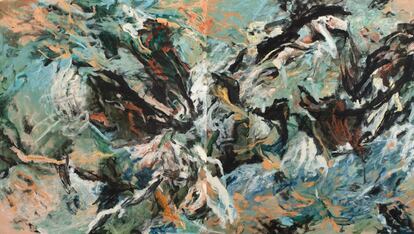 Are you ready to reunite with this world you left so long ago?: "It no longer exists. This exhibition is very far from the circuit. I was encouraged to exhibit by my friends and family, who would visit me from time to time to see my work grow. My friend Antonio López was one of those who gave me the most encouragement and I'm glad I listened to him. But as soon as the exhibition opens, I'll go back to Cabo de Gata to continue painting".
reduced by 50 percent
Exclusive content for subscribers
read limitless
Source elpais.com