For 30 seconds, all those attending the Oscars were silent, in solidarity with the Ukrainian people.

The solidarity began with the words of the actress of Ukrainian origin Mila Kunis, who was eager to use her stage position to encourage everyone to support the Ukrainian people, with a call to all viewers to do everything possible to send help to those devastated by war.
"Recent world events have left many of us feeling frustrated, yet when you witness the strength and dignity of those facing such devastation, it is impossible not to be affected by their resistance," Kunis said on stage.
During the 94th Academy Awards, a large video screen on stage offered a tribute and a plea as the 30-second moment of silence began.
On the screen, he wrote: "We would like to have a moment of silence to show our support for the people of Ukraine who are currently facing conflict within their borders."
"While film is an important way of expressing our humanity in times of conflict, the reality is that millions of families in Ukraine need food, medical care, clean water and emergency services, resources are scarce and we, collectively as a community global – can do more.
He then ended with an offer: "We ask you to support Ukraine in any way possible. #Stand with Ukraine."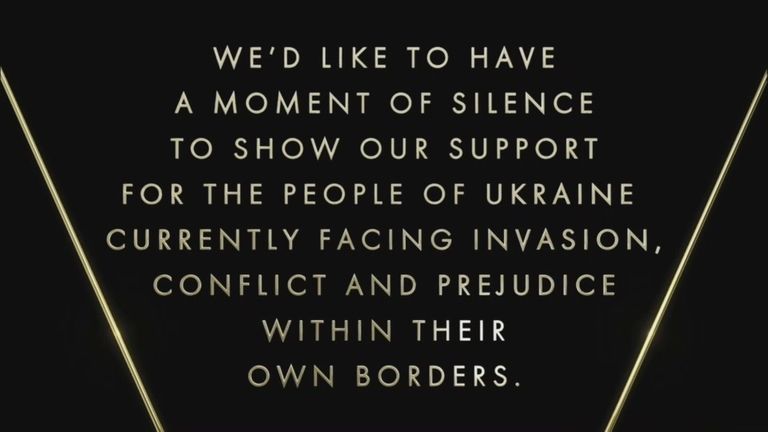 Actor Sean Penn, who is currently in Ukraine filming a documentary about the conflict, is reported to have threatened to melt the Oscars if Ukrainian President Volodymyr Zelensky is not allowed to speak at the event.
"There is nothing better for the Academy Awards to do than to give Zelensky the opportunity to speak to all of us," he told CNN.