Seville, June 20 (EUROPA PRESS) –
The Vox candidate for the presidency of the board, Macarena Olona, ​​assured this Monday that her commitment to Andalusia is "firm", but she is also "daughter of God" and cannot know the "conditions".
At a press conference to analyze the election results obtained this Sunday, Olona said that leading her party's candidacy was "without a doubt" worthwhile and that she considered herself "privileged" to be part of the future Autonomous Parliament, in whom the "leadership" is aimed at "The opposition".
"I feel truly privileged because I have been given extraordinary trust and I am aware of the responsibility I carry on my shoulders. It is an enormous privilege to raise my voice to represent the Andalusians in Parliament," stressed the candidate.
However, she has not completely closed the door to returning to national politics in case Vox leader Santiago Abascal counts on her again in the next general elections. She has said she is a "soldier" in her party, but most importantly she is "a daughter of God and cannot be sure of the plans that lie ahead." He has said that his life in Andalusia will take place between Seville, Granada and Salobreña.
For Olona, ​​the result of the Andalusian elections is "good for Spain because Andalusia said no to socialism and to the government of Pedro Sánchez". He pointed out that Vox has established itself as an alternative and "the important thing is not so much 14 or 20 seats, but what you do with them".
He has indicated that Vox arrives in the Andalusian Parliament to "give a voice to the nearly 500,000 Andalusians who have put their trust in his candidacy and reopen debates on issues that the left thought could no longer be debated". .
Likewise, Olona has stretched out his "hand" to incumbent CEO Juanma Moreno (PP-A), winner of the elections by an absolute majority, to raise issues that benefit Andalusians. "We will be very vigilant so that the exercise of government is the best version," he stressed.
According to Olona, ​​the Andalusians have "written a blank check" to Juanma Moreno who can rule "with hands untied".
"Vox's hand will be stretched out for whatever is good for the Andalusians and we will take the opposition to the points where there is a lasting embrace between the PP and the PSOE," he pointed out.
Likewise, he believes that if anything became clear during the campaign, Vox's "fear" message didn't work for either the left or the right during the campaign. He wanted to make it clear that Vox has no intention of occupying the "public chair."
679179.1.260.149.20220620155641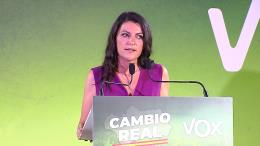 Source europapress.es