Nowruz is one of the holidays celebrated by different nationalities, such as the Kurds and the Persians, on March 21 of each year, the day on which it also heralds the beginning of spring.
About 300 million people around the world celebrate this holiday, according to UNESCO, which included it on the list of intangible cultural heritage in 2009.
Who celebrates Nowruz?

Nowruz is considered New Year's Day for them. In Persian and Kurdish, the word means "new day". The day is also an official holiday in countries such as Iran, Iraq, Kyrgyzstan, and Azerbaijan, and is also celebrated by residents of Turkmenistan, Tajikistan, Uzbekistan, Kazakhstan, Macedonia, the South Caucasus, Crimea, the Balkans, Kashmir, the Indian state. of Gujarat and northwestern China.
What is the history of Nowruz?

His story goes back thousands of years, in the "Epic of the Kings" about a character named Kaveh the mourner, and the Kurds consider him a knight of freedom and a symbol of the revolution against injustice and tyranny, then that he saved them from an unjust ruler who killed hundreds of them, to end the story of King Zahak, which means dragon in Arabic.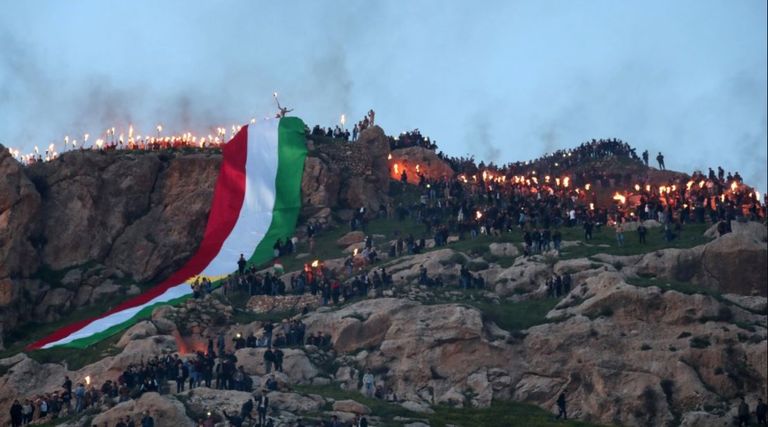 Among the legends about this king who killed children and gave their brains to snakes, some described him as a psychopath. This king had stolen 15 of Kaveh's sons, and he was left with only one little girl, so he ransomed her with her soul, and went to the king's palace and fought and defeated him, and set fire to the palace .
What does Nowruz symbolize?

The holiday has been celebrated by some, for religious or cultural considerations, for hundreds of years, and it has taken on a national dimension, especially among Kurds in the modern era, linking them to their history, heritage, rights and identity, and is celebrated in Iraq, Iran, Syria and Turkey. Until recently, there were no Eid celebrations in Turkey and Syria, unlike in Iran and Iraq.
What is the duration of the Nowruz celebration?

The Kurdish celebration of Nowruz begins at sunset on March 20. But the festival for the Persians has another symbolism, since it embodies the victory of light over darkness and of good over evil.