"None of this is real, you know? People don't care about you, they don't know you because you didn't teach them anything. You will wake up every morning feeling less than you do. You live for them and they don't even notice you. You don't even look at each other. They don't give us many things that are really important to us." The sentence is whispered Pig the character of Nicolas Cage, a former chef-turned-black truffle collector, to a new celebrity chef thriving on smoke and trompe-l'oeil. But at the same time, it's a policy statement from Cage himself (Long Beach, 58): Be yourself, don't differentiate life from art, and then people, in his case movie audiences, will idolize you above the rest. And that can be guessed at in the above two Pig, which will be released in Spanish cinemas on July 15, as in The unbearable weight of an enormous talent, published last Friday. Cage open bar.
But what is special about Cage compared to the other colleagues? Why has an actor who is dismissed by many critics as over the top reach a flock of fans around the world? Why are their gestures and their cries mythologized by a legion of irredentists? "There are no actors like Cage today. There's no one with that star life or personality that carries through the movies. The scripts don't matter. Like Humphrey Bogart in the classic film noir: the audience went to one of Bogart's and that was it. Well, it's the same with Cage," recalls Torïo García, one of his great admirers. He published last year together with the cartoonist Paco Alcázar Nicolas Cage's first 100 films (Caramba Comics) and is the author from the virtual encyclopedia NickCagepedia – for the correct diminutive of actor is Nick and not Nic as was thought until he recently clarified it himself – an immersion into a fascinating filmmaker. "In this day and age, it seems like an anachronism with its classic star aura," Garcia explains.
We're talking about an actor who bought castles until he found out his manager had bankrupted him. That he was married five times, once to the actress Patricia Arquette and again to the daughter of Elvis Presley (his films always have a song by the King of Rock on it). That one of his sons was christened Kal-El Cage in 2005 as a tribute to Superman, a character he would have played had Tim Burton's version progressed. An avid comic book collector who also bought haunted mansions, shrunken dwarf heads, a shark and even a dinosaur skull which he eventually returned to the Mongolian government who claimed it. After all, the most normal thing is that from the very beginning of his career he hid under an artistic pseudonym so that no one would suspect a possible cinematographic nepotism: Nicolas Kim Coppola is the nephew of Francis Ford Coppola and decided to change his last name from Luke Cage, the Marvel superhero. "The incredible thing is that he doesn't have a social network like other celebrities who sell us their lives on this media. We find out what happens to him without a filter. He's authentic for better or worse, which will likely drive his PR crazy. It's a phenomenon like no other," says García.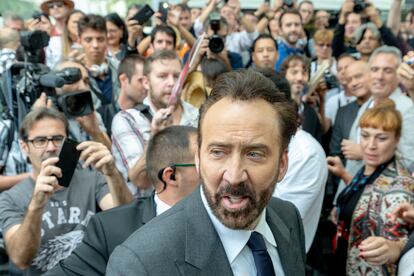 All the culture that suits you awaits you here.
Subscribe to
As an actor, this abundance of gestures has been dubbed Shamanic Nouveau. "His major influences are the cinema of the 1920s and 1930s and especially German Expressionism Doctor Caligari's cabinet' reveals his fan. 'Of course it has a very long range, but when it's contained it doesn't draw as much attention.' With the Oscar in hand, he already said it leave Las Vegas 1996: He wanted to "experiment" and "evolve towards the future of acting". Paco Cabezas, who directed it in 2014 Tokarev, in which Cage embodied an avenging father, adds more ingredients to the Cage method: "He loves Korean cinema and says that kabuki, traditional Japanese theater, is his acting base."
It premiered this Friday The unbearable weight of an enormous talent, In it, he plays himself as Cage, who is drowning in debt and is forced to accept a millionaire sum to attend the birthday party of an eccentric Mallorcan billionaire who is a big fan of his work and involved in the arms and drug trade. Curiously, the project was written by its director, Tom Gormican, behind the interpreter's back, who also struggled to take on the challenge. Why? Because the internet is full of compilation videos with his aggravated performances because the gifs of his gestures, and because any internet user can buy pillows, cushions, sweatshirts or underwear with Cage's face on it. "He doesn't take that irony well," says Garcia.
in the The unbearable weight of a huge talent Cage speaks to himself: he performs as a young man "when he was a star" and today, when he admits that he needs "not fame but acting" he has already faced the double character The Orchid Thief (adaptation), his second Oscar nomination. Against him a sneaky drug dealer – he kidnapped the daughter of the President of the Generalitat of Catalonia – played by Paco León. "From filming in Croatia, I remember a very polite guy who was very technical," explains the Spanish actor, "and very Nicolas Cage, stuffed into leather jackets 24 hours a day despite the heat." León was impressed that when the entire cast first met to read the script, the American already knew it by heart. Could it be that Leon is impersonating Cage when it comes to the apparent showdown between hero and villain? "I wouldn't tell you no," he admits between laughs. "Seriously, he liked the idea of ​​me stepping into his game. Usually other actors are afraid of his impertinence. I'm no mythomaniac, but the only thing I thought about while filming was that he was in front of Sailor, the main character of, when his face was 30 centimeters away wild heart That made me nervous."
And in mid-July it will arrive Pig, his bid to reach the Oscars last year thanks to a more low-key, more naturalistic work that is a basic tracker for a living for a hermit of truffles, a former respected chef whose sow is stolen. "This obsession with a job well done," says Cabezas, "reflects his own drive. Aside from the whimsical ideas between genius and madness that he sometimes came up with on set, Cage brings a lot to each character."
Cage's toupee and his own life
Another trait that links Cage to stars like Charlton Heston, Sean Connery (throughout the Bond saga), John Travolta and Chuck Norris, or in Spain to Paco Rabal and Tony Leblanc, is the use of a toupee. In his worst financial moments, between 2007 and 2009, when the US Treasury demanded $6 million (€5.7 million), "he endured years of chaos because of the lack of a budget," Garcia says, laughing. In an episode of The unbearable weight… Paco León's character grabs Cage and rips off a mask and wig. "They warned me to be careful because underneath was their thing," explains the Sevillian. "What a suspense!" he finishes. "In the Tokarev", Cabezas recalls, "His personal hairdresser went with him, and when he left his trailer, no one was allowed to touch his hair."
What is the most real cage, the one that represents The unbearable weight… or the one who reflects on his past Pig? "The first," Cabezas defends, "because Cage is always Cage. Upright guy who supported me in my case if Tokarev I wanted to get out of advertising and be a little more of a writer versus the producers." Another thing is his terrible ability to take on any project. Cabezas replies, "Maybe, but the fact that Nicolas Cage exists in today's cinema and acting… that's a gift."
Source elpais.com