MOBILITY

The Piaggio MP3, which can be driven with a car driver's license, has been around for 16 years. Now the inventor of the Vespa has given the scooters a technical upgrade – including radar and cameras.
Piaggio fundamentally redesigns the three-wheeled MP3. You have the choice between two different motors.
The top-of-the-range model called 530 HPE Exclusive is the first scooter to be equipped with the "ARAS" assistance package.
It has a blind spot warning and a lane assistant.
Even though competition in the form of a BMW CE 04 is leading the way, the new MP3 hasn't become an electric scooter. It is still powered by a powerful single-cylinder engine that develops between 35.3 and 44.2 hp depending on the equipment variant.
Images of the Piaggio MP3
Technically, all versions have been enormously improved. Information now converges on a seven-inch TFT screen. As with the Magic Bike, if you connect a smartphone, you can easily use the navigation screens to guide you to your destination or take calls. There are also features such as a keyless system or cruise control.
A real treat is the new package called Advanced Rider Assistance System (ARAS), which is initially only available for the Piaggio MP3 530 HPE top model. It includes a rear-mounted camera and radar. The two sensors keep an eye on the traffic behind in a radius of up to 35 meters, help when cornering and warn of blind spots.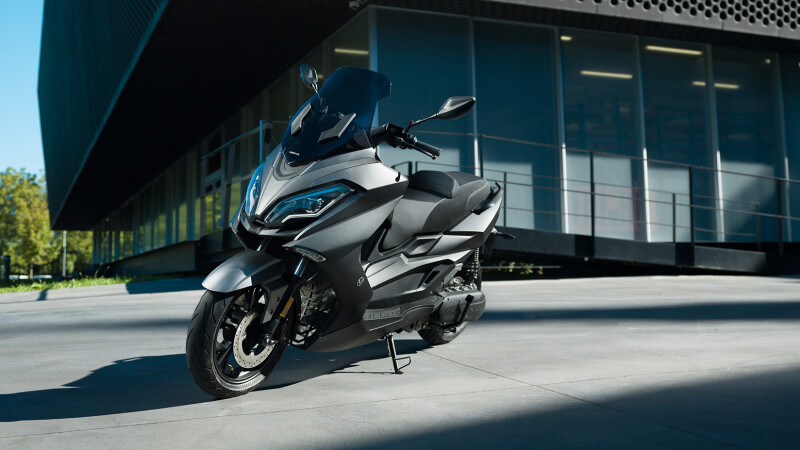 image set
Electric scooters in Germany
Electric scooters in Germany
Another highlight: the big MP3, which weighs up to 280 kilograms and is very heavy, has a reverse gear like the Honda Goldwing. If this is activated, the reversing camera switches on and transmits the image to the cockpit – almost like in a car and unique in the world of scooters.
price and availability

According to Piaggio, the new MP3 generation is expected to hit the market in July 2022. The entry-level model with the designation MP§ 400 HPE costs 10,800 euros and offers a top speed of 135 km/h, which is suitable for highways. For the high-end model Piaggio MP3 530 HPE Exclusive 13,300 euros are estimated. According to the manufacturer, the typical consumption of the MP3 is between 3.8 and 4.0 liters. Too much? Piaggio also has several electric scooters in its range. And competitor Yamaha has also introduced electric scooters.
When it was launched in 2006, Piaggio's tricycle provoked scorn and derision from "real" bikers. This hasn't hurt the success of the MP3, which can be driven with a driver's license. To date, the Italian scooter manufacturer has sold over 230,000 units worldwide.
Don't miss a thing with the NETWORK-Newsletter
Every Friday: the most informative and entertaining summary of the world of technology!
Source moviepilot.de