SOUND

Netflix sounds different from Amazon Prime Video. We'll tell you why volume and sound differ between streaming services.
Nowadays, there are a variety of streaming providers with different orientations. Some focus on movies, like Netflix, MagentaTV, Disney+, Amazon Prime Video, or Apple TV, while others offer music, like Spotify, Tidal, Deezer, Soundcloud, and Apple Music.
Each streaming provider has their own volume and loudness requirements

Different volumes in streaming deals due to different types of production

Different sound due to different sound quality

Different sound through different sound formats

Is constantly reaching for the remote the only way to balance diverse content?
User-generated content, meaning content created by users themselves, has also been very popular for years. These are distributed, for example, by YouTube, TikTok and also by the increasingly popular short films such as Reels via Instagram and Facebook.
If you switch between streaming services, you will find that they have different volumes and sometimes also sound different. This is due to the following factors:
Each streaming provider has their own volume and loudness requirements

Since there are no generally binding specifications, each streaming service provider has its own rules in terms of maximum volume and intensity. The sound intensity is the reference all the more important for the ear, because the human ear perceives the usual hearing frequencies between 20 Hz and 20 kHz all the more intensely as they are strong.
Do not hesitate to do a test with a song that you know well. Listen to this piece of music a little quieter then a little louder and you'll probably find that the piece is played louder to sound better, although nothing has changed in the production.
So everyone wants to be perceived as loud as possible, which also explains the maximum volume of commercials produced, which make the show seem louder than it should be.
However, if the volume is too loud, the sound quality suffers significantly, so each streaming provider has their own recipe for how they want to be both present and sound good at the same time. The result is then the different base volumes from supplier to supplier.
Different volumes in streaming deals due to different types of production

Movies: Setting a specific volume and loudness mainly affects the noisiest parts of a movie. Since it remains otherwise as it was originally produced, namely mainly for the cinema, the often too calm dialogues and the too loud explosions remain. The volume keeps skipping based on the dynamic range of the content.
Musical title: In the field of pop music, the older a musical title, the more calm but also dynamic it is. Music producers of the 70s and 80s, for example, did not yet have the sound editing capabilities of today. The younger a title becomes, the louder it is perceived due to ever more sophisticated loudness maximization, as described above. Thus, if you listen to a playlist with musical titles from different decades, the perceived volumes are very different and constantly jump from title to title.
User-generated content: Creatives create their content and upload it. Rarely are they also audio experts or have ever heard of volume optimization. As a result, the volume often fluctuates between a commercial produced very loudly and a video or podcast that is not produced so loudly.
Different sound due to different sound quality

In order to save bandwidth during transmission and thus costs on the one hand, but also to enable streaming for a large number of users even without a super-fast Internet connection, streaming providers work with different methods. image and sound compression.
The more the audio track is compressed, such as AC3 and AC4 audio formats, the lower its sound quality. Uncompressed sound formats, such as PCM or FLAC, provide the best sound quality because they match the original losslessly.
So-called premium offers close the gap in sound quality when streaming, but for which you pay a higher base price and require a high-quality internet connection in order to play the content smoothly.
Different sound through different sound formats

Various sound formats such as stereo, multi-channel formats such as Dolby Digital and DTS, as well as 3D audio formats such as Dolby Atmos, DTS:X and SONY 360 Reality are mixed on streaming platforms. In fact, you need a dedicated audio system for each of these sound formats, which sounds completely different in each case.
However, since you usually hear all the different formats through a PA system, regardless of its equipment, some sound formats are converted there. If the original production has more audio channels than the audio system used, a downmix takes place; if the audio system has more channels than the content being played, you can opt for an upmix.
In some so-called Dolby Atmos soundbar modes, there's still sound coming from the top speakers, even though there's no Dolby Atmos output.
Is constantly reaching for the remote the only way to balance diverse content?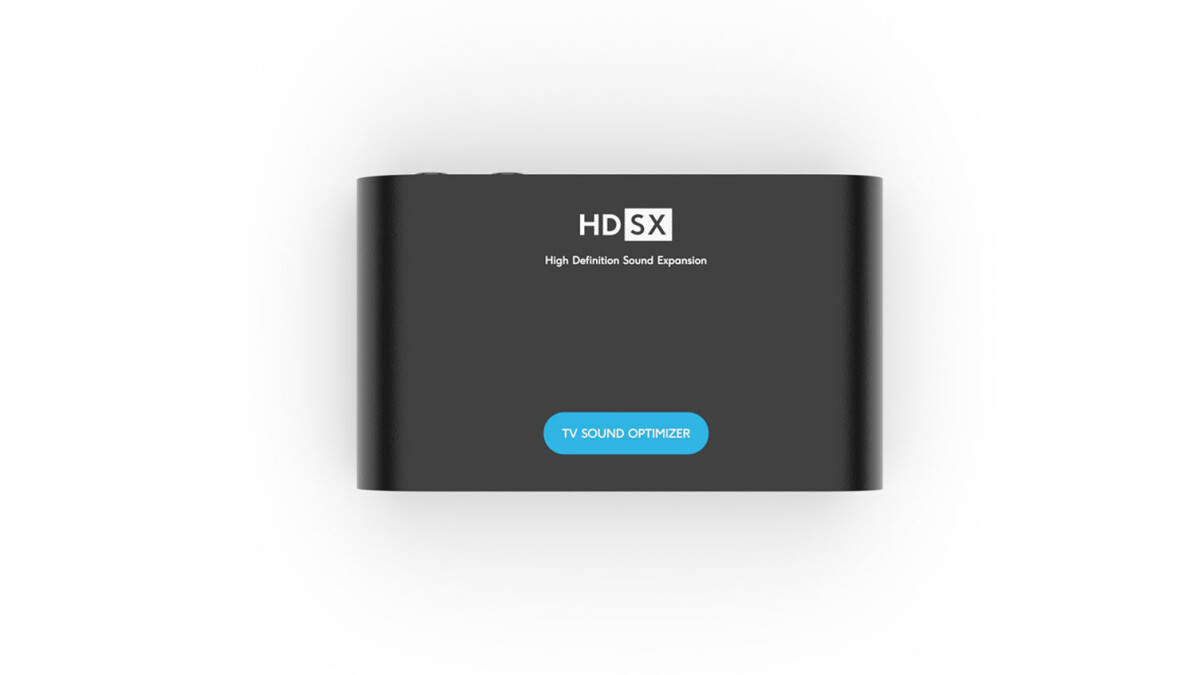 The HDSX TV Sound Optimizer is an easy-to-install sound solution that balances different volumes and sound levels in real time. This also makes dialogues reliably understandable. It works in uncompressed PCM stereo sound quality for flawless sound enjoyment.
at HDSX.com Buy a sound optimizer*
advertising
This patented innovation verifies the incoming signal in real time and uses its HDSX.volume technology to increase the volume where the movie sound is too quiet, while leaving loud passages as loud as they are. With HDSX.speech, the speakers also stand out more clearly and stand out more from the background music.
In addition, different sound formats are harmonized with each other, so that you have to devote yourself entirely to the sound and no longer to the remote control.
Disclaimer: The operating company behind netzwelt.de, netzwelt GmbH, owns a stake in Kronoton.
Don't miss a thing with the NETWORK-Newsletter
Every Friday: the most informative and entertaining summary of the world of technology!
Source moviepilot.de