The Republic of Namibia celebrated its National Day at Expo 2020 Dubai on Thursday, in the presence of Hege Geingop, President of the Republic of Namibia.
Official ceremonies were held to raise the flags of the United Arab Emirates and Namibia in Al Wasl Square, with the national anthems of the two countries being played.
Subsequently, visitors to the international event enjoyed a cultural show, including singing and dancing with drums, which highlighted the different traditions and rich cultural diversity that the Republic of Namibia, located in the south-west of the African continent, is proud of.
Sheikh Nahyan bin Mubarak Al Nahyan, Minister of Tolerance and Coexistence, General Commissioner of Expo 2020 Dubai, received President Heig Geingop, President of the Republic of Namibia, and his accompanying delegation.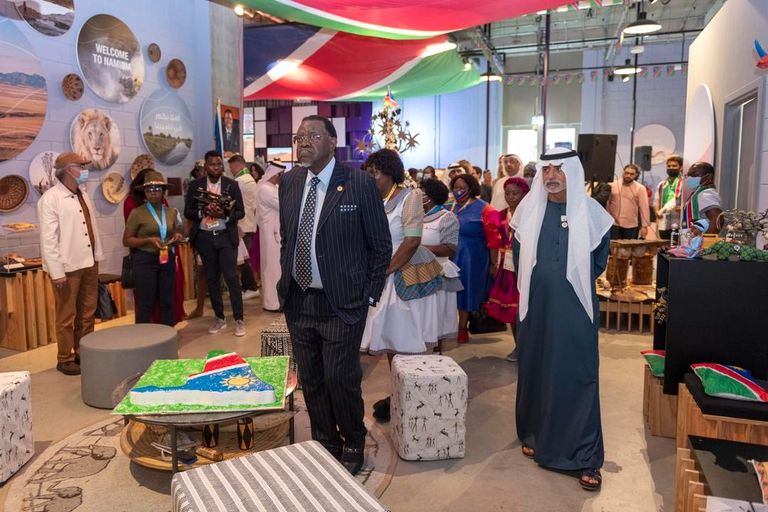 "Our participation in Expo 2020 Dubai allows us to benefit from their experiences in our promotions and investment opportunities offered to us by international companies," said President Heig Geingop. We will rely on partners. We invite businessmen, including those from the UAE, a Visit and invest in Namibia".
He added, "Our participation would not have been possible without the support of the UAE government, which provided us with financial support. The UAE has been more than a brother country to us, and we are grateful to them for allowing us to participate in the making." of the new world, by hosting this international event, Expo 2020. Dubai, which is the greatest model of human relations, and an opportunity to build a positive, better and safer world, to save the future of all, including the people of Namibia .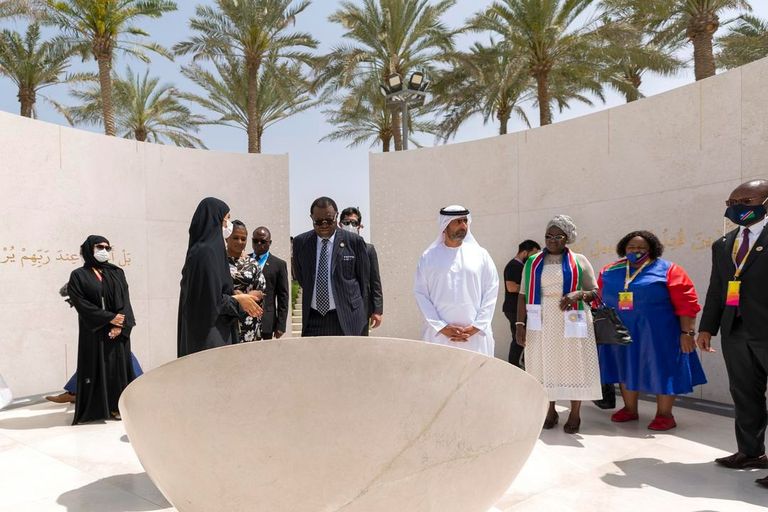 Sheikh Nahyan said: Through its participation in Expo 2020 Dubai, Namibia is showcasing the abundance of opportunities it offers the world, starting with the richness of its culture and biodiversity, to its potential in terms of renewable energy, infrastructure, blue economy and much more.
He added: We have strong bilateral relations with Namibia, and look forward to exploring areas of common interest to strengthen partnership and cooperation, so as to achieve our goals in the development and prosperity of our two countries.
After the official speeches at Al Wasl Square, the audience was treated to a special cultural performance, presented by a troupe of nine male and female performers, which included collective singing, dancing and applause.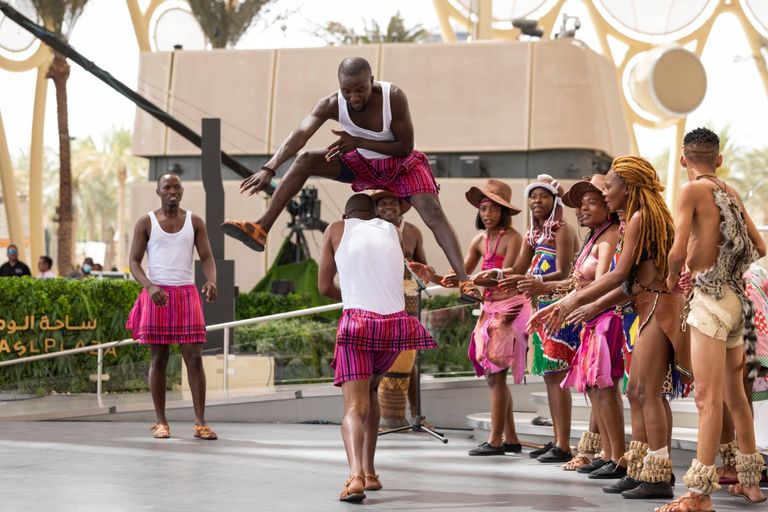 The themes presented by the company mainly expressed the different cultural traditions in which the Republic of Namibia is immersed, as well as expressing joy and celebration of life. The multicultural company was established in 2019 and participated in various cultural festivals.
National Day celebrations continue throughout the day, with the Women's Pavilion hosting a fascinating series of informative and inspiring discussions and talks themed "Visions and Journeys", addressing gender stereotypes as the world moves towards a more equitable future, with the presence of Monica Gingus, Namibia First.
The Republic of Namibia Pavilion, located in the Opportunity District, allows visitors to see how Namibia has become one of Africa's top tourist destinations, with rich wildlife, rich cultural diversity and valuable traditional knowledge.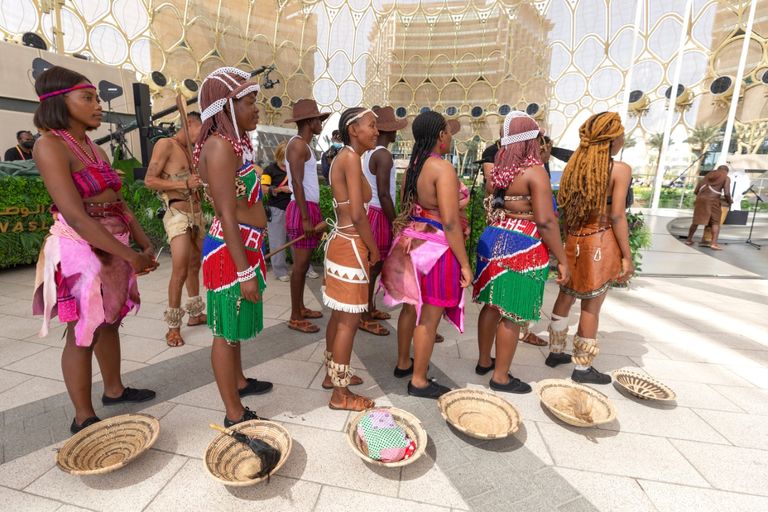 The pavilion aims to showcase the country's ability to generate sufficient and sustainable energy for domestic consumption and export, and provides visitors with the opportunity to meet Namibian entrepreneurs to network on trade and investment-related issues, while that children can enjoy Namibian dolls, novelty books and entertaining video content.
National and Honor Days at Expo 2020 Dubai are times to celebrate each of our more than 200 international participants, highlighting their cultures and achievements, and showcasing their pavilions and event programmes.
Expo 2020 Dubai will run until March 31, 2022, inviting visitors from around the world to create a new world together, in a six-month celebration of human creativity, innovation, progress and culture.