Economic movements of the Libyan government to fix the internal documents in the country and stop the transactions of the previous government.

The Libyan government's Local Government Minister, Sami Al-Dhawi, has addressed the directors of four Libyan banks to stop dealing and disbursing from the ministry's accounts with them and not to deal with the former government's firms.
In the letter, Al-Ain Al-Akhbariya obtained a copy of it, Al-Dhawi excluded the payment of salaries only, from the date of granting confidence to the government on the third of this month.
The four banks were: Jumhouria Bank, Al Wahda Bank, Sahara and National Commercial Bank.
internal movements

Al-Dhawi also addressed, in another speech, the Supreme Council of Local Administration, the mayors of the municipalities and the Municipal Guard regarding preventing the implementation of decisions or instructions issued by the previous government, since the legal mandate had expired.
He stressed not to enter into any financial or contractual obligations with the ministry and its affiliates, and not to change or establish any legal center except after giving his instructions in this regard.
The Local Government Minister of the Libyan government, Sami Al-Dhawi, held accountable anyone who violated the instructions in civil and criminal matters.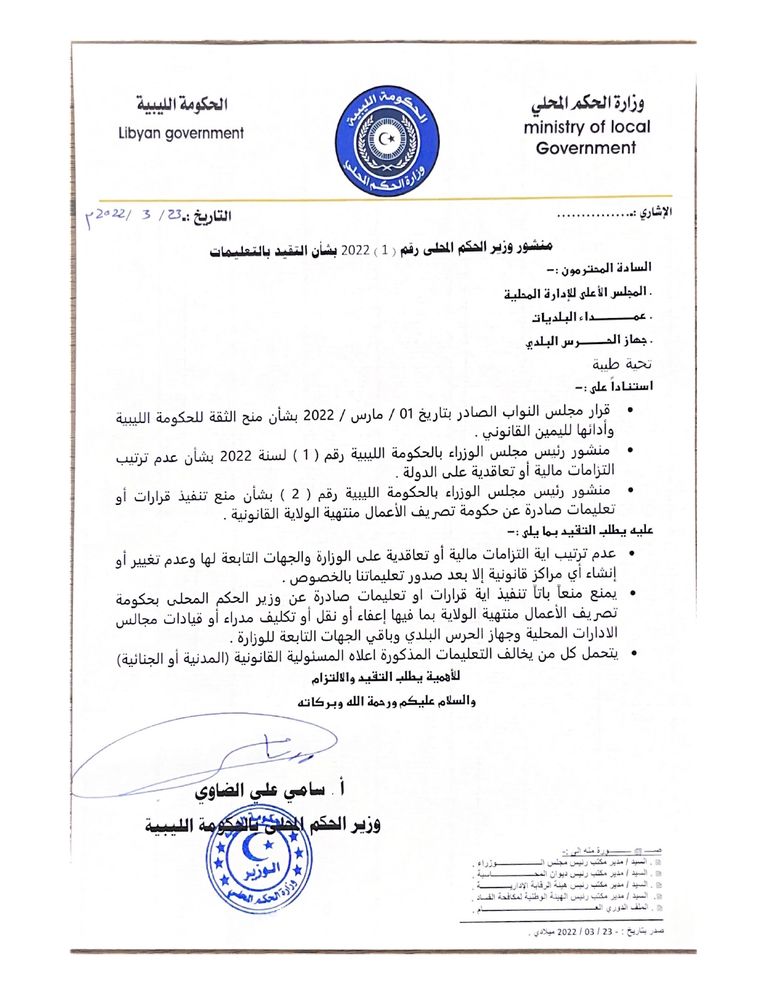 These measures come two days after the government received the eastern and southern headquarters of the country.
Meanwhile, international and Italian reports revealed that the Libyan Petroleum Corporation, with the tacit support of Washington, cut off financial supplies to the previous government.
This step, which analysts described as a move to tighten the noose around the previous government of Abdel Hamid Dabaiba, which refuses to hand over power to the new prime minister chosen by parliament, Fathi Bashagha.
Libya's oil export revenue ranks first in the overall budget revenue, and the latest official figures indicate that total Libyan oil revenue amounted to 21 billion and 555 million dollars, and 30 million euros last year. , while royalties and taxes have been recorded since the lifting of force majeure in September of For the year 2020 to December 31, 2021, an amount of $1,276 million, according to the National Petroleum Corporation.
The measure seems aimed at preventing the previous government from using funds to prolong its existence, as well as at not acting on it by the Central Bank, whose governor, Siddiq al-Kabeer, usually supports Dabaiba's permanence.