The Premier League Hall of Fame welcomed two new members, bringing the number of inductees for the most prominent competition in history to 10.
And the English Premier League had inaugurated the Hall of Fame in 2020, to honor the best players in the history of the competition, before it was postponed for a year due to the repercussions of the coronavirus.
And the first names were revealed at the Hall of Fame in April 2021, as it initially included Alan Shearer, the historic English Premier League footballer, and French legend Thierry Henry, the Arsenal legend.
And the English Premier League announced, on Wednesday, the inclusion of two new stars in the Hall of Fame of the Premier League, England's Wayne Rooney, Manchester United and Everton legend, and Frenchman Patrick Vieira, Arsenal legend.
Rooney began his career with the Everton team, where he was promoted to the first team in 2002, before moving to Manchester United in 2004, to achieve with him an immortal career that lasted for 13 years, until he returned to "The Toffees" in 2017 .
After a year with Everton, Rooney moved to DC United, before returning to England from Derby County, where he retired in 2021, to become their new manager.
Rooney is Manchester United's all-time goalscorer, and the Premier League's second all-time goalscorer after Alan Shearer, with 208 goals in 491 games, also providing 103 assists.
Manchester United's English striker won the English Premier League title 5 times, and was awarded the League Player of the Season award only once, in addition to receiving the Player of the Month award 5 times.
On the other hand, Vieira began his career in France, before moving to AC Milan in 1995, and from there to Arsenal the following year, to remain with him for 9 years until leaving their ranks in 2005.
After a brief trip with Juventus, Vieira signed for Inter Milan in 2006, and stayed with him for 4 years, before going to Manchester City, who retired from their ranks in 2011, to start his training career from his academy , which reached the Crystal Palace. in the present.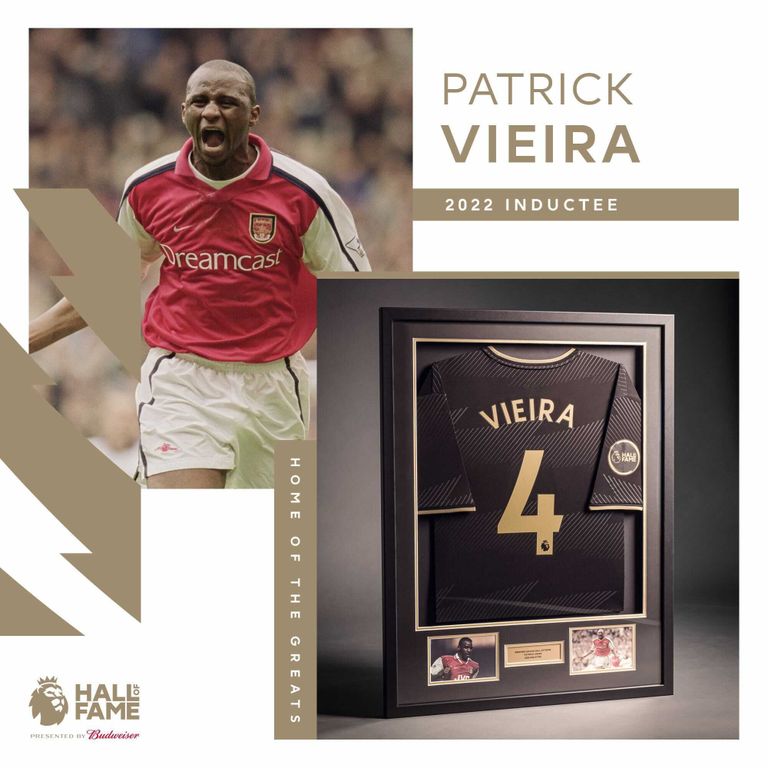 Vieira made 307 appearances in the English Premier League for Arsenal, during which he scored 31 goals and provided 34 assists, receiving the Player of the Year award only once.
On a collective level, Vieira was one of the most prominent elements in Arsenal's historic crowning of the English Premier League title in the 2003-2004 season, after no defeats.
It is reported that the Hall of Fame includes, in addition to Shearer, Henry, Rooney and Viera, Frenchman Eric Cantona, Irishman Roy Keane and Englishman David Beckham, Manchester United legends, Dutchman Dennis Bergkamp, ​​Arsenal . legend, Frank Lampard and Steven Gerrard, the legends of Chelsea and Liverpool.