[ad_1]

On her desk Mariana Aymerich has several folded programs, green brochures with the pixelated face of Miguel de Cervantes on the front and urgent handwriting. The publication announces the 50th anniversary of Latin America's largest theater festival, which Aymerich has directed since 2019 and which will be held in Guanajuato this year from October 12th to 30th. In the streets of this central Mexican city, theater director Enrique Ruelas began staging short comic plays that would later become the Cervantino International Festival. Since then, the event has mutated. Aymerich is now committed to attracting young audiences and putting on "smaller" shows, unlike similar festivals like the one in Avignon, which has staged works of up to 13 hours with dozens of artists on stage in the wake of the pandemic.
Presented at the end of June, the Cervantino program includes national and international productions at affordable or even free prices. The most expensive tickets, those of the Teatro Juárez, an eclectic early 20th-century building that will be renovated in October, reach 810 pesos (around $40): "If you see Hera Hyesang and María Katzarava at the MET [de Nueva York]How much do the tickets cost you? 300 dollars?" asks Aymerich. The sopranos open the 19 days of activities that include K-pop concerts, performances by Gustavo Dudamel and the Los Angeles Philharmonic, impressive shows or folk dances. After two years of pandemic, the event returns with 100% capacity and expects 500,000 visitors. For Aymerich (Mexico City, 45 years old) the challenge is that the festival will still exist in 50 years.
Questions. The turn of the decade invites you to think, which ones have emerged during the planning of this edition?
Answer. First consider whether we would be able to do a 100 percent festival. In 2019 we sat down to outline what we wanted and the first thing we had to do was guarantee for the next 50 years. It was very clear to us that we had to proceed with an audience education program as young people are our future consumers. If we don't stop to see what their interests are today, the festival has little chance of surviving. And suddenly in March 2020 the pandemic comes. We had to put the 50th anniversary aside and figure out how we were going to do it [evento de] 2020
P which was virtual.
R It was a very important challenge. We know how to bring audiences and artists together, how to handle all these complex logistics, but doing it virtually was a discovery. Broadcasting live what is happening is not the same as producing ex-professor for virtuality. It was difficult, a very complex issue. In 2021 we will return to the path of planning [aniversario] 50. What we are most interested in is pausing and looking back at how we will be programming from this issue onwards. It was a happy coincidence to see that other festivals – the one in Buenos Aires, the one in Edinburgh, the one in Alcalá de Henares – also program differently. We can no longer imagine festivals with large productions or many scenographic elements.
P Because of the pandemic?
R Because of the pandemic and because of the complexity of programming these great productions. When it comes to programming, we start with the opera because montage takes a lot of time. These great productions are at the beginning, as is Dimitris [Papaioannou], bringing her full load from Athens. But from there it's less complex productions to assemble.
P why do you tend to
R Because of the cost of airline tickets – lately airline tickets have come to heaven – and it also responds to the global moment we are experiencing. Not only because of a pandemic, but also because of a war, a global crisis… We have to be much more responsible, especially the institutions that have public funds. We cannot afford this luxury. We are making great efforts to create these 50 [años], but it is a very important government effort because there are other, more pressing needs, such as B. Health. Culture is a right, it's a human right and I think we're all very aware of that. The 50th anniversary has to be memorable and I think it will be, but after this edition it won't be the same. We need to be much more creative in programming the festival.
P How big is the federal budget this year?
R Just over 148,000 million.
P Higher than in previous years. When you started it was 84 million and in 2021 it's 45 million.
R Yes, that's why it's a huge effort. This takes account of the anniversary. Everyone involved throws the house out the window.
P What goes on are the Cervantine hors d'oeuvres.
R Here the festival was born thanks to the doctor's vision [Enrique] Ruelas to take the university theater to the streets. It is very important to keep this flame alive. I also think that this made it possible to think about a democratization of the festival. If we can present theater on the street, we can present anything. And 50% of the activities are free. We are interested in making it accessible to everyone and it is very important that young people are interested in it.
P Although some activities are restricted for children under the age of eight.
R That was just an adjustment we made at eight years old, because before it was 12. Me for myself letting babies in! But we also have to take care of the audience, who already have experience and who contribute a lot to this kind of artistic performance. We have to find the balance and adjust to eight. It depends a bit on the content, but we're trying to remove all those limitations.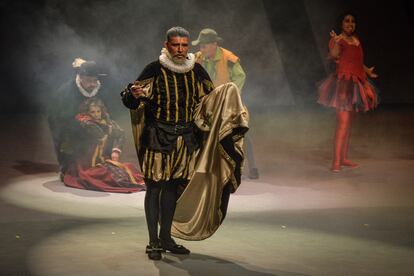 P Guests of honor this year are Mexico City and Korea. What connects them apart from being this year's guests?
R The artistic offering that comes from both is very organic and very powerful. What they bring to us ranges from the traditional to the most modern. They are ancient cultures. Korea has some things that visually break the mold. We are looking for [que esta sea] the seeds so that there is continuity for the next 50 years.
P There are 19 days of festival, thousands of artists, hundreds of events. It's a little overwhelming. How should the audience plan their visit, how would you do it if you weren't the director?
R That's why we changed the theater plans a bit in 2019. obviously not enough for you [el tiempo] to see everything. It won't even give me time. But there are things, for example, that are presented twice. It's also odd that companies started creating their shortest projects, 45 or 50 minutes, which is appreciated because it gives you time to run to the other [espectáculo]. And we have an app you can use to make your Cervantino, that helps.
P What would you not miss?
R I don't want to miss the contemporary dance company Cas Public from Quebec. To Dimitri [Papaioannou]Of course I wouldn't miss it for anything. Mexican choreographer Pancho Córdova's Physical Momentum is a very powerful montage. I wouldn't miss Sigma Project either, a very interesting Spanish contemporary music ensemble. Two more ensembles are coming that I love: the cello quartet from Poland and Attacca, which is very beautiful baroque music. There's a lot… Prepared and produced by the Catalan company La Fura dels Baus ex-professor a project for the festival, is a tribute to Guanajuato. I'm really looking forward to that. Híjole, to the Korean Contemporary Dance Company. The concert prepared by Paté de Fuá, or Café Tacvba symphonic…
P At the end of the 49th edition he was moved, perhaps because of the challenge of doing a hybrid festival and a pandemic. Are you experiencing this edition with less excitement?
R I believe that this issue is a very important challenge. I don't feel pressured, I'm confident it will happen. And of course there are details that appear along the way, but it gets resolved and you move on. Once the festival starts, it's like a machine that runs by itself. We enjoy it very much. The work environment is healthy, with lots of communication and lots of teamwork. I believe these are the basic elements for an event of this magnitude to emerge.
Subscribe here to Newsletter from EL PAÍS Mexico and get all the informative keys of the current affairs of this country
[ad_2]

Source elpais.com