Residents of Lviv, in western Ukraine, continue to play chess, whose city is known as their capital, as they anticipate the next Russian "move."

Despite the war in their country, people who are fond of chess take part in a round of games on one of the Lviv sidewalks.
An opposing player's pawn dominates the other player's knight, then follows through with a series of winning moves, ending the round in their favor.
The loser pays his opponent a sum of money, then the pieces are quickly rearranged around the chessboard to start a new round.
Lviv is famous as the "chess capital," and the Soviet Union, which annexed Ukraine until its collapse in 1991, was very supportive of the game because its control over tournaments was an expression of its strategic superiority.
With chess calculations, who wins the war?

Ukrainian chess champion Andrei Voloketin (35 years old) considers this game "very difficult".
Voloketin was awarded the rank of "Grand Master" in this field thanks to the characteristics that talented people usually have, including "memory, arithmetical knowledge, strategic planning ability, and a holistic view" of his party.
However, Voloketin sees no way out of the Russian war in his country, saying: "I am afraid that the battles will continue for several months or maybe more (…)", adding that "the war represents a new reality for all people in Ukraine".
Lviv is just 70 kilometers from the Polish border and has so far been spared the Russian offensive that broke out on February 24.
The city is the cultural hub of Ukraine, with cafes, shops and restaurants lining its cobblestone streets, though its nightlife is currently restricted by a martial law curfew.
relative calm

This historical dimension is a reason for the curious, most of whom are men, to visit Lviv's main avenue for amateur tours of the city despite the bitter cold.
Andrei Volukitin explains that Lviv, with a population of 700,000, includes at least 20 to 30 chess grandmasters.
Among chess lovers, the Russo-Ukrainian war is not without consequences, since the International Chess Federation canceled the planned tournaments in Russia and banned the raising of the Russian flag in international competitions.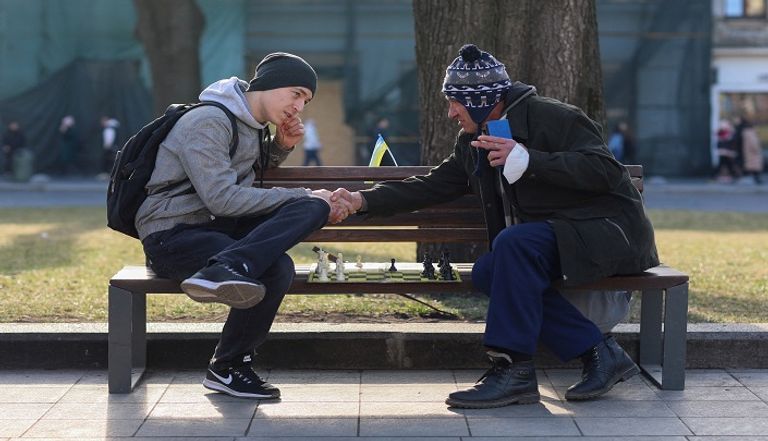 As for the Ukrainian Federation, it stipulated that none of the Russian players participate in these tournaments.
And Andrei Volukitin was one of the signatories to an open book of players refusing to play Russian opponents in tournaments including the European Singles Championships, which starts next week in Slovenia.
And Andrei was able to get an exception to participate in the tournament, since all Ukrainian men between the ages of 18 and 60 are prohibited from leaving the country, and his wife and daughter moved to Poland.
The relative calm that has prevailed in Lviv since the start of the conflict in Ukraine three weeks ago was marred by an attack launched by Russia on Friday against an aircraft repair factory located near the airport, with no casualties reported.
"War the Way of Chess"

And along the main boulevard of Lviv, all chess enthusiasts express their opinions on the prevailing situation.
Ole Chernobayev, 52, accepts the defeat of his rival Andrei Voloketin, who won in a match that lasted less than 10 minutes, but instead expresses greater optimism regarding Ukraine's chances of defeating Russia.
He says, "We will certainly win. Our people have great courage, as several unarmed Ukrainians managed to repel the tanks," emphasizing that "the Russian army cannot control kyiv, as our men are very brave."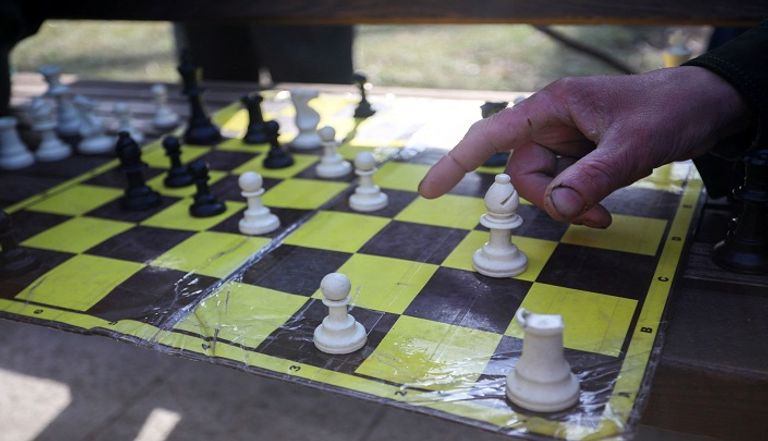 "This game is difficult and depends on thinking," said Oleksandr, who is active in sidewalk matches in Lviv.
Oleksandr competed with a young man wearing a baseball cap, in a round that gradually grew longer between moves, before Oleksandr won it due to his opponent's withdrawal from the match.
"We have to fight for Ukraine the same way we fight with chess," he says sarcastically.