LUCKYCLOUD

Luckycloud wants to convince through transparency and flexibility. We reveal whether the scalable data volume puts the German cloud service at the top.
Luckycloud in the test

editorial rating
8.0
reader's note
No rating yet
Storage capacity and upgrades
9.0
Above all, Luckycloud makes a target group happy

Luckycloud can set positive accents with servers in Germany and a very flexible pricing structure. The business functions, which include co-working and even your own domain, are also compelling. Despite the minimalist design, operation is intuitive. However, private users should be put off by the relatively high price of common amounts of data. Here, the focus on large customers becomes clear.
We liked it
scalable price and data model
Server locations in Germany
own domain possible
possible cooperation
We didn't like it
relatively high prices
Below-average photo handling
Unlike many other cloud services, Luckycloud advertises very aggressively with its own location in Germany. After all, many also associate a high level of data security with the local legal system. You can find out here whether this assumption is confirmed in the test and to what extent Luckycloud can keep up with the usual services.
lucky cloud
With Luckycloud you can save your files online, automatically sync photos from your smartphone and much more.
Location and the promise of security alone do not make for a good cloud service. For this reason, we present to you the most important characteristics, advantages and defects of Luckycloud. First of all: In terms of price, the service is attractive with inexpensive entry-level models, but we see problems with the pricing of tariff models.
Special functions: How much memory can it hold?

The particularity of Luckycloud is the very variable amount of data that you can reserve. From three gigabytes for a single user to 500 terabytes for 500 users, everything is included. Luckycloud obviously wants to appeal to both businesses and individuals. However, the price dimensions of this model are difficult. But more on that later.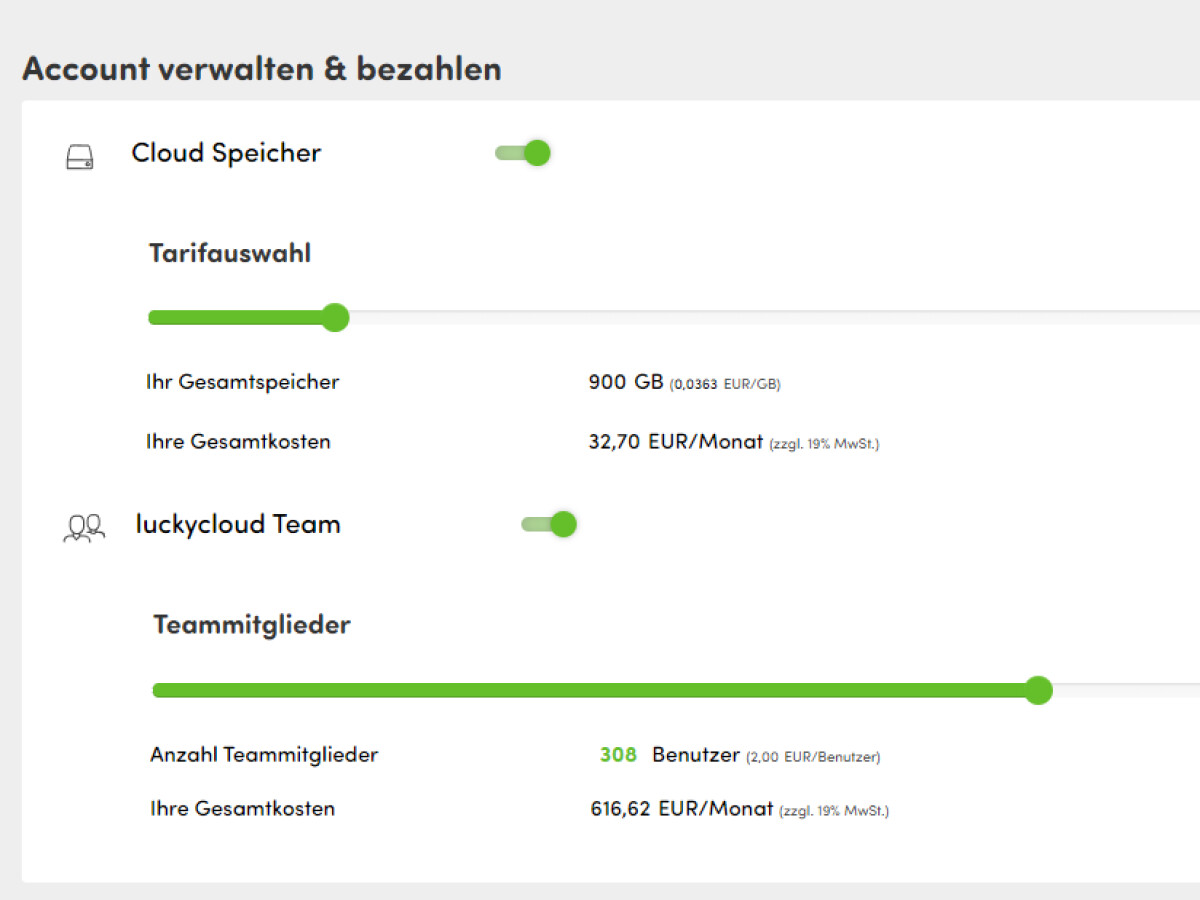 Demo account: there is no faster way to test

One of the most useful and at the same time fun features that Luckycloud offers you to decide if the service is really something for you is the demo account. With username [email protected] and the password q1w2e3R4 or you can use the corresponding "Demo Account" button on the Website to try the functions of the Service without creating an account.
If you log in with the demo account, you can upload files, create documents or edit Excel spreadsheets as usual to get a feel for the software. Since this account is publicly accessible, we expressly recommend that you do not upload personal data or share third-party user data.
If you are testing the service with several people at the same time, you can "chat" with strangers about shared documents. A useful and smartly implemented feature that quickly gives a good overview of the offer and, unlike the free trial version, which is offered separately, does not require cancellation.
Service leaves nothing to be desired

Luckycloud is very intuitive to use. You can easily access the cloud through the website and create new "libraries" there. These work as separate folders where you can upload files, folders, and documents to edit together. To do this, just press the "Download" button.
Lucky cloud in practice
The basic functions of Luckycloud in practice.
Use the "Create" button to create your own documents. Here you can choose between Word, PowerPoint and Excel files, which are created online according to current standards. The tools needed for editing are included in the subscription.
Sharing for external users also works perfectly using the "Share" button, which you can find next to each library and file. Luckycloud is also suitable for file sharing – of course only for legal and non-copyrighted content.
The ability to create groups is handy. Thus, you can share entire libraries with other users to manage content together. To do this, you need to add the desired members under "For my groups" and create a "New library" there.
More features

Another standout feature is the courier option, which can be added to any rate. You can reserve your own email address for just under a dollar a month, but each additional gigabyte of storage space will cost you just under 34 cents.
Unfortunately, the image galleries are only very rudimentarily displayed in Luckycloud. If you upload photos, you can browse them undisturbed – other files are skipped – other features, such as the Google Photos service, which even recognizes image content, are missing. We also lack creative tools for image editing.
platforms and file formats

You can use Luckycloud first and immediately after logging in through the browser. There you can manage uploads and downloads and also work in documents. The service also offers a sync and player client for Mac, Windows, and Linux. While the latter allows access only online and via a virtual hard drive, the former allows you to sync local files to your PC and make the files accessible offline.
If you also want to use Luckycloud on the go, that's no problem either. iOS and Android users can use their own apps to access the cloud and upload or download data.
Cloud storage in comparison: 13 providers in the test
NETZWELT may collect a commission from the merchant for links on this site. More information.
Security: servers in Germany are convincing

With Luckycloud, your files are encrypted both server-side and via the TLS protocol. Optional end-to-end encryption is also available so even system administrators can see your data. The password to dissolve this encryption is not stored on the server, but is only available to you as a user.
Luckycloud also advertises with the principle of zero knowledge. This means that the service only receives information about you when you request help. Otherwise, none of your private data will be accessed or stored.
However, the website also points out that Luckycloud admins only have access to encrypted libraries. We therefore recommend encryption. The openness to server locations is positive.
Luckycloud not only presents itself as a German cloud service, but also exclusively uses servers in Germany which are managed and maintained by the company itself. A backup infrastructure should – despite the tightly meshed server system – secure your data even in the event of a failure.
Subscriptions and prices

Luckycloud prides itself on a scalable subscription model where you can determine both the number of users and the data volume yourself. For this reason, we cannot offer you clear models at a fixed price. Instead, we want to introduce you to common subscription designs in the following table. For better comparability, we compare the prices valid at Luckycloud in July 2022 with those of Google Drive, one of the most popular cloud services.
| storage space | lucky cloud | Google Drive (Google One) |
| --- | --- | --- |
| 15 gigabytes | 1.29 euros per month (for 10 GB) | 0.00 euros per month |
| 100 gigabytes | 7.20 euros per month | 1.67 euros per month |
| 200 gigabytes | 9.60 euros per month | 2.50 euros per month |
Luckycloud and Google Drive price comparison
Of course, you should also take into account that the functions of the two cloud storage devices differ significantly in general. Our comparison primarily serves to compare the amount of storage space, but it should also show that individual users expect relatively high prices quickly.
Great Free Online Storage Comparison
Cloud storage that doesn't cost money
In addition to expensive cloud services, there are also many good and free online storage options in the market. But which performs better in the test? We make the comparison.
Due to the scalable pricing model, Luckycloud is definitely worth it for many businesses. Since services like Dropbox typically offer their business pricing with a fixed price for each additional user, Luckycloud leads the pack from a certain company size and user count.
| users and disk space | Dropbox Enterprise Standard | Lucky Cloud Company |
| --- | --- | --- |
| 3 users, 5 TB | 12 euros per month per person | 57 euros per month per person |
| 10 users, 5 TB | 12 euros per month per person | 20.15 euros per month and per person |
| 20 users, 5 TB | 12 euros per month per person | 12.18 euros per month and per person |
| 50 users, 5 TB | 12 euros per month per person | 7.25 euros per month and per person |
| 100 users, 5 TB | 12 euros per month per person | 5.58 euros per month and per person |
Dropbox Business Standard vs. Luckycloud Business
Termination: how to terminate your Luckycloud subscription

If you want to cancel the service after the free trial phase, you can easily request it through the browser client as soon as possible. Note, however, that you can only cancel a monthly subscription on a monthly basis. With an annual subscription, you also commit to the service for at least one year.
To cancel Luckycloud, select the "Manage & Pay" button under "Your Account" and scroll down. There you will find – highlighted in red – the option "Cancel luckycloud account", with which you can cancel your subscription.
lucky cloud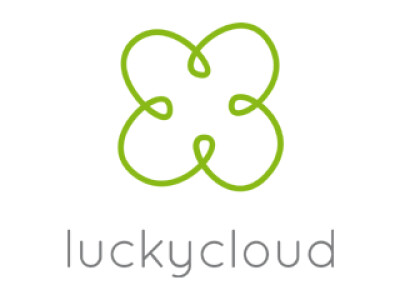 editorial rating
8.0
reader's note
No rating yet
Storage capacity and upgrades
9.0
You do not agree ? Are you looking for suitable alternatives? We have a long list of Luckycloud alternatives ready for you in our cloud storage overview.
Luckycloud: technical sheet
Here you will find the technical data of Luckycloud. You can easily compare size, weight and other properties with other products.
Storage in the free version

✘

Nope
Package with the largest storage space
up to 500 TB (per company/company with variable data volume and price)
teamwork

✔

Yes
photo management tools

✔

Yes
Data encryption on the transmission path

✔

Yes
Data encryption on the server

✔

Yes
Don't miss a thing with the NETWORK-Newsletter
Every Friday: the most informative and entertaining summary of the world of technology!
Source moviepilot.de