BILBAO, August 3 (EUROPA PRESS) –
The speaker of the PSOE in the Chamber of Deputies and ex-Lehendakari, Patxi López, has called on the leader of the PP, Alberto Nuñez Feijóo, to "put order once and for all" in his party because he does not comply with the measures laid down by decree-law Energy saving plans would "commit a crime" and would have to answer for it in court.
López, who appeared at a press conference at the PSE-EE headquarters in Bilbao, stressed that the government's energy saving plan does not include the closure of businesses or cuts in households, which, as he recalled, was requested by the leader of the popular "barely ten days ago".
However, he recalled that statements were later heard from PP leaders, such as that of the President of the Autonomous Community of Madrid, Isabel Díaz Ayuso, who threatened not to comply with the decree, prompting her to ask Feijóo: " Because this not the first time, put order in your ranks once and for all, put order in the People's Party and make them understand that the laws are obeyed in a democracy, period.
In his opinion, "ignoring or releasing, as the PP spokesman said yesterday, to comply or not to comply with this decree, simply means impunity for committing a crime", and that is something that would have to be answered in court.
"Breathing the decree or not wanting to comply means going against the EU, showing absolute lack of solidarity towards our European partners, but also a lack of solidarity with Spain and with the Spaniards, because with it we are trying to prevent greater evils, that there will be plant closures or that this will affect family consumption cuts," he said.
For the socialist leader, the austerity plan is "a collective effort against the unsupportive selfishness of the People's Party". "Therefore, Mr. Feijóo brought order and showed that they are a serious party," he stressed.
(there will be an extension)
690013.1.260.149.20220803115729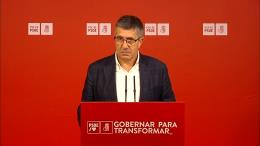 Source europapress.es