Díaz gives six months for his transformation
MADRID, June 21 (EUROPA PRESS) –
The Council of Ministers passed the Labor Code this Tuesday, which provides for the transformation of the State Public Employment Service (SEPE) into the Spanish Employment Agency, in order to improve its management and operation, without any economic burden on the Treasury.
Second Vice President and Labor Minister Yolanda Díaz announced in the press conference after the Council that there will be a deadline of six months to carry out this transformation and has assured that it will be respected.
"If there is a well-known public service in our country, it is SEPE, and it is one of the great demands of our country's citizens," Díaz said, adding that the transformation will include digitization, modernization and incorporation of new methods.
The new state employment agency will have "two large units", one to analyze the data and another decentralized data unit that will have big data and artificial intelligence.
This Labor Code is intended to be "a framework standard for public employment policy" and will be governed by the principles of non-discrimination in accessing and maintaining employment, transparency and efficiency in design and implementation, as reported by the Department of Labour.
"It is an absolutely transversal standard that has a European perspective on employment, from the conception of our country to adapt and standardize ourselves at European level and improve the concept of employability that has never succeeded in our country", commented the minister.
This new regulation is "changing the look" so that it is aimed not only at job seekers but also at active workers who want to improve their position in companies and advance their working life.
In this way, priority attention groups are expanded, which include people with intellectual disabilities, people with autism spectrum disorders, LGTBI people, victims of gender-based violence, people in social exclusion, people over 45 years of age, people with a migrant background, people facing granted international protection and applying for international protection, women victims of gender-based violence, Roma or other ethnic minorities and workers from sectors undergoing restructuring.
The department, headed by Yolanda Díaz, aims to bring a "local dimension" to active employment policies so that the Sectoral Conference on Employment and Labor Affairs will be able to formulate specific agreements and recommendations to meet the specific needs in each area.
In addition, the deadline for the implementation of spending on active employment policies by the autonomous communities is extended from now to March 31st. "This is of great importance in matters of public enforcement," added the minister.
PERSONALIZED SUPPORT
The new Labor Code will encourage personalized support through a shared service portfolio. For this purpose, an individual profile of the person is created, with a unique personalized work file, continuous attention and a tutor guiding the personalized itinerary.
Users of this shared portfolio of services will also receive advice on self-employment and entrepreneurship. "We accompany them with feasibility studies," emphasized Díaz.
In addition, access to these services can be both personal and telematic, to ensure equal conditions in all areas of the country.
On the employers' side, companies will have at their disposal a catalog of guaranteed services to manage vacancies in the public employment services. They can also receive information and advice on offers within the European Union via the EURES network.
On the other hand, the new regulation also aims to plan and ensure access to vocational training for employment, Labor has stressed.
All of these policies are subject to a new evaluation process that measures employability, placement "measuring the quality and outcome of placement" and coverage in relation to "the level of social protection of each individual worker". Díaz has recognized that this assessment is "of enormous complexity", but it was carried out scientifically.
The regulation adopted by the Council of Ministers this Tuesday also provides for the creation of a common information network for the entire job placement system, integrated into the European network. Therefore, a collaborative technical space for knowledge, work and innovation will be created for all public employment services.
679535.1.260.149.20220621153523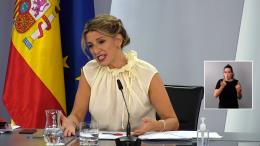 Source europapress.es