The artist Juan Muñoz (1953-2001) asserted that for him sculpture was "a beautiful craft for free men" with which he could develop "a language of feelings". But besides his statues, which became his main form of expression, Muñoz found other ways of communicating through writing, sound work or theater; but above all through illustration. He was the second in a family of seven children and his mother passed on a love of art and drawing, a discipline that stayed with him throughout his life. He used to say: "Drawing is a pleasure, a lonely and very beautiful task. I always draw." To mark the fifth anniversary of its inauguration, Santander's Botín Center is exhibiting some of these works in the exhibition that starts this Saturday Juan Muñoz: Drawings 1982-2000.
this exposure, which runs until October 16, is the first retrospective of Muñoz's drawings. It is divided into 12 rooms, each with a different theme, with 204 illustrations by the artist chosen by Dieter Schwarz, curator of the exhibition and expert in modern and contemporary art. "In these 12 themes, I tried to find works that reflect that, and it wasn't easy because an exhibition of this kind requires a lot of research work," Schwarz explained at a press conference this Friday. In one of the rooms, surrounded by more than a dozen illustrations by Muñoz, the curator has reported that it was very difficult to choose what to include in the exhibition – works he has been making since the beginning of the pandemic – given the numerous works , which he drew in his short career before he died at the age of 48. All have been loaned by European and American institutions and private collectors, as well as by the Juan Muñoz Estate.
Like most of his sculptures, Muñoz's illustrations are highly enigmatic and personal. And while they complement his work and share the same imagery as his statues, Schwarz clarifies that these are independent pieces that "allow the viewer to experience in a different way the incredible work of one of the most important European artists of the 20th century ". "Juan Muñoz's drawings tell stories never told before, and they do so through a figurative format that, in its day, was a rebellion against the hegemony of abstract language," concludes the curator.
In the two decades that the exhibition brings together, the artist varied both in the subject matter of his drawings and in their form. He vacillated between the most sketchy, reflecting his most immediate ideas, and the most detailed of his plates. He explored the use of charcoal on cement –Late portrait (1985)—, using acrylic on canvas as a curtain—The nature of the visual illusion (1994-1997) – or with white chalk and white oil on black canvas –Raincoat Drawings (1988-1995) and back drawing (1990-1995)—where he combined the disciplines of illustration, painting and sculpture.
All the culture that suits you awaits you here.
Subscribe to
Juan Muñoz: Drawings 1982-2000 It is also a chronological journey through the concerns of the Madrilenians. In the initial phase, the artist focused on everyday objects, among which balconies emerged. Not only in sculpture, as in balcony for three (1984), also in the drawings where he wanted to show the viewer's perspective, seen from below and blank to capture the "absence" of people. Another station in the retrospective relates to Joseph Conrad. Muñoz was a great lover of the writer's books, which inspired some of his works. So much so that it became part of a project to illustrate one of his 1896 novels, A redirect is running which tells the story of two Europeans who were abandoned in Africa. Although the idea did not materialize, the artist continued to make the illustrations that were exhibited at the Frith Street Gallery in London.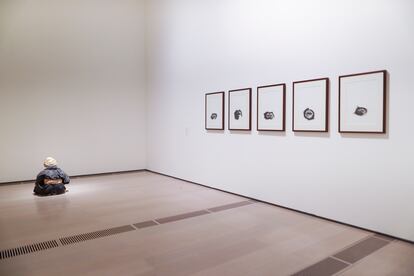 Throughout his career, Muñoz continually approached the human condition. For this reason, as the artist Cristina Iglesias, the creator's widow, recalled this morning, "his work is still very relevant" and there is always something new to observe and learn from. "It is interesting that the gaze is turned from time to time. has a lot of work [todavía se está haciendo un recuento de sus ilustraciones]Different exhibitions can take place and there is always something to show, but it keeps traces of social and political criticism, which I find very interesting from his perspective," he commented on EL PAÍS. And although this is reflected in different disciplines, for Muñoz there has always been something special about drawing: "If they manage to convey an emotion, it is because they can convey the feeling that something has happened or is about to happen. Either you come too early or too late: always at the wrong time.
Source elpais.com