On August 3rd, the Castell de Peralada Festival organizes a very special evening and welcomes on its stage a character as endearing as the tenor Josep Carreras, who made his debut there in 1983. Carreras will not only take the opportunity to celebrate his 75th birthday, but also look back on his entire career. The tenor from Barcelona will be accompanied by the soprano Martina Zadro and the symphony orchestra of the Gran Teatro del Liceu, conducted by David Jiménez.
"It's going to be a special evening, a friendly concert that I won't go out to suffer but to enjoy," explained Josep Carreras in one of the rooms of his brand new Foundation to Fight Leukemia in the mountains of Badalona. With his usual elegance, his narrow smile and his slow, but enormously rhythmic, even spirited speech, he made it clear what this friendliness would consist of: "Of course I will sing, but not them William Tell or the Andrea Chenier. It will be a repertoire that I hope is ideal for a summer night. A little opera, a little Catalan, a little Neapolitan song and maybe a surprise". He repeats the surprise a couple of times, becoming very mysterious between smiles, unwilling to divulge any more information: "If I say more, it won't be a surprise anymore."
Carreras has always maintained a very close relationship with the Castell de Peralada Festival. In August 1988 he had one of his first performances, triumphant of course, having made his battle with leukemia victorious; a performance that was broadcast live on 40 television channels. "I also remember a stormy night with Alfredo Kraus and an impressive storm." The Empordà competition awards the gold medal of the festival this year. "The recognition that comes from home makes you much more excited," comments the tenor and the gleam in his eyes gives an idea of ​​this undisguised illusion. "I'm 75 years old, I don't know what you expect? I never thought that I would live to be 75 singing. I don't know if I'll be lucky enough to be able to sing much more. If I have the physical and mental strength to do it, because doing a concert in Peralada, near my home, is not the same as going to the United Arab Emirates or the United States, then that requires a very important mental one Concentration. Also, facing the public is always a source of pressure and tension."
Josep Carreras insists on downplaying the passage of time but exudes happiness at continuing to preserve his tenor voice. "I can still sing with the color of a tenor, if not with the elasticity of when I was 30," he says. "The most complicated thing for a singer is that you always carry your instrument with you and it is influenced by a thousand things and the worst thing is the air conditioning. A violinist puts the violin in the case, closes it and that's it, even the pianist lowers the lid of the piano, but we're always with the instrument up and we're not always one hundred percent. Every time I go on stage I think: I did it again! And that's very important, because the reaction of the public is my great satisfaction. I hope to be the one who decides the day that I will offer my final performance, but you never know…". With his words he tries to give the impression that he has not thought of this last moment and that he certainly does not know when he will arrive, because he is already announcing concerts that he is planning, for example in Turkey in January with Plácido Domingo Has . What he does know is where he wants to offer that final gig: "At the Arc de Triomphe in Barcelona, ​​​​where I did my first gig when I was over leukemia. I explained it recently in an interview and they contacted me immediately from the city administration to tell me when and how I wanted … but it's not the time yet. Concerts, songs… but talking about opera doesn't seem to fit his imagination. "To be honest, it's very good to say that I'm still doing opera, but the truth is that I haven't done much lately."
These days mark the 35th anniversary of Josep Carreras' admission to the Hospital Clínic in Barcelona for the treatment of leukemia. They change their facial features with the memory, but do not lose their optimistic gaze. "These were hard and difficult times, so being able to help other patients suffering from the same disease right now is like a force that drives me." Carreras is very happy with its establishment, he talks about upcoming expansion and the agreements they have met with most Catalan university hospitals and also about the contacts they have in different parts of the world. For example, they have already collected more than 300 million euros in telemarathons in Germany to fight this disease. "When I had the transplant, the doctors at the clinic recommended I go to Seattle for a reason: they did 50 or 60 a week there and one at most here, it was a matter of experience. There is now no need to travel anywhere as the same protocols can be carried out safely and effectively in the United States as anywhere in the world. That was 35 years ago!"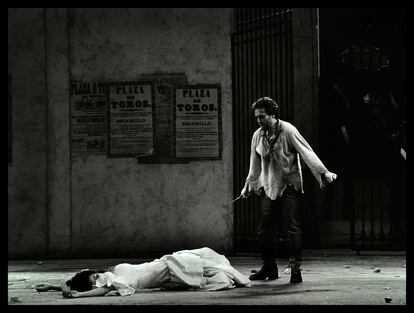 And now that we are talking about celebrations, the thirty years of the Barcelona Olympics were just commemorated, and that was the official song of those Olympics Friends Forever / Friends Forever by Andrew Lloyd Webber, which Josep Carreras sang with Sarah Brightman. "I acted as the musical director of the ceremonies and they wanted a very powerful anthem to open the celebrations. We went to Lloyd Webber, we explained the situation to him and he asked us for a few minutes, he left and when he came back he was sitting at the piano already playing the chords of For ever friends". Carreras speaks fondly of the song, but there's one thorn in his side that still bugs him three decades later. "There's only one thing I don't want to take as a complaint, but I didn't understand why at the closing ceremony, after Sarah Brightman and I sang this song, half an hour later Los Manolos showed up and played a rumba version. who gave it to him Who told them to do it? And he resignedly admits: "Over time, this version has become better known than ours. But I like Los Manolos, I have nothing against them." A joint version that was never produced would have been fun, although Carreras has always been very open to other musical experiences, such as singing with Elton John or Dionne Warwick. "Since I'm an opera tenor, I don't just listen to symphonic or classical music, I'm interested in any music, even if it's sometimes just 10 minutes. I'm a fan of Frank Sinatra and Giuseppe Di Stefano and Carlos Gardel because they are voices that tell me a story in every song."
Speaking of current opera, he sees no inconveniences in new productions that disrupt the original symbolism or make temporary changes as long as the score is respected. He smiles and comments that the sound of an orchestra on stage was "like an adrenaline rush" for him and that the best advice he received in his career was when he arrived in New York, when a stage manager told him, he should never argue with a soprano. "I've always followed it and it's worked out very well for me."
All the culture that suits you awaits you here.
Subscribe to
Babelia
The literary news analyzed by our top critics in our weekly newsletter
GET IT
Source elpais.com