"Most of my family is from Valencia and for me summer started with the drive from Barcelona to Valencia, peeking down the road at the bull silhouettes and playing to see who spotted them first." Jordi Mollà (L'Hospitalet de Llobregat, 53) recalls his childhood to deal with the beginnings of his relationship with the promotional bulls that the Osborne company peddled the Spanish countryside for decades. The first was built in May 1957 in Cabanillas de la Sierra (Madrid) at km 55 of the Nacional I. These metal bulls, up to 14 meters long, did not move far from the life of the actor, who debuted in cinemas in 1992 ham ham, the X-ray of the Iberian soul of Bigas Luna, which includes in its cinematic landscape these immense brandy commercials Veteran. That's why the Osborne Foundation commissioned Mollà to paint 65 metal sculptures, paint bulls, raise funds, and thus celebrate the 65th anniversary of the installation of the first fence – currently there are 92 – which coincides with the three decades of the premiere from Bigas Luna's film.
Mollà is now presenting this installation in Madrid, which was concocted over four days last April in one of Osborne's warehouses in El Puerto de Santa María (Cádiz). There it was locked up with the 65 scale reproductions, despite being made from the same sheet metal. Of the 65, 21 are at Gärna Art Gallery in Madrid from Thursday 23 June. Others are in Miami, where the actor lives, who has been painting for 25 years. "I get bored just looking at a single painting," says Mollà. "That's why it only took me four days for the process. In the beginning I started when I was four at a time and there was a moment when I was 20 at the same time. Finally, in a process that evolved as the work progressed, I made families out of bulls." According to Mollà, it's always been like this: "As soon as I'm smeared with paint, I bond".
The project named The Art of Transcending / The Legacy of the Bull It is curated by Eloy Martínez de la Pera and each silhouette is purchased in a box in which the work is accompanied by a paper print of all, with each reproduction signed and numbered by the author; a scented candle as a sensory element and the book a huge black bull, which, in 1994, honored the silhouette created by the designer Manolo Prieto with works by other artists such as Alberto Corazón, Óscar Mariné, Peret, Juan Gatti, Javier Mariscal, Enric Satué, Mingote, Alfredo, Máximo, Peridis and Ralph Steadman. "We hope that everyone art box reflect the conceptual, aesthetic and emotional realm of the Osborne bull," says Martínez de la Pera. The boxes cost 20,000 euros each, money that the Osborne Foundation will use for its two missions: the maintenance of the 92 tin bulls and the training of youth at risk of social exclusion in gastronomic and gastronomic projects in El Puerto de Santa María.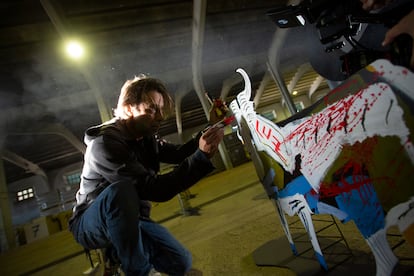 All the culture that suits you awaits you here.
Subscribe to
Mollà talks about doubts about the technique, about the primer that had to be given to the plate so that it adheres to the acrylic "and he spent a whole day on it", and about the aeration caused by the gases from the sprays. "It's strange because I started painting because of Bigas Luna, an ultra-sensitive man who celebrated every day of his existence. On the set of ham ham he looked very happy and finally I asked him why he had such a good face. Thanks to the painting. I ended up getting hooked too," he recalls. In view of the running of the bulls with 65 tin bulls, Mollà assures that he felt "not a burden, but a responsibility". And he explains: "I am very elusive, I seek and find my freedom". The bulls contain numerous pictorial homages: in addition to the obvious one to Picasso, there are also references to Tàpies, Pollock, Chillida, Basquiat, "to African art…".
Paint before you act
The actor lives in Miami. When the pandemic hit, he was in Madrid and rushed back to his Florida residence "because it's roomier to paint and closer to nature," and he stayed there. Though he's used to painting outdoors, he sometimes has to "fight hurricanes," he says. Mollà narrates adventures about how he procured artistic supplies to continue his art "on the sly" while in detention. He sums it up: "The less you have, the more you invent sometimes." By the way, one of his neighbors in Miami is Harmony Korine, and with him 10 days ago he "shot a project that I don't know if there's a Film or 1,000 NFTs to be auctioned at Sotheby's, with special thermodynamics and three-dimensional cameras".
Speaking of which, it seems that Mollà prefers painting to acting. "It's like being able to nap while I'm painting, which is crucial for me, and I can choose when to connect and when to disconnect. An actor is someone who is transported from one place to another, from stillness to action, without respecting their time. I don't want to be just a little soldier," he explains. "It is important that the director understands you. I was lucky because Gerardo Vera, Bigas Luna, Peter Greenaway, Shekhar Kapur, Ted Demme understood me… I have my own way. An actor is a very strange material, very sensitive… Being an actor is a very rare thing. Almost none of us know why we want to be… And I'm beginning to discover it now".
reduced by 50 percent
Exclusive content for subscribers
read limitless
Source elpais.com