OVIEDO, 23 June (EUROPA PRESS) –
The Japanese architect Shigeru Ban has been awarded the Princess of Asturias Prize 2022 for Concord, the jury responsible for the award announced this Thursday at 12 noon at the Hotel Eurostars de la Reconquista in Oviedo. This award is the latest of eight the Foundation is announcing this year, celebrating its XLII edition.
This candidacy was proposed by María Sheila Cremaschi, Director for Spain of the Hay Festival of Literature and Arts, Princess of Asturias Award for Communication and Humanities 2020 and supported by Kenji Hiramatsu, the Japanese Ambassador to Spain. 36 candidates from 17 nationalities opted for this award.
Shigeru Ban (Tokyo, Japan, August 5, 1957) spent his childhood and adolescence in his home country with the belief that carpentry would be his profession. Commissioning a model of a house for his art class in secondary school sparked his interest in architecture, while an article in a professional journal got him interested in the work of American architect and theorist John Hejduk.
From that moment on, his goal was to move to the United States to train as a designer. In 1977 he enrolled at the Southern California Institute of Architecture, where he studied until 1980. That same year he moved to New York to continue his education at the Cooper Union School of Architecture, where Hejduk was Dean. He received his bachelor's degree in 1984 after combining his university studies with a year's work (1982-1983) in Arata Isozaki's studio.
In 1985 he set up his own office in Tokyo, which currently also has offices in New York and Paris. In addition to his work as an architect, he has taught at universities such as Tokyo, Harvard and Cornell (the latter in the USA). Considered by the specialized press as the great activist of architecture, Shigeru Ban has gained international renown for being able to provide quick and effective responses, in the form of emergency shelters and temporary housing, to extreme and devastating situations, mainly caused by natural disasters are caused.
These answers are manifested in high-quality designs, conceived on the basis of unconventional and reusable materials, and in constructions where privacy and aesthetics are important factors, as, according to Ban, they help to improve the psychological state of their occupants.
A pioneer in environmental awareness and sustainability in the 1980s, he has also been involved in expanding the role of the architect, working with governments, disaster-stricken communities, public organizations and philanthropists.
In 1995 he was appointed Advisor to the United Nations High Commissioner for Refugees and founded the Voluntary Architect's Network (VAN), an NGO to change the concept of temporary shelter in emergency situations. Today, plastic, wood, fabric, paper and above all cardboard are his allies in the design of his emergency architectures, where the priority is maximum respect for the future occupants of these spaces and for their dignity. Using cardboard, Ban designs cylinders that, after a polyurethane treatment, become a solid base for building structures at minimal cost.
Designing an Alvar Aalto exhibition for MoMA (New York) in 1986 served him to experiment with these paper tubes. He later used them in prototypes of makeshift houses to house refugees in Rwanda – after the 1994 genocide – or in Kobe (Japan) – after the 1995 earthquake. This system was also used to build privacy shelters for Ukrainian refugees on the border used to Poland during the crisis caused by the Russian invasion.
It is currently studying the possibility of replacing steel structures with the lightness and strength of carbon fiber, which would facilitate transport, storage and assembly.
2014 Pritzker Prize and Honorary Doctorate from the Technical University of Munich (Germany, 2009) and the New School (USA, 2011), Shigeru Ban received the Gold Medal from the French Academy of Architecture (2004) and the Arnold W. Brunner Memorial Architecture Awards from the American Academy of Arts and Letters (2005) and AIJ (2009) awarded by the Institute of Japanese Architecture, among other recognitions.
The jury for this award, convened by the Princess of Asturias Foundation, was chaired by Adrián Barbón Rodríguez, President of the Principality of Asturias, and consisted of Fernando de Almansa Moreno-Barreda, Viscount of Castillo de Almansa, Ernesto Antolin Arribas, José Antonio Caicoya Cores, Manuel Contreras Caro, Sol Daurella Comadrán, Ignacio Eyriès García de Vinuesa, Isidro Fainé Casas, José Antonio Fernández Rivero, Luis Fernández-Vega Sanz, Ana González Rodríguez, Alicia Koplowitz Romero de Juséu, Laureano Lourido Artime, Marcelino Marcos Líndez , Adolfo Menéndez Menéndez, Enrique Moreno González, Carlos Navalpotro Fuster, María del Pino Calvo-Sotelo, Marc Puig Guasch, Gregorio Rabanal Martínez, Helena Revoredo de Gut, Matías Rodríguez Inciarte, Juan Sanchez-Calero Guilarte, Gonzalo Sanchez Martínez, Antonio Suárez Gutiérrez, Gonzalo Urquijo and Fernández de Araoz, Manuel Villa-Cellino Torre, Maarten Wetselaar, Ignacio Ybarra Aznar and Pedro de Silva Cienfuegos-Jovellanos (Se Cretary).
680092.1.260.149.20220623120432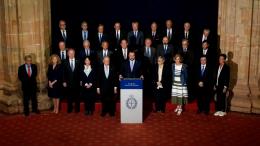 Source europapress.es