HUAWEI MATEBOOK D16

Intel instead of AMD: Huawei changes chip manufacturer for the 2022 MateBook D 16. The multimedia notebook with a 16:10 display shows great strengths and weaknesses in the test.
Huawei MateBook D16 in review

editorial rating
7.4
reader's note
No rating yet
NETZWELT may collect a commission from the merchant for links on this site. More information.
Unfortunately everything becomes more expensive…

The predecessor with AMD processors was cheaper and a real insider tip for many laptops. With Intel processors, an extended keyboard and an optimized case, the Huawei MateBook D 16 is lost in the middle class of rather discreet laptops in 2022. It's still a good laptop, but there are no more alternatives.
We liked it
Good finish
Quiet keyboard
Anti-glare screen
Sufficient performance
We didn't like it
Busy fan
USB-C ports not compatible with Thunderbolt
Maximum brightness a little too low
Huawei's first Matebooks were marketed as an insider tip, as a visually similar but, thanks to the Windows operating system, fundamentally independent alternative to the expensive Apple MacBooks. The manufacturer's devices have long found their own fan base, who appreciate the good price-performance ratio and good build quality of laptops.
design and processing

Connections and webcam

Input devices: keyboard and mouse

Matte screen in 16:10 format

Performance and battery life: Was switching to Intel a good idea?

multimedia

We also noticed that
However, there are a few things that are different about the test device at hand, as we could already see in the first impression of the MateBook D 16. Revamped case! Desktop adapted to the 4:10 p.m. screen! Keyboard with numeric keypad! Probably the most important change: Intel processors instead of AMD!
With a starting price of 949 euros for the version with Intel Core i5-12450H and 16 gigabytes of RAM, the laptop is no longer a bargain, but moves up into the upper middle class. The higher configuration variant with Intel Core i7-12700H (Alder Lake) that we tested here costs around 1,300 euros.
Supplement of 300 euros for the transition from i5 to i7 – this heavy supplement is reminiscent of Apple. The cheap and expensive MateBook variant comes with a 512 gigabyte SSD and is identical except for the processor.
design and processing

With a weight of 1.7 kg, the test device is not light even for a 16-inch device. Again the comparison to Apple's MacBook Pro 16 – here you're carrying 1.6kg.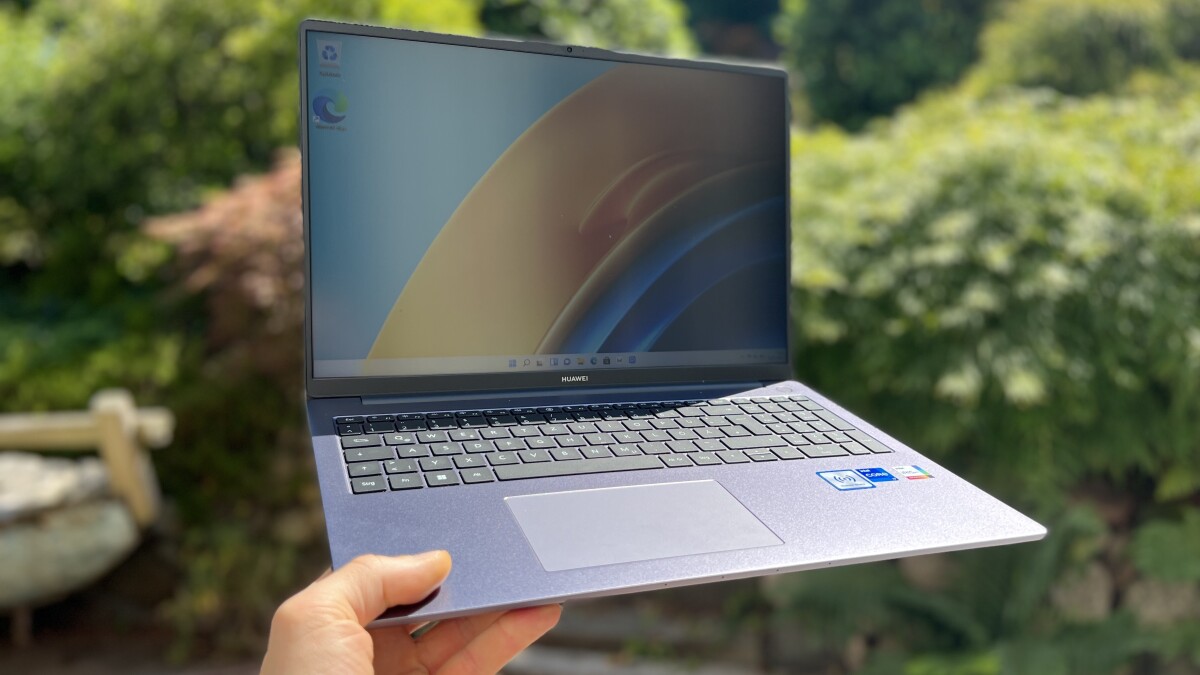 We have nothing to criticize about the basic processing quality of the test device. The MateBook D 16 has no sharp edges, no jagged gaps. If you take it with both hands and shake it vigorously, it makes no noise. The only thing that stands out is the somewhat soft display lid, which can be slightly dented when closed.
But it can be opened well with one hand. The enclosure is not designed to be opened by the user. In principle, however, the storage device could be replaced with a little skill.
Connections and webcam

Except for a card reader, there's nothing on the sides of the case that we miss at first sight. Huawei equips the MateBook with two USB-C ports, an HDMI port and two USB-A ports (USB 2.0 and USB 3.0). Unfortunately, USB-C ports are not Thunderbolt compatible. Pity!
The webcam is in the usual place on the top edge of the case. It has a resolution of 1080p. We still wish manufacturers would pay more attention to this component, especially in a time when many people are working from home.
Huawei MateBook D16 – daily test images.
But the webcam also leaves a reasonable impression in the test, not least because it is equipped with a few features not found elsewhere. For example, you can test different filters. There's also subject tracking, similar to Apple's Center Stage. As always, the sensor relies on sufficient background light, otherwise the image quickly becomes noisy.
Input devices: keyboard and mouse

New for 2022: Huawei has equipped the D 16 keyboard with a separate number block. This may particularly appeal to those who are often on the go in Excel. There is no space for user-facing speakers.
All keys can be illuminated manually in two steps, which simplifies working in the dark. We have not discovered an automatic mode. The typing is very soft and silent. We see no reason not to like this keyboard. At best, some users would like a little more travel, although according to the manufacturer this has already been increased compared to the predecessor.
We criticize the trackpad negatively. For a 16-inch, the replacement mouse is small with a diagonal of nearly 13 centimeters. It can be sunk deep in the lower area. The touchpad is also slightly shifted to the left. It looks old fashioned, although it does its job in everyday life once you get used to it.
Of course, multi-touch gestures are supported in Windows 11. To protect sensitive data, Huawei installs a well-functioning fingerprint scanner in the power button, which is slightly separated from the keyboard in the upper corner. right of the box.
Matte screen in 16:10 format

The screen of the MateBook D 16 immediately makes a good impression, because the manufacturer relies on an effective anti-reflective screen. The matte screen is extremely useful when working outdoors or when working in front of a window. The content is always easy to read.
Considering the price, you have to live with a refresh rate of 60 Hertz and a resolution of "only" 1920 x 1200 pixels. In our opinion, this is perfectly fine, because the contrast and color values ​​are also very good subjectively.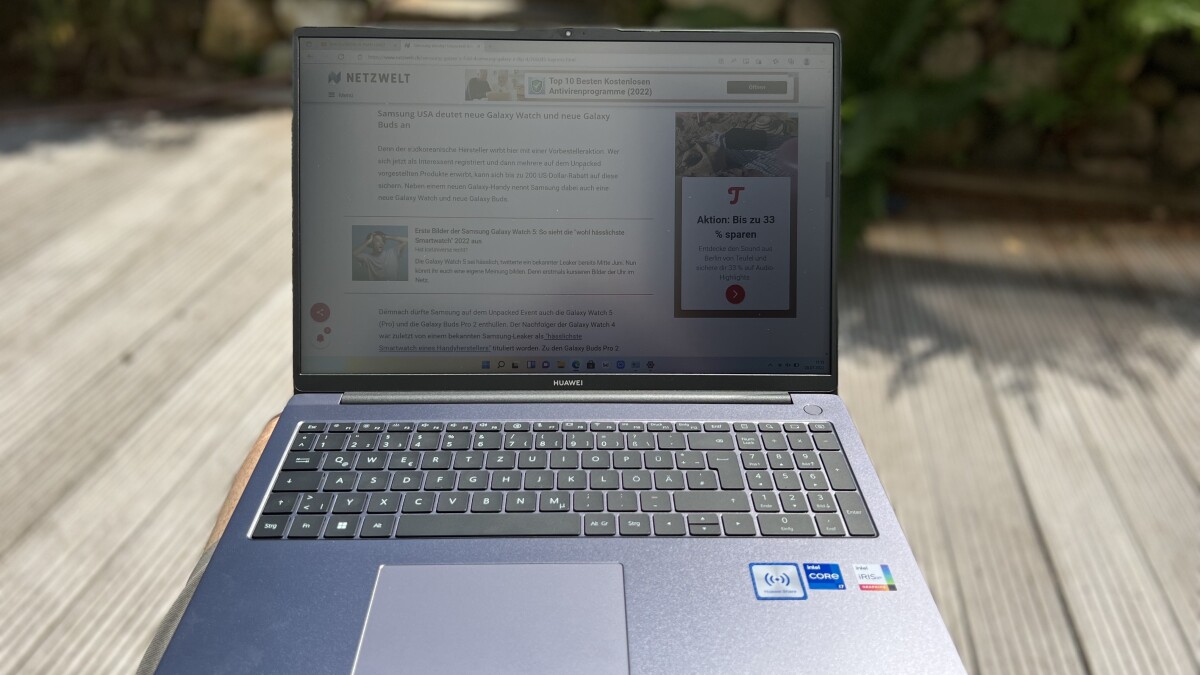 If we look at the display from an angle, we notice a slight drop in brightness on the IPS panel, but no color inversion. Disturbing halos are kept within limits when flat black is displayed (to Eizo Monitortest software). The display's brightness isn't particularly high, which makes up for the anti-reflective coating on our eyes.
Performance and battery life: Was switching to Intel a good idea?

Anyone who does not rely on benchmarks when buying a laptop and is not secretly looking for a gaming laptop will be satisfied with the performance of the Huawei MateBook D 16. In everyday life, there is no never awkward wait times when opening programs, when multitasking, or when opening dozens of browser tabs at once.
It's noticeable in benchmark tests that the built-in Intel Core i7 CPU limits its performance relatively quickly under load. However, this should only bother very few buyers, as there are still enough reserves available.
Heat management has issues cooling components effectively in the high temperatures of summer 2022. The built-in fan kicks in quickly and clearly under stress. Fortunately, the sound is not interspersed with a bright whistle and reminds – to put it positively – of the sound of the sea.
holiday feeling? No way. Nobody likes noisy fans and Huawei would have done well to install a larger fan wheel. Nevertheless, the metal casing (hot spot on the left, capital side) does not heat up excessively.
As with any laptop, battery life is highly dependent on the brightness of the screen selected and the programs used. During the test period, we generally only managed a net working time of eight hours with average screen brightness. However, the 60 watt hour battery let us down at some point and we had to use the slim 65 watt AC adapter. Other laptops offer longer battery life.
The stereo speakers are installed on the underside. From there, they usually ring the top of the desk or your lap. The sound therefore often appears as straight out of a tin can. There is a lack of clear mids and highs.
The maximum volume is correct. If you really want to enjoy music or games, you need to connect headphones. This is either wireless via Bluetooth or wired. The appropriate jack connection for this is located on the left side of the housing.
We also noticed that

Huawei is currently selling the MateBook D16 in an interesting bundle. On the one hand, you get a free Huawei backpack worth 99 euros if you buy the laptop directly from the manufacturer or from a participating retailer.
On the other hand, within the framework of a limited promotional period, you will receive the Huawei MateView GT27 monitor for free, worth 399 euros, if you register your purchase. Note that the offer linked above may have expired by the time you come across this notice.
Huawei MateBook D16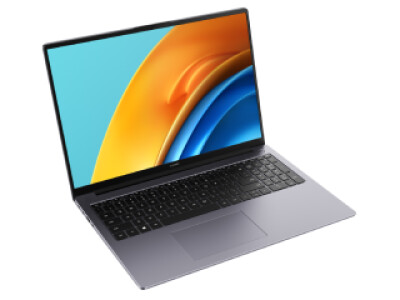 editorial rating
7.4
reader's note
No rating yet
NETZWELT may collect a commission from the merchant for links on this site. More information.
Huawei MateBook D16: the best alternatives
You do not agree ? Are you looking for suitable alternatives? Below are the best Huawei MateBook D16 alternatives. You can find an even more comprehensive list in our notebook overview.
Huawei MateBook D16: technical sheet
Here you will find the technical data of the Huawei MateBook D16. You can easily compare size, weight and other properties with other products.
| | |
| --- | --- |
| classification | Notebook |
| Graphic card | Intel Iris Xe |
| processor | Intel Core i5, i7 (Alder Lake, 12th Gen) |
| ballast | 1.7kg |
| display size | 16.1 inches |
| random access memory | 16 GB LPDDR4 |
| Mass Storage | 512 GB |
Don't miss a thing with the NETWORK-Newsletter
Every Friday: the most informative and entertaining summary of the world of technology!
Source moviepilot.de