"To anchor anywhere, someone has to stay on solid ground and take over the house." Leire Cano Jauregui warns of this in the prologue of big sun: "The little stories are as small as they are big." And that of this photo book, selected by PHotoespaña for the Best Photo Book of 2022 award, is just that. The big little story of Carmen Entenza (Ardán, Pontevedra, 87 years old). A fisherman's daughter, whom he only met when he was four years old because he was always at sea looking for money. The one who gave communion in a dress that the priest lent her, and when she went to church with a neighbor, she saw her mother on her knees mopping the floor and did not raise her head to look at her. She started school when she was 9 and left when she was 12. She was a child but the teacher asked her to take care of her children and when Carmen replied that she was done with her siblings she sent her to wash windows. She married in black ("The Time Was Fashionable") and raised a family with a ship's mechanic whom she waited for during the nearly thirty years he spent anchoring in the cod fisheries and sailing to Newfoundland.
"I always thought my dad was the one with the adventure, the one with funny or horrible experiences. But in reality, those who built life were the women who stayed on land. At first glance, their stories don't seem like big ones. There are no adventures here, no villains, they do not have simple extraordinary material, but their lives deserve to be told," replies the Basque editor and curator Eneka Fernandez (Donosti, 44 years old) when asked why he decided to self-publish this artifact, built on the basis of photos from his mother's family album and synthesized memories.
After two years of marriage, when they were whispering that Carmen was "not worth it anymore," she got pregnant. She has raised seven children (Eneka is her sixth, she had them at 43 when her diaphragm failed) and miscarried the first one. He paid rent for a house, tocateja, after 11 years. She took on purchasing, like so many other responsibilities, at a time when women couldn't even have a bank account. How could her husband do that when he has spent half his life sailing among icebergs in the Big Sun… Fate, that's the name of the street where she chose this family house in Pasaia (Gipuzkoa); without his noticing it beforehand, for he was, as always, isolated between blocks of ice. And that's exactly what the photo book that her daughter published in her honor had to be called.
All the culture that suits you awaits you here.
Subscribe to
Written in Basque and Spanish, big sun born from distance and observation. About Eneka removing drawers without her mother knowing. Sneaking photos of family dinners with her sisters in her bag on Sundays. There are no concrete conversations between mother and daughter to prepare the text. His work "reflects the generational paradigm shift, the conversation gap". A loudspeaker for all the deaf houses that have been deaf to the female epic until now. To the women who lay in wait but were always active, facing the sea and maintaining control of the family without making any noise or fuss. This is something that is neither talked about nor flattered, especially in these families. It is taken for granted.
The iceberg as a metaphor
big sun acts as a reflection and response of Newfoundland, another photo book that Fernández self-published in 2017 after the death of his father, José Fernández. There, as therapy to etch his grief, he collected a letter and a selection of photographs of icebergs taken and collected by this ship's mechanic who had never learned to swim and was away from home for up to six months at every game. "This ice cream is the metaphor of my relationship with him. I was 52 years old when I was born," emphasizes this Baskin, who after the crisis of 2008, having moved to Lima with her partner, returned to Spain to work at the Tabakalera center in Donosti, and herself after after studying in Barcelona has a master's degree in cultural curation.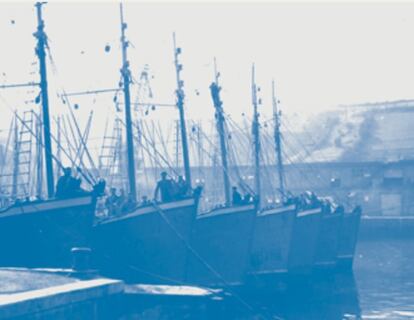 José retired when she was two years old. "Unlike my five older brothers who hardly grew up with him, he was there for me. But you could tell he didn't know what it was like to be a current father. He had a mismatch after a life at sea," recalls this family "silent observer," an art history graduate and current editor at RM. When asked about his obsession with photographing these imposing blocks of ice while he was alive, he simply replied, "Because they were there."
Even though big sun is partly a personal response to Newfoundland So that his mother could read it alive, the background of this photo book is also political. Making visible this titanic invisible work of an entire generation of women who maintained order and meaning on the mainland while waiting for some patriarchs to navigate their future and money. And not always grateful. "My mother chose an apartment in a working-class area on her own with five bright, south-facing rooms, perfect for us. He coordinated the move with my uncles and aunts, carried the furniture up the stairs, carried the refrigerator five floors without an elevator. My father was working when it happened. You know what he said when he came back and saw everything assembled and installed? "You could have found something better," Fernández recalls, emphasizing, "My mother's work was very hard and very undervalued."
Carmen and the mysticism of those waiting
"The women-in-waiting exist provisionally and subordinately in the service of an absent element," recalls Harvard philosophy professor Becca Rothfeld in the essential essay waiting ladies. Like Carmen with José and like many other women, regardless of generation, according to this scholar, waiting in love is part of the DNA of the female romantic existence: "It is women who wait for men: they wait for theirs fit from Tinder for dating, to getting married after years of courtship or asking for dates, to the crucial text the day after," he writes.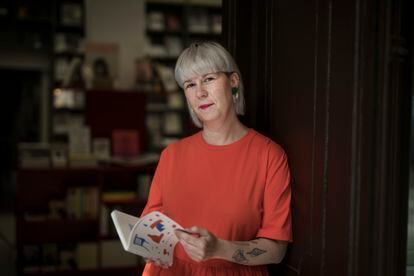 Based on figures like Odysseus' Penelope in the Odysseythe poem A woman is waiting for me by Walt Whitman ("From now on I renounce callous women / I'll stick by the one who waits for me") or the great story, frighteningly real, a callvon Dorothy Parker ("If he wants me, he can have me. He knows where I am. He knows I'm waiting here"), Rothfeld argues: "If historically women have waited, then at least in part as most cultures have relegated them to a state of involuntary idleness.
Whether out of "involuntary idleness" or as an invisible, unpaid pillar of the patriarchal survival of the working class, Fernández has not completed his familial introspection big sun. His mother has asked him to "do something" with the correspondence he has had with José over the thirty years he has been sailing. But only one side remains. Although his father meticulously kept even the receipts for the purchase, he never brought them back. The ones he sent Carmen stay. "I could never ask him, but we always believed he should tear them up as soon as he read them. They were heartfelt and sharp letters, and back then, the possibility of being exposed in such a sentimental way in front of the men around him meant exposing himself and being vulnerable in an isolated environment," he says. His memory is cherished by this lady-in-waiting. "Call it waiting, call it what you will," says the editor, "but my mother drew something very powerful from that limitation."
reduced by 50 percent
Exclusive content for subscribers
read limitless
Source elpais.com