"I've always wanted to take a step towards a less elaborate kitchen. I even thought about opening a fry shop," says Javi Estévez, the chef who holds a Michelin star at La Tasquería (Duque de Sesto, 48, Madrid) for bringing to the fore something that is shared by many despised as innards. This week he opened El Lince (Príncipe de Vergara, 289, Madrid), a place with a more popular, open and informal menu than his well-known restaurant.
Estévez is in love with his city. He wanted to build La Tasquería in the Matadero area because it was in his neighborhood and added value to the project, but that couldn't be and he opened it in Goya in 2015. It was there that he received the Madrid Fusión Revelation Chef Award and a Michelin star in 2018. He says he's since listened to offers for other shops, but when he saw this place's cuisine, he knew it was his place. "At first we didn't know what to call it but the owner showed us old photos of the house, letters and cards from when his family ran it under the name El Lince-Casa Avelino in the sixties and we were excited. When I read that they served roman brains, sweetbreads and tripe, a little bit on the bun in my kitchen, we decided to call it that as a tribute," he explains.
Until it got into Estévez's hands, the store went through a Chinese restaurant and then a Peruvian, but the owner kept the original neon from its beginnings. "Nagore Arregui, director of the space, drinks and even the decoration, had it restored and made it shine again," says Estévez. Now it looks in your dining room. She was the one who insisted on removing layers of the facade, confident that they would find the original canopy. It was like this. The rest of the space has been completely refurbished and features a bar area with high tables and stools, and three lounges with low tables.
The menu: cured meats, pork trotters and lamb brains
El Lince shares just one dish with La Tasquería – its famous tripe, leg and nose stew (half portion 11 euros, whole 17 euros) – and all the suppliers who have accompanied Estévez over the years. It offers half portions in most preparations and some per unit such as salt beef croquettes (2.50 euros), the Russian salad served on a leather like in Salamanca (4 euros) or the gilda stuffed with piparra, smoked sardines, tomato and fatty olives Manchego cheese (4 euros).
It also offers sausages, charcuterie, cheese, salads, stews or meat. "We opened the fan because we didn't want to make a replica of La Tasquería. There we demand that we turn the offal, and here we do it more traditionally and cook other things that have been on my mind for years," he says. This is done with the pig's trotters served in its gastronomic establishment Carpaccio and at El Lince, half-boneless with tripe sauce and salad (half portion 9 euros, whole portion 15 euros). Casqueros are also breaded lamb brains with lime and spring onion mayonnaise (half 8 euros, whole 13.50 euros) and grilled pig ears with Brava sauce, lime and tagine (8 euros for half a portion, whole 14 euros)".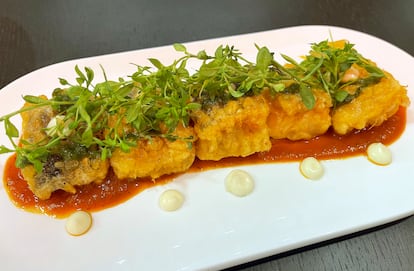 Garlic lamb sweetbreads with egg yolk, celeriac and snow peas (half portion 12 euros, whole 18 euros) and other fresher suggestions such as the veal tongue salad with marinated veal mousse from foie (half portion 8 euros, whole 14 euros). Spoon dishes like beans with vegetables and rice dishes like duck change with the seasons. And the menu also includes fish such as breaded and fried cod tacos with citrus mayonnaise, tomato sauce and basil (half portion 11.50 euros, whole 18 euros). Among the desserts, the torrija with lemon ice cream (7.5 euros) and the strawberries with cream stand out, sprinkles Y coulis of red fruits (7 euros).
The chef is Adrián Collantes, he spent six years at La Tasquería as second chef and Estévez assures that together they will introduce new dishes. "I don't know if I'll do the frying, but I'm sure I'll add ins and outs or some zarajo later," he explains excitedly. And the same emotion that impregnates Estévez in his kitchen spreads to a team that turns to each guest. The average price is 40 euros. Closed on Sunday evening, Monday and Tuesday. And reservations are made through 911 372 658 or your Instagram account.
Source elpais.com